Skip to product information
Media gallery

Media gallery

Media gallery

Media gallery

Media gallery

Media gallery

Media gallery

Media gallery

Media gallery

Media gallery

Media gallery

Media gallery

Media gallery

Media gallery

Media gallery

Media gallery

Media gallery

Media gallery

Media gallery

Media gallery

Media gallery

Media gallery

Media gallery

Media gallery

Media gallery

Media gallery

Media gallery

Media gallery

Media gallery

Media gallery

Media gallery

Media gallery
Wilson Audio Alexia Series 2
Regular price

Sale price

$0

Unit price

per
Vendor: Wilson Audio Notified by email when this product becomes available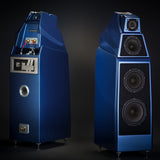 Wilson Audio Alexia Series 2
Description

Specifications

Review

Installation

Returns
Wilson Audio
Alexia Series 2
A Classic Reborn
 How do you update a classic? By almost any measure, the Alexia has been one of Wilson's most successful products. The physicians' maxim of Primum non nocere (first do no harm) certainly applies here. On the other hand, Wilson's technology has continued to evolve and advance in the areas of drivers, crossover analysis and design, time-alignment accuracy, and composite materials research. 
Time & Sound
Alexia's modular design, with each of the three drivers mounted in their own individual enclosure, facilitates extremely fine adjustment within the time domain. The midrange and tweeter are adjusted independently of the woofer enclosure such that the three drivers can be precisely aligned for each unique installation. 
Design
Like all recent Wilson designs, the Alexia Series 2 is the beneficiary of Wilson's state-of-the-art composite research, the heart of which is the laser vibrometer. This measurement tool allows Wilson's engineers to see minute vibrations—on the order of a billionth of a meter. 
Enclosure Materials
Wilson's latest breakthrough, W-Material, called such because of its relationship to the development of the new WAMM, possesses remarkable energy dissipation (damping) characteristics heretofore unobserved in any previous composite when combined with W's extreme rigidity. Wilson's engineers found that strategically placing W-Material under the modules' spike support areas greatly reduced unwanted energy at this critical mechanical interface, without in any way compromising the cabinet's structural rigidity. 
Drivers
Woofers
8 inches (20.32 cm)
10 inches (25.4 cm)
Midrange
7 inches (17.78 cm)
Tweeter
1 inch (2.54 cm)
Measurements
Sensitivity
89 dB @ 1 watt @ 1 meter @ 1 kHz
Nominal Impedance
4 ohms / minimum 2.54 ohms @ 85 Hz
Minimum Amplifier Power
20 watts per channel
Frequency Response
19 Hz – 32 kHz +/- 3 dB Room Average Response [RAR]
Overall Dimensions
Height
53 inches (134.68 cm) w/o spikes
Width
15 1/4 inches (38.74 cm)
Depth
22 7/8 inches (58 cm)
System Weight Per Channel
260 lbs (117.93 kg)
Total System Shipping Weight (approx.)
777 lbs (352.44 kg)
"Most notably, the speakers deliver music in a way that invites extended listening and emotional engagement…a deeper connection with the lyrics and the music. You are inspired, moved…a smile or a tear. These experiences are what I crave for, outside of critical listening for reviewing purpose. When I listen for pleasure, I need to feel. And Alexia Series 2 douses me with a pouring of emotions as it reaches into the listening space and resolutely grasps you in her beautiful embrace. For this reason alone—never mind the individual aspects of superiority over Alexia —this is my new reference speaker. This is where technology meets art. The beauty stays; she's a songstress."
- Read the full review by Sound Stage Australia here. 
Sometimes we want to listen to our brand new audio setup without having to worry about dragging B&W up two flights of stairs - that's where we come in! Not only are our team experts in high quality AV equipment, they're also professional bodybuilders* who can deliver and install your new toys quickly and efficiently.
Our in-house team can service those in Brisbane, the Gold Coast, and the Sunshine Coast. Give us a call to get an obligation-free quote today!
*the term 'professional bodybuilders' is used here loosely...
Our refund policy operates in a 30-day window - after this time we are unable to accept the product and cannot issue a refund. Don't worry, our products are hand picked from thousands of luxury brands to ensure you are only offered the best of the best so we doubt you'll need to consider this policy at all. If you are concerned about making the wrong decision when it comes to your purchase, please feel free to talk with our team of experts who can advise you on equipment based on your personal music taste, aesthetics, and the layout of your listening room. Still not convinced? Discuss the possibility of a loan (trial period) with our experts and hear the difference yourself.