Skip to product information
Media gallery

Media gallery
T-1200 DDS FM Stereo Tuner
Vendor: Accuphase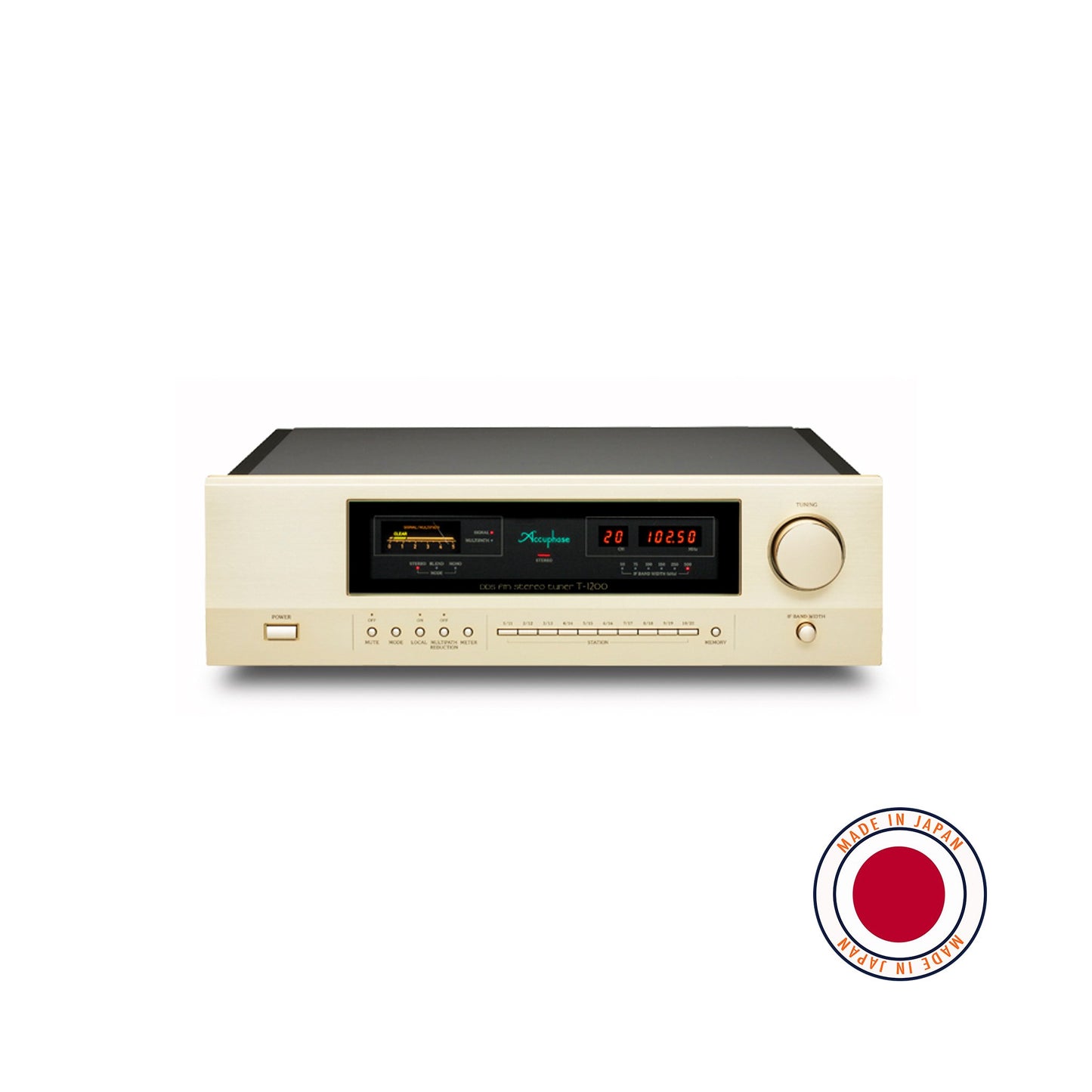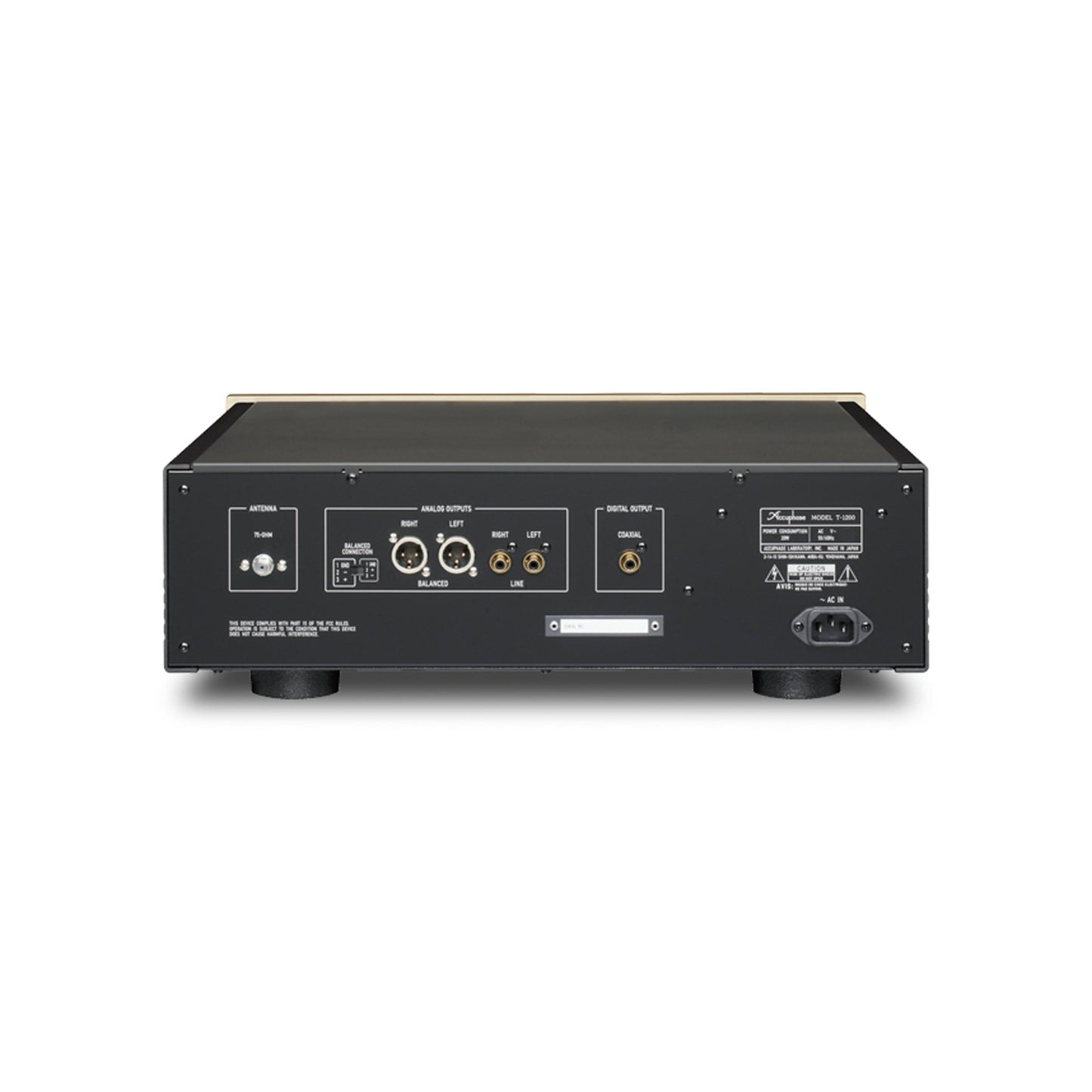 Notified by email when this product becomes available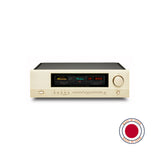 T-1200 DDS FM Stereo Tuner
$999,999,999,999
Description

Specification

Installation

Returns
Accuphase
T-1200 DDS FM Stereo Tuner
Using a blend of latest RF circuit design with sophisticated digital signal processing, most major
functions after the intermediate frequency stage such as the variable bandwidth IF filter, multipath
reduction, digital FM demodulator and DS-DC stereo demodulation have been moved to software on
the DSP chip. Manual tuning using the pulse tuning method, plus 20-station memory tuning. A digital
output provides further flexibility. Realizing impeccable sound quality and outstanding performance in
an easy to use format, this FM tuner has been developed for demanding audio and music connoisseurs.
Double-tuned front end easily handles high signal levels
Revolutionary DDS principle for local oscillator
Variable bandwidth IF filter prevents interference
Multipath reduction function
Digital FM demodulator keeps distortion and noise to a minimum
DS-DC achieves ideal stereo demodulation with DSP technology
MDS type D/A converter
Memory buttons give quick access to 20 stations
Monophonic

Sensitivity

 Usable Sensitivity
9

dB

 

μV

S/N 50dB quieting sensitivity

12dB

 

μV

S/N ratio 
(85 dBf input, A-weighted)
92dB
Total Harmonic DIstortion 
(85dB

 

μ input, ±75kHz deviation)

| | |
| --- | --- |
| 20Hz | 0.02% |
| 1kHz | 0.02% |
| 10kHz | 0.02% |

Frequency Response

Alternate Channel Selectivity 
(IF Bandwidth 250kHz)

| | |
| --- | --- |
| Intereference Signal | Selectivity |
| 400kHz | 70dB |
| 300kHz | 30dB |
| 200kHz | 10dB |

Capture Ratio

1.2dB
RF Intermodulation
80dB
SPurious Response Rejection
120dB
Image Rejection
100dB
AM Suppression 
(70dB

 

μ input)

80dB
Rated Output Voltage
(±75kHz deviation)
1.0V

Stereo

Sensitivity

| | |
| --- | --- |
| S/N 40 dB quieting sensitivity | 18 dBμV |
| S/N 50 dB quieting sensitivity | 30 dBμV |

S/N Ratio
(85 dBf input, A-weighted)

76 dB
Total harmonic distortion

 


(85 dBμ input, ±75 kHz deviation)

| | |
| --- | --- |
|  20Hz | 0.04% |
| 1kHz | 0.04% |
| 10kHz | 0.04% |

Frequency Response
Stereo Separation

| | |
| --- | --- |
|  100Hz | 65dB |
| 1kHz | 65dB |
| 10kHz | 50dB |

Stereo Trigger Level
9 dBμV
Subcarrier Suppression Ratio
70 dB

General

 Antenna Input
75-ohm coaxial (F type connector)
Standing Wave Ratio
1.5
Tuning Principle 

 DDS synthesizer tuning
20-station random memory tuning

Variable bandwidth

 


IF filter
50 kHz, 75 kHz, 100 kHz, 150 kHz, 250 kHz, 500 kHz switchable
FM detection principle
Digital FM demodulator
Stereo demodulation principle
DS-DC
C Digital output

 


(IEC 60958)

| | |
| --- | --- |
| COAXIAL  | 0.5 VP-P 75 ohms |
| Sampling frequency: | 48 kHz / 24 bit |

Output Impedance 

BALANCED 
(XLR type connector)
100ohms
(50ohms/50ohms)


LINE
(Unbalanced)
50ohms


Meter
Signal strength / Multipath, switchable
Power requirements
AC 120 V/220 V/230 V 50/60 Hz

 


(Voltage as indicated on rear panel)
Power consumption
20W
Maximum dimensions

Width 465 mm (18.30")

Height 151 mm ( 5.96")

Depth 406 mm (16.00")

Mass

13.0 kg (28.7 lbs) net

19.0 kg (41.9 lbs) in shipping carton

Supplied Accessories

AC power cord
Audio cable with plugs (1 m)
Remote Commander RC-430

Remarks

 An FM antenna is required to use the T-1200. Please consult your dealer regarding antenna installation.
In residences with shared antenna systems, confirm that the antenna outlet carries FM signals.
Use a 75-ohm coaxial cable with F type plug for the antenna connection.

This product is available in versions for 120/220/230V AC. Make sure that the voltage shown on the rear panel matches the AC line voltage in your area.
230V version has an Eco Mode that switches power off after 120 minutes of inactivity.
The shape of the AC inlet and plug of the supplied power cord depends on the voltage rating and destination country.
The reception frequency range, number of display digits, and tuning frequency steps differ in models for different countries. The antenna connector may also be an IEC type or F type connector. Please verify that you have the correct model for your area
Sometimes we want to listen to our brand new audio setup without having to worry about dragging B&W up two flights of stairs - that's where we come in! Not only are our team experts in high quality AV equipment, they're also professional bodybuilders* who can deliver and install your new toys quickly and efficiently.
Our in-house team can service those in Brisbane, the Gold Coast, and the Sunshine Coast. Give us a call to get an obligation-free quote today!
*the term 'professional bodybuilders' is used here loosely...
Our refund policy operates in a 30-day window - after this time we are unable to accept the product and cannot issue a refund. Don't worry, our products are hand picked from thousands of luxury brands to ensure you are only offered the best of the best so we doubt you'll need to consider this policy at all. If you are concerned about making the wrong decision when it comes to your purchase, please feel free to talk with our team of experts who can advise you on equipment based on your personal music taste, aesthetics, and the layout of your listening room. Still not convinced? Discuss the possibility of a loan (trial period) with our experts and hear the difference yourself.