Skip to product information
Media gallery

Media gallery

Media gallery

Media gallery
Signature TP-6.5 Phonostage
Regular price

Sale price

$21,995

Unit price

per
Vendor: VTL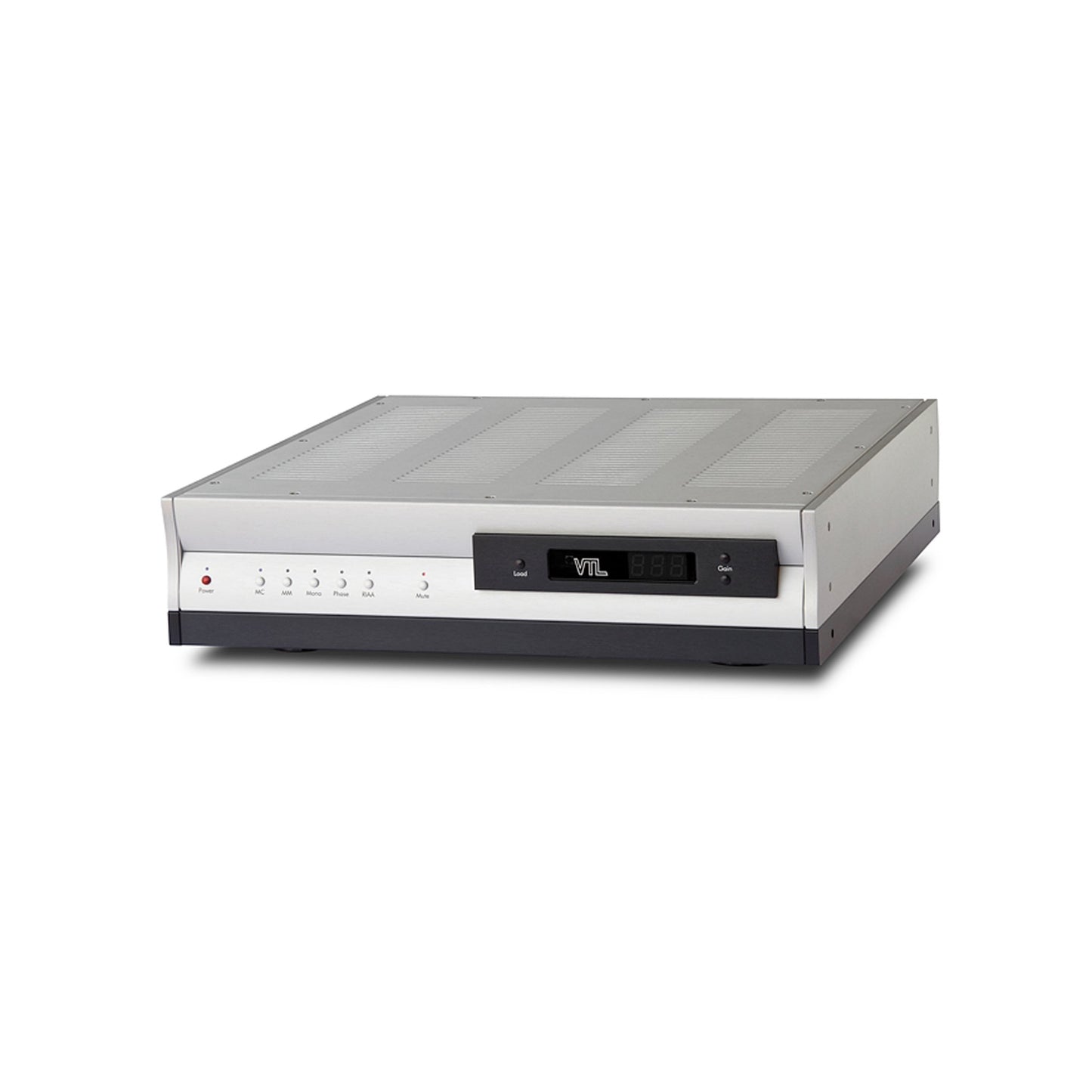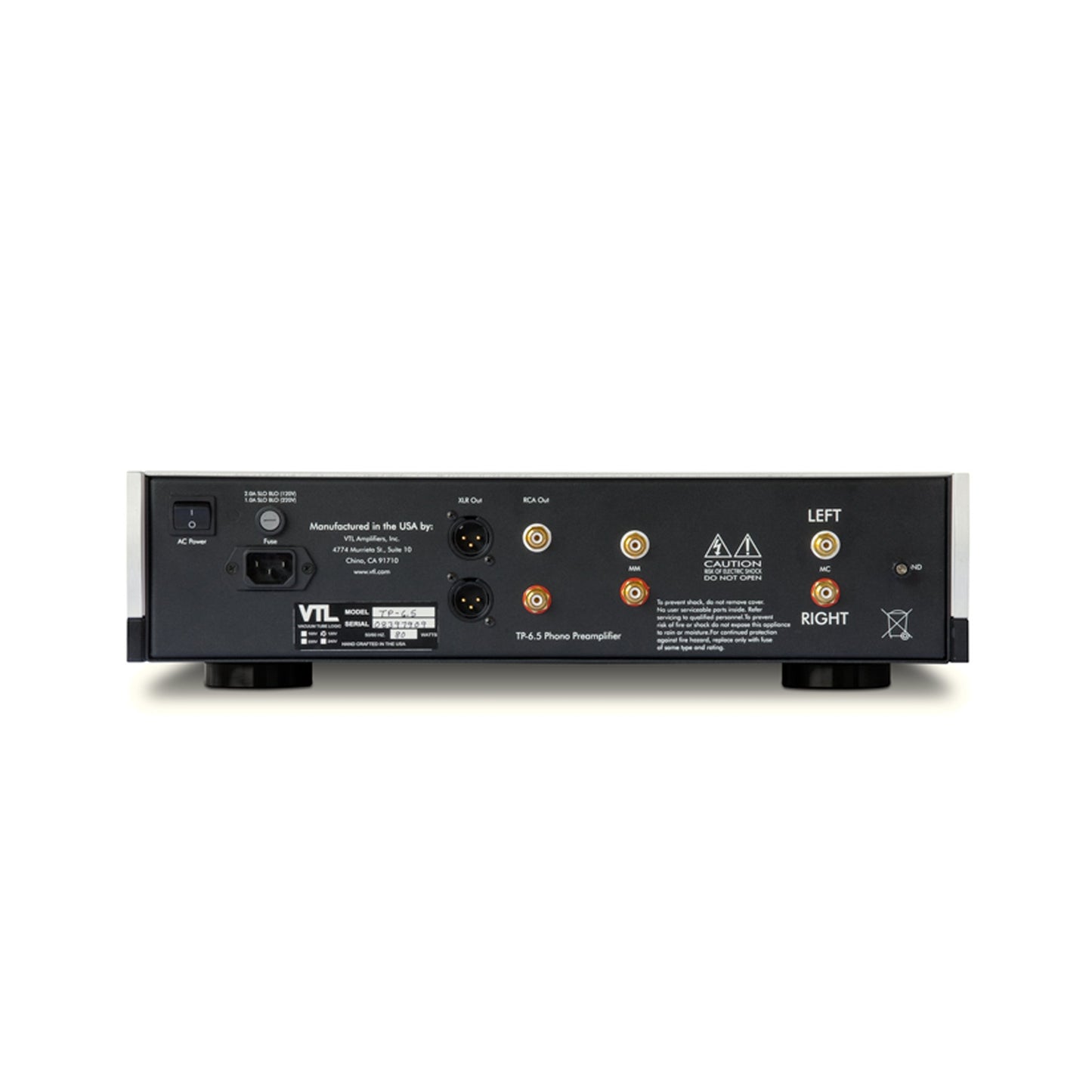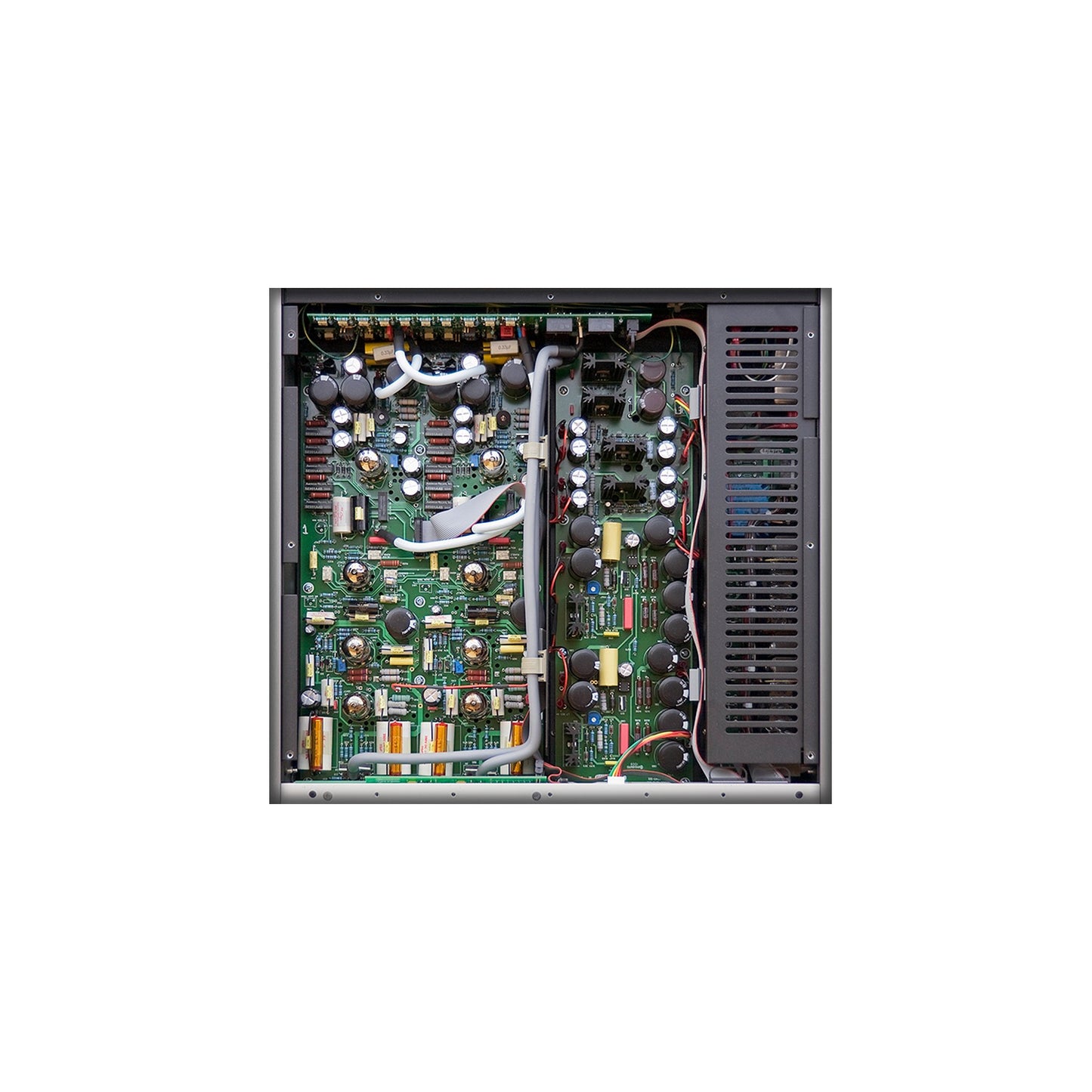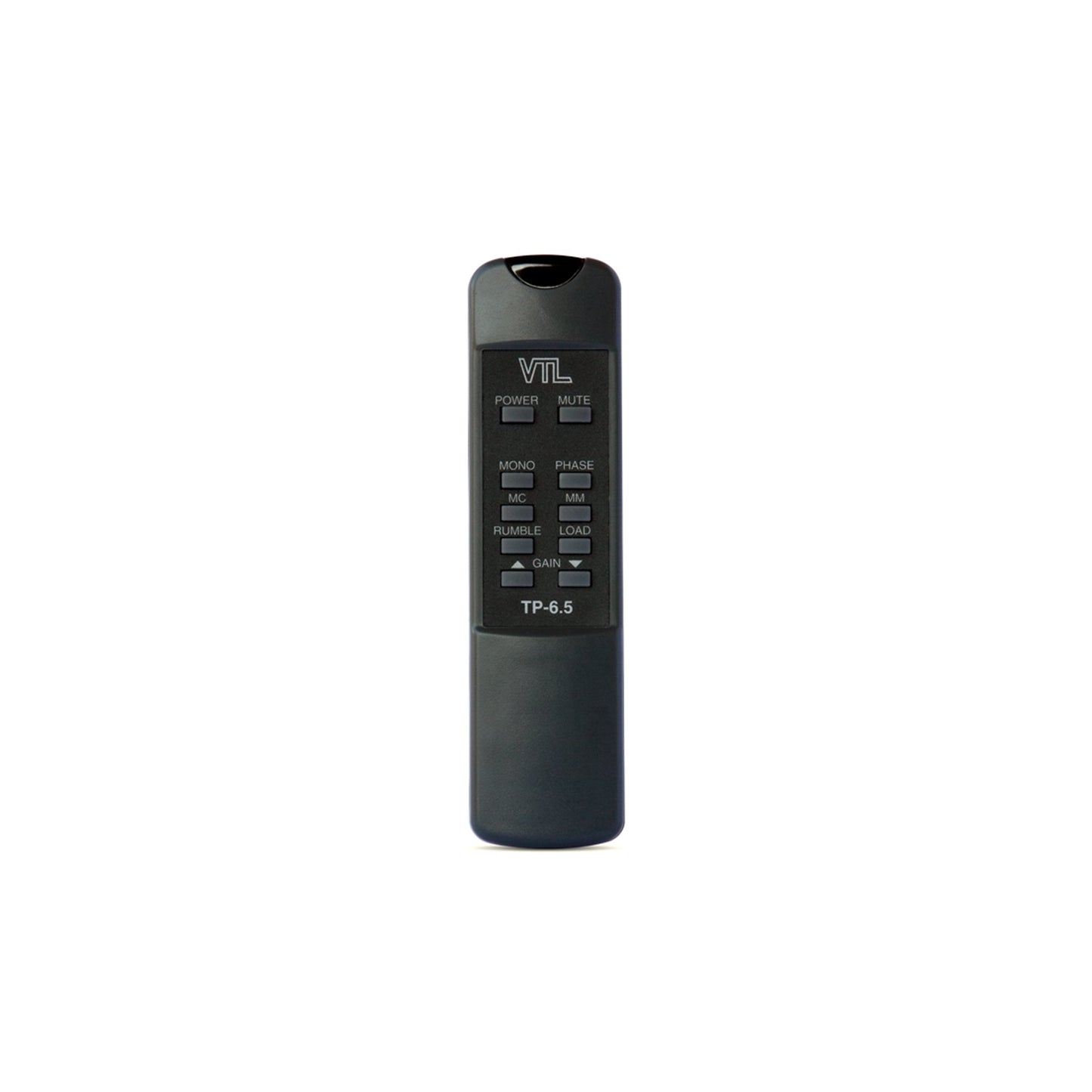 Notified by email when this product becomes available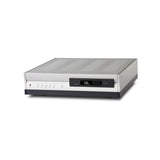 Signature TP-6.5 Phonostage
Description

Specification

Review

Installation

Returns
VTL
Signature TP-6.5 Phonostage
*This product is built to order. The estimated delivery time is 3 months.
The TP-6.5 Signature Phono Stage is designed to complement and match the TL-6.5 and TL7.5 Linestage Preamplifiers in sonic performance, user interface and cosmetics. This all-new product was designed from the ground up to redefine the current state of the art in standalone MC step ups and to stand as a reference phono stage worthy of the top VTL linestage preamplifiers, the TL7.5 Series III and TL-6.5 Series II.
The TP-6.5 will appeal to current VTL linestage owners who have been waiting patiently for a matching phono stage. The phono stage employs hybrid JFET/tube circuitry for quiet operation, multiple low-noise cascaded regulators and shielded power supplies for dynamics, accurate 4-corner passive RIAA equalization and 68dB of gain from the balanced outputs, all in a single chassis unit. All of the required user settings are offered via the front panel as well as by remote control.
The new design yields a wide and deep soundstage, realistic image proportions, and startling dynamic range and speed, with massive headroom capability and low noise. The TP-6.5 easily resolves the most delicate and nuanced aspects of music, such as in the way the sustain and decay of instruments are captured; yet at the same time it retains the classic VTL characteristic of solid and controlled bass.
Features
Full Front Panel Functionality 
Input selection
MC Gain adjust: 5 steps of 6dB: 44dB, 50dB, 56dB, 62dB, 68dB
MC Step Up Option Gain: 65dB balanced output, 59dB single-ended output
Load setting: MC: 100Ω, 250Ω, 470Ω, 1kΩ, 2.5kΩ, 4.7kΩ, 47kΩ and User Defined, and MM – 10kΩ, 22kΩ, 47kΩ and User Defined.
Load setting for MC Step Up: 47Ω, 100Ω, 470Ω, 1.0kΩ
Mono switch
Phase flip, absolute, and channel to channel
RIAA select, for Enhanced RIAA and Rumble cut
Mute
Remote Controllable
Power
Input select
Mute
Phase reverse
Rumble cut
Mono
Gain
Cartridge Load
Circuit Features
2 single ended inputs, with discrete load settings for each input
Single-ended and Balanced outputs, with 68dB total gain balanced
Active Hybrid low noise J-FET driving high current 12AU7 MC gain stage for highest resolution of small signal levels
All high fidelity tubes: 12AU7, 12AX7, 12AT7, all operating in linear range
Accurate 4-corner passive RIAA filter, with split pole for greater accuracy
Zero loop feedback
Gain trims for accurate channel to channel balance
Signature and Reference-level coupling capacitors
Shock mounted gain stages for resistance to vibration interference
Extensive RF filtering on AC path
Switchable RF filtering on both inputs
Low radiation UI core power transformers, with dual mono supplies, and separate logic supply
Dual mono multiple cascaded precision-regulated and shielded power supplies for low noise, with film bypass for high frequency performance
High quality transformer MC step up option for low noise and excellent match to low-output MC cartridges
Quiet sleep mode on processor when not in use
Quiet 7-segment LED display on the front panel (for gain and load display)
Physical Features
Rigid braced steel and aluminum chassis for EMI, RF, and hum shielding with minimal interference from vibration
All noisy components steel shielded for low RF and hum radiation
Additional steel shielding on amplifier section for lowest noise
Vacuum Tube Complement
2 x 12AU7 MC (MC Stage), 2 x 12AX7, 2 x 12AT7MM, 2 x 12AT7
Inputs
2 pairs single-ended/RCA
Outputs
1 pair balanced out XLR out, 1 pair single-ended RCA out
Remote control functions
Power, MC/MM Source Select, Gain up/down, Mute, Rumble, Load, Mono, Phase
Maximum Gain
MC: 62dB single ended, 68dB balanced, MM: 35dB single ended, 40dB balanced
Output Impedance
150Ω
Input Impedance (Cartridge Load)
Selectable MC: 100Ω, 250Ω, 470Ω, 1kΩ, 2.5kΩ, 4.7kΩ, 47kΩ, User Defined
Selectable MM: 10kΩ, 22kΩ, 47kΩ, User Defined
Frequency response +0-1 dB
1Hz – 100kHz
Maximum Output Voltage <1% THD
10 VRMS @ 1kHz (10kΩ load)
Channel Separation
>70dB @ 1kHz (>65dB @ 20kHz)
Power Consumption
80 Watts
Dimensions W x D x H
17.5 x 17 x 4.75 inches (44.45 x 44.45 x 12.06 cm)
Weight
50lbs (22.72kg) Fully packed in one box
"… The first thing you notice is the greater control and articulation in the low range of the VTL, which is to be expected knowing that this is a key signature of the "family sound" of the company.
… The soundstage is monumental, but the VTL has a clear margin in the depths of the soundstage and the focus of soloists. This is the same feeling that I had when I did the comparison between the line preamps of the two brands [ARC is the other brand in the comparison]: the VTL gives the feeling of a "blackest black" in a note.
As for the MC input, known as I have a distinct preference for passive stage, I have to recognize, however, that with cartridges designed for active stages, for example with the Clearaudio Goldfinger, you get a better result: in the case of Goldfinger the feeling of having removed the handbrake and in the Lyra Titan, to date the only low impedance cartridge which I think can sound good with an active state, the difference between the two configurations is reduced to a matter of taste, a hair more punch and speed for MC Step Up transformer, and a hair of airiness and tonal neutrality to the active input.
…So, sooner or later it had to happen: after years of honorable service the [ARC] Reference Phono glorious career was beaten, though not humiliated and obviously I have not heard all the phono stages of creation, … I have no doubt in saying that the VTL TP-6.5 is clearly my new phono stage reference."
Sometimes we want to listen to our brand new audio setup without having to worry about dragging B&W up two flights of stairs - that's where we come in! Not only are our team experts in high quality AV equipment, they're also professional bodybuilders* who can deliver and install your new toys quickly and efficiently.
Our in-house team can service those in Brisbane, the Gold Coast, and the Sunshine Coast. Give us a call to get an obligation-free quote today!
*the term 'professional bodybuilders' is used here loosely...
Our refund policy operates in a 30-day window - after this time we are unable to accept the product and cannot issue a refund. Don't worry, our products are hand picked from thousands of luxury brands to ensure you are only offered the best of the best so we doubt you'll need to consider this policy at all. If you are concerned about making the wrong decision when it comes to your purchase, please feel free to talk with our team of experts who can advise you on equipment based on your personal music taste, aesthetics, and the layout of your listening room. Still not convinced? Discuss the possibility of a loan (trial period) with our experts and hear the difference yourself.