Skip to product information
Media gallery

Media gallery

Media gallery
Signature TL-5.5 S2 Preamplifier
Regular price

Sale price

$15,995

Unit price

per
Vendor: VTL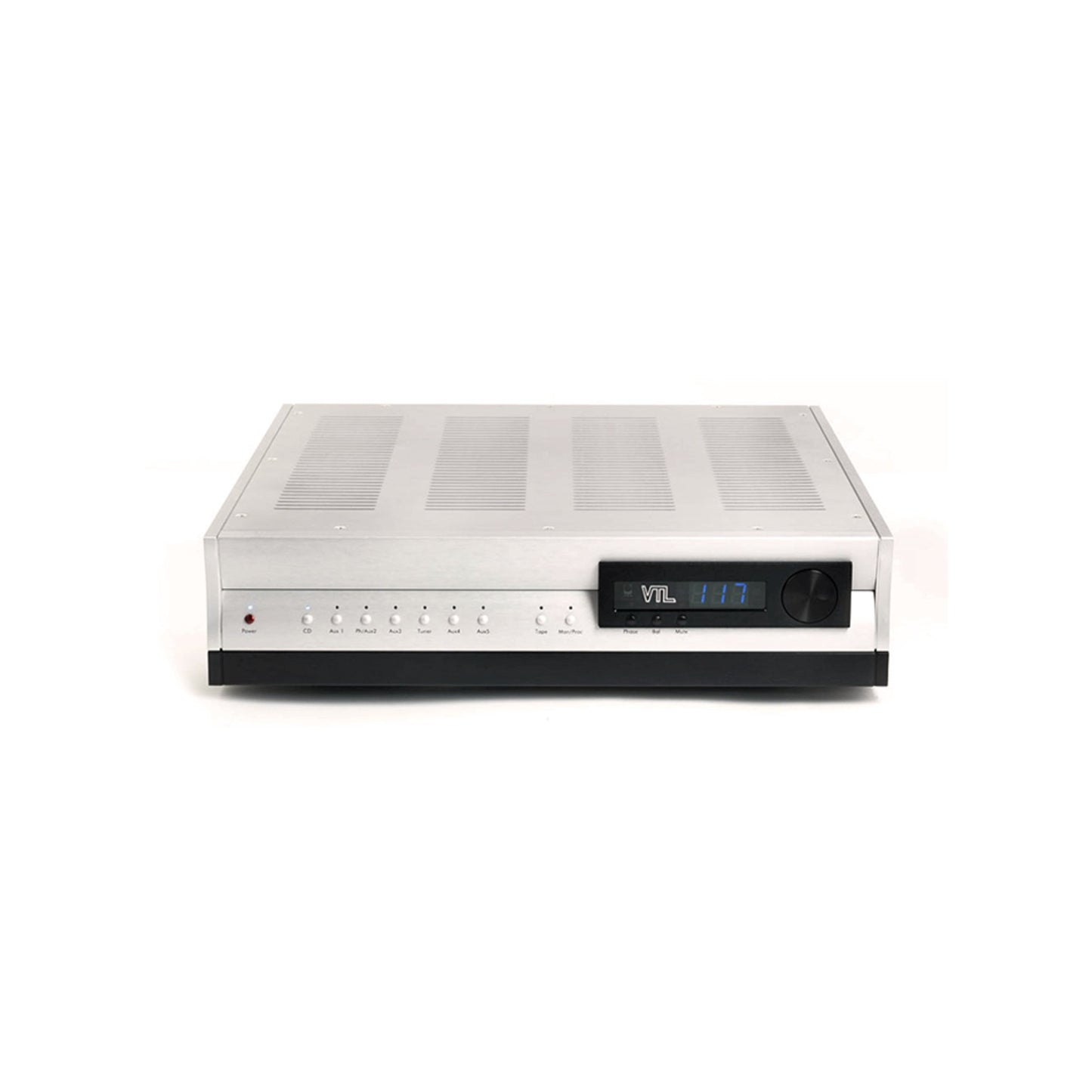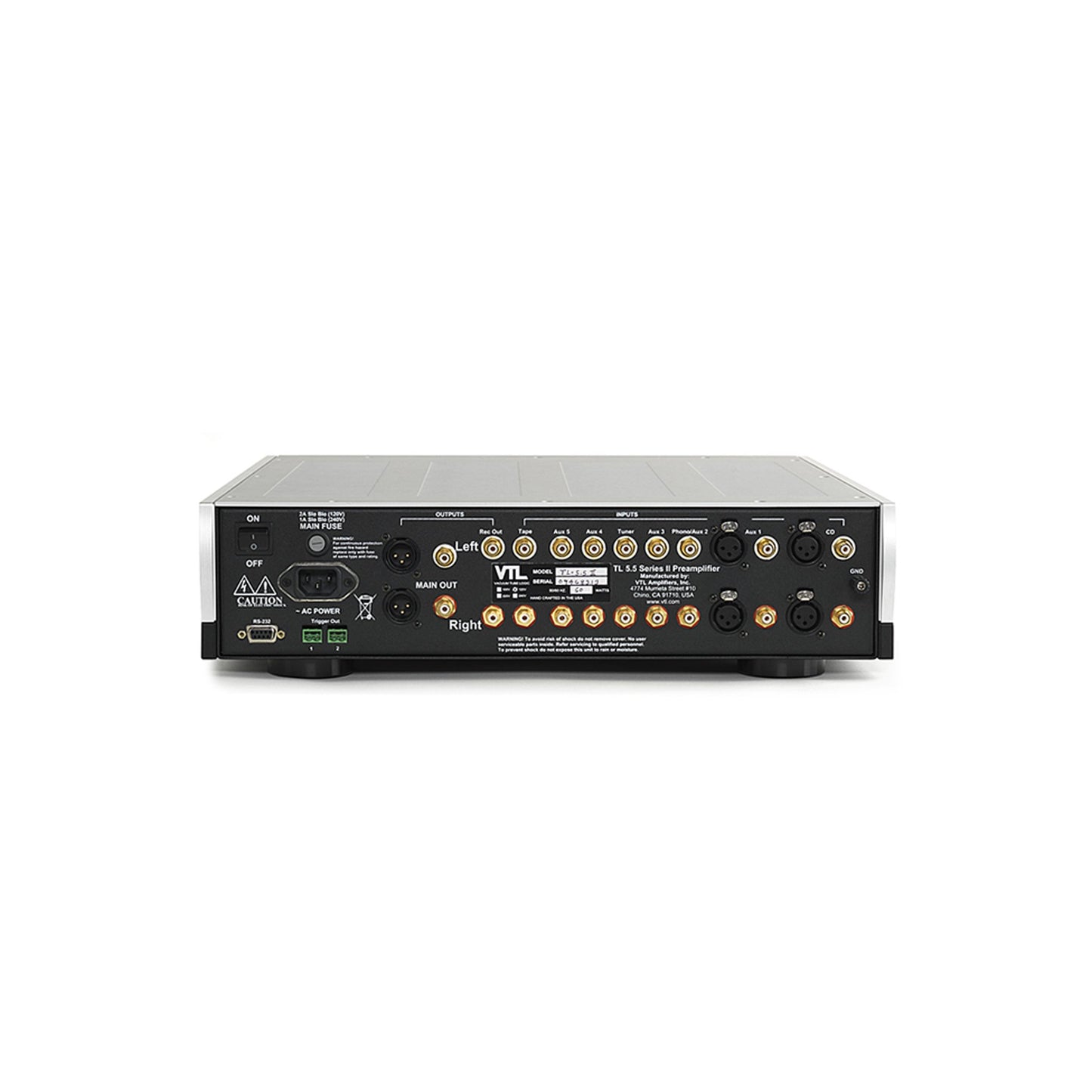 Notified by email when this product becomes available
Signature TL-5.5 S2 Preamplifier
Description

Specification

Review

Installation

Returns
VTL
Signature TL-5.5 S2 Preamplifier
*This product is built to order. The estimated delivery time is 3 months.
Since its introduction in 1997, the TL-5.5 has earned a reputation for outstanding performance at an economical price. Now, VTL has significantly upgraded this preamp, using many of the technological innovations derived from the flagship TL-7.5 preamplifier. The result is a modern full-featured preamplifier that outperforms in every way, making it one of the top values of any tube preamplifier in its category.
The fundamental qualities that made the original TL-5.5 special—its all-tube design, the optional retrofittable phono stage, and its superb sonic characteristics—are unchanged. What's new is the application of advanced audio technology sourced from VTL's TL-7.5 Reference and TL-6.5 Signature preamplifiers. This technology uses a simple circuit topology with low negative feedback and a high current/low impedance output stage in a low-noise microprocessor-based design. Top quality parts, fully balanced operation, and precision-regulated and shielded power supplies yield a full yet neutral sound with high resolution, transparency, speed and powerful dynamics.
VTL has delivered on its goal of bringing advanced engineering and modern functionality to the new TL-5.5 Series II preamplifier. With the same highly intuitive user interface of the renowned TL-7.5 and 6.5, and a full-function remote, the new TL-5.5 is a pleasure to use. A rigid, well-shielded chassis yields quiet operation while bi-directional RS-232 serial interface allows for seamless integration into any audio system. A luxurious cosmetic makeover includes a sleek and visually striking precision-milled faceplate similar to those used on its much more expensive brethren. For a well-priced, high-performance all-tube preamplifier, the TL-5.5 is a truly fine addition to any system.
Features
Almost half the price of the TL-6.5 Signature Preamplifier
Luxurious cosmetics to match with Reference and Signature models
Fully balanced differential linestage with increased functionality
Optional internally retrofittable phono stage, with user adjustable cartridge loading and gain options
Precision-regulated B+ and B- supplies
Tube life extender circuit with B+ delay and soft filament ramp on power on
Balanced design, low-radiation power transformer
Quiet logic: Microprocessor sleep mode, quiet non-matrixing LED display with latching shift registers
Line Stage: All-tube, with lower gain high current 12AU7 circuit and 12AT7 buffer, minimal negative feedback
Two balanced /single-ended inputs, five single-ended inputs, one tape in, one balanced out, one single-ended out, one buffered record out
Soft-touch relay input select
117-step chip-based differential volume control, with 3-digit display
Higher resolution via single higher-resolution attenuator, and software control for balance and offset
Switchable gain between normal and low gain
Mono control on front panel
Fully bi-directional RS-232 control: programmable input offset, any input programmable as pass-through, and input disable, tape monitor and Mono control on front panel
Two programmable trigger outputs
Full function aluminum metal remote
TP-6.5 chassis size with all precision machined aluminum cosmetic
Phono stage: JFET/parallel 12AU7 design from TP-6.5: 66dB gain balanced (23dB MC, 45dB MM)
Split-pole Passive RIAA with paralleled 12AX7 and 12AT7 gain stage
MM / MC select via jumper
MM Gain setting: fixed at 40 dB
MC Gain settings via jumper: 3 steps of 6dB: 66dB, 60dB, 54dB
Loading: MM 47k, MC: 100 ohm, 220 ohm, 470 ohm, 1K ohm, 47K ohm
Enhanced RIAA (selectable via jumper)
Rumble filter setting via front panel
Selectable bal/ S/E output via jumper
Dual-use buttons on front panel for phono-only functions
MC and MM gain trims
| | |
| --- | --- |
| Vacuum Tube Complement | 2 x 12AU7, 4 x 12AT7 (line stage) |
| Inputs | 2 pair balanced/XLR or RCA single-ended, 6 pairs single-ended/RCA |
| Outputs | 1 pair balanced out, 1 pair single-ended RCA out, 1 pair single-ended RCA buffered Record Out |
| Remote control functions | Power, Source Select, Volume up/down, Mute, Fade, Balance Control, Phase Reverse |
| Gain | Normal Gain -11dB single ended, 17dB balanced; Switchable to Low Gain – 6dB SE, 11dB balanced |
| Output impedance | 150Ω, Max 400Ω @ 10Hz |
| Input impedance | 35kΩ |
| Frequency Response | 1Hz – 200kHz, +0 -1dB |
| Maximum Output Voltage <1% THD | 30V @ 10Hz – 200kHz, 1.75V into 600 ohms @ 1%THD |
| Channel separation | >100dB @ 1kHz (>80dB @ 20kHz) |
| Power consuption | 60W line stage, 130W with phono stage |
| Dimensions W x D x H | 17.5 x 17.5 x 4.75 Inch (44.45 x 44.45 x 12.06 cm) |
| Weight | 40lbs (18.12Kg) fully packed, 30lbs (13.6Kg) unpacked |
| TL5.5 Phono Stage | MM | MC |
| --- | --- | --- |
| Vacuum Tube Complement | 2 x 12AX7, 2 x 12AT7 | 2 x 12AT7, 2 x 12AX7, 2 x 12AU7 |
| Load | 45kΩ | Selectable 100Ω, 220Ω, 470Ω, 1kΩ, 47kΩ |
| Gain | 40dB | Selectable 54dB, 60dB, 66dB |
"Like a lip-smacking bottle of wine that leaves you anticipating the next glass, this VTL tandem will have you excitedly pulling out record after record.
… VTL worked hard to pack a lot of price-to-performance value into the TL-5.5 Series II. In my experience it has succeeded marvelously."
…Every kick, the stretching of the heads, the snap of the sticks – this is indeed visceral sound. VTL has delivered a package that can segue seamlessly from the sweet harmonies of a doo-woop quintet to the in-your-face slam of power rock…
…What matters is the sheer silky naturalness of the sound, matched by the authority one demands of units costing far more. Robust yet refined, well built – this is pure class.
Sometimes we want to listen to our brand new audio setup without having to worry about dragging B&W up two flights of stairs - that's where we come in! Not only are our team experts in high quality AV equipment, they're also professional bodybuilders* who can deliver and install your new toys quickly and efficiently.
Our in-house team can service those in Brisbane, the Gold Coast, and the Sunshine Coast. Give us a call to get an obligation-free quote today!
*the term 'professional bodybuilders' is used here loosely...
Our refund policy operates in a 30-day window - after this time we are unable to accept the product and cannot issue a refund. Don't worry, our products are hand picked from thousands of luxury brands to ensure you are only offered the best of the best so we doubt you'll need to consider this policy at all. If you are concerned about making the wrong decision when it comes to your purchase, please feel free to talk with our team of experts who can advise you on equipment based on your personal music taste, aesthetics, and the layout of your listening room. Still not convinced? Discuss the possibility of a loan (trial period) with our experts and hear the difference yourself.