Skip to product information
Media gallery

Media gallery

Media gallery

Media gallery
Signature MB-450 S3 Monoblock
Regular price

Sale price

$41,995

Unit price

per
Vendor: VTL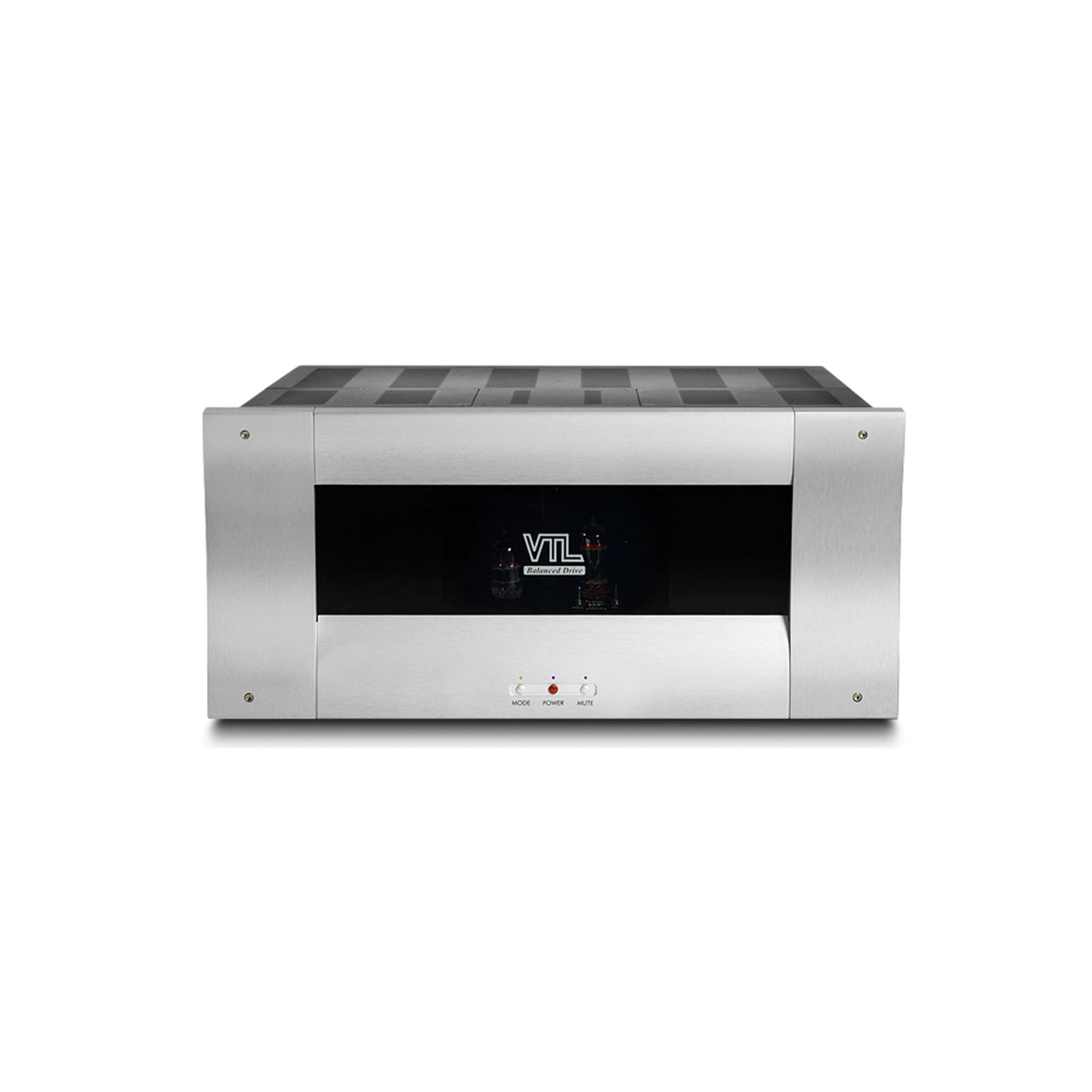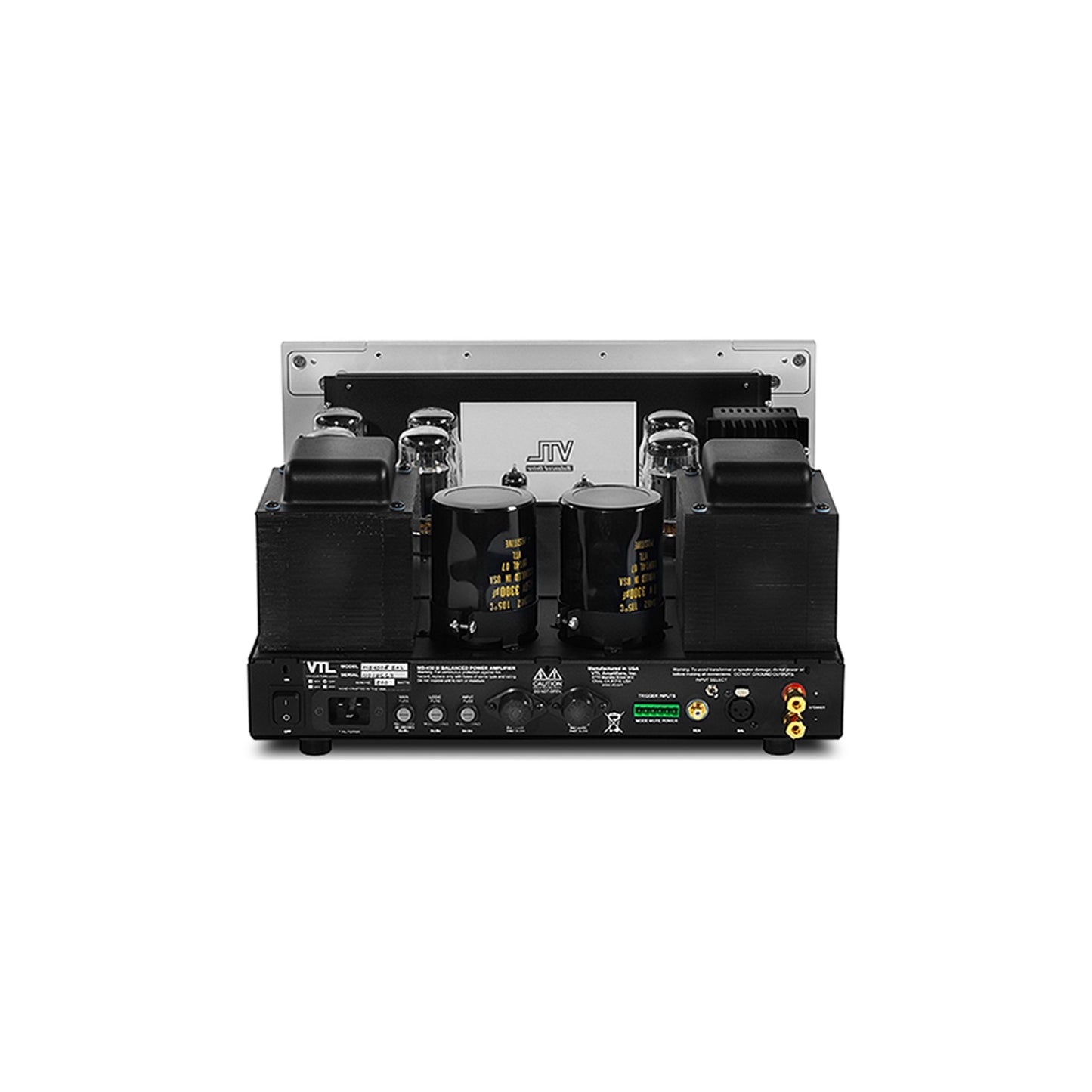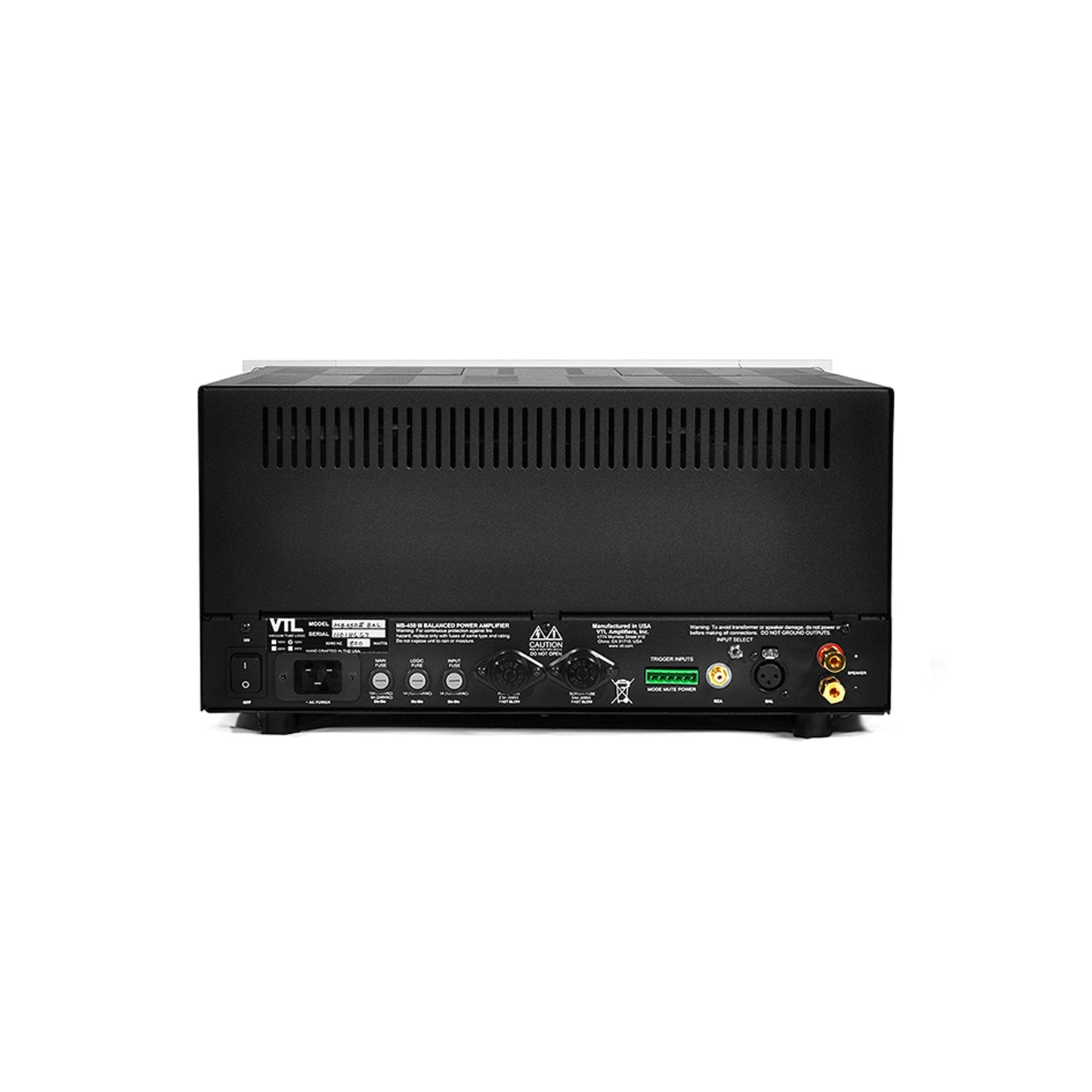 Notified by email when this product becomes available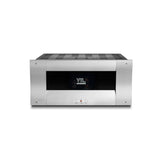 Signature MB-450 S3 Monoblock
$41,995
Description

Specification

Review

Installation

Returns
VTL
Signature MB-450 S3 Monoblock
*This product is built to order. The estimated delivery time is 3 months.
Music lovers have long admired the VTL MB-450 Signature monoblock amplifier for outstanding performance at a fair value. The new Series III version of the long-standing MB-450 platform features a complete re-working of the entire signal path. Upgrades include a fully balanced differential input stage driving a differential phase splitter and a lower impedance push-pull output stage with a dramatically improved, fully balanced and enhanced interleaved and coupled output transformer. VTL's innovative engineering brings the legendary sonic performance of the venerable 450 Signature platform to even greater heights.
The new MB-450 Signature monoblocks gain further sonic benefits with a shorter, faster and fully balanced negative feedback loop, with zero global negative feedback. The negative feedback loop completely eliminates ringing and requires no capacitor compensation to maintain critical phase integrity and information. The result is an amplifier that remains stable even under the most demanding loads.
Adjustable precision-regulated bias and screen supplies hold the output tube operating point constant even under AC and main power supply fluctuations, and stabilizes the critical power supplies yielding tonal stability and sonic integrity especially during complex, dynamic signal conditions.
Another new feature is a user adjustable Damping Factor feedback control that allows the user to adjust the amplifier's output impedance by varying the amount of negative feedback.  Impedance can now be precisely set to suit the listener's taste, and to improve control of the loudspeaker loads to deliver best performance.
The 4 possible settings are:
LOW – Lowest damping factor, good loudspeaker control, most natural sound.
MED – Better loudspeaker control, with some impact on sound quality
HI – Best loudspeaker control, with a little more impact on sound quality, but on speakers that need the control the sonic improvement is clear
MAX – Maximum damping factor, but sonic impact is noticeable
Features
Fully balanced differential circuit – even single-ended signal produces balanced signal at output
Re-designed fully balanced differential input and driver stages for increased signal swing, bandwidth and stability
Zero global Negative Feedback
Shorter, faster feedback loop for greater tonal control without phase shift
Improved handling of loudspeaker loads for greater signal stability
The amplifier is unconditionally stable, without the need for capacitor compensation
Tube like JFET-type current source for lower sonic impact in single-ended mode
Lower impedance output stage for improved loudspeaker control
Dramatically increased interleaving and coupling in the balanced VTL proprietary Signature output transformer, for wider bandwidth and zero ringing
Variable user-adjustable DF feedback control to vary output impedance and damping factor for optimal matching to speaker load
Software microprocessor controlled

Tetrode/Triode Switchable
Auto Bias, Fault Sensing
Current in-rush limiting
Standby Mute function; with reduced tube current for increased tube life

425 watts per channel in tetrode; 225 watts per channel in triode
Uses eight 6550 or KT-88 tubes per monoblock
Adjustable regulated screen supply for stable operating point; discrete regulated input and driver supply for greater signal resolution and tonality
Adjustable precision-regulated bias supply for greater signal resolution and noise rejection and improved isolation from mains supply variations; output operating point does not change with AC power fluctuations
Improved Autobias and fault sensing system to operate in fully balanced differential mode; amplifier is fully protected against output tube failure; no need for precision matching of output tubes
All premium Mundorf silver oil caps in signal path
Film bypass of power supply caps for greater HF resolution
Extruded aluminum front panel with luxurious, modern look – black and silver options available
Rack mountable
Rigid construction and improved ventilation for lower operating temperature
Factory upgradeable from Series II
Vacuum Tube Complement
8 x 6550 or KT-88, 1 x 12AT7, 1 x 12BH7
Output power
20Hz – 20kHz <2.5% THD

Tetrode: 425 Watts, Triode: 225 Watts
Into 5Ω
Input sensitivity
Variable between 1-2V, depending upon DF setting
Input impedance
45kΩ
Load setting
5Ω
Output load range
4Ω – 8Ω
S/N ratio
450W Tetrode & 200W Triode: -110dB, 120Hz
Power consumption
Idle = 300W, Full power = 1000W
Primary mains fuse rating
100/120V = 15A Ceramic Slo Blo, 220/240V = 8A Ceramic Slo Blo
Input fuse
100/120V = 1A Ceramic Slo Blo, 220/240V = 1A Ceramic Slo Blo
Logic fuse
100/120V = 1A Ceramic Slo Blo, 220/240V = 1A Ceramic Slo Blo
B+ fuse rating
Plate Fuse – 2.5A fast acting 600V, Screen Fuse – 0.75A fast acting 600V
Dimensions W x D x H
18.5 x 18 x 9 inches (47 x 45.7 x 23 cm)
Weight
93lbs (42kg) per monoblock unpacked, 110lbs (50kg) packed
"Key to the '450's performance is the foundation provided by its unconditionally stable, fully balanced and heavily regulated circuit topology, the platform on which everything else rests. That stability is what provides its innate sense of order and musical organization, the clarity it brings to musical structure, rhythms and phrasing. With the '450s, recordings have a naturalistic perspective and presence that depends on having a place for everything and everything being in that place — not in the clamped, pinched, over-damped and etched style of so many ultra-definition solid-state designs, but in the way that instruments and voices have a natural position and separation."
"…The MB-450 III's crystalline finesse in the treble never ceased to excite. Cymbals, bells, and celeste were reproduced with effervescent precision and sophistication: tiny when appropriate, but always precise. It's almost impossible to go ice crystal precise on top and not pay a price in terms in the richness of string tones lower in the audioband, but the MB-450s managed a fine, realistic sheen on massed and solo strings alike, producing an ideal balance of bow on string and the resulting woody resonance…"
Sometimes we want to listen to our brand new audio setup without having to worry about dragging B&W up two flights of stairs - that's where we come in! Not only are our team experts in high quality AV equipment, they're also professional bodybuilders* who can deliver and install your new toys quickly and efficiently.
Our in-house team can service those in Brisbane, the Gold Coast, and the Sunshine Coast. Give us a call to get an obligation-free quote today!
*the term 'professional bodybuilders' is used here loosely...
Our refund policy operates in a 30-day window - after this time we are unable to accept the product and cannot issue a refund. Don't worry, our products are hand picked from thousands of luxury brands to ensure you are only offered the best of the best so we doubt you'll need to consider this policy at all. If you are concerned about making the wrong decision when it comes to your purchase, please feel free to talk with our team of experts who can advise you on equipment based on your personal music taste, aesthetics, and the layout of your listening room. Still not convinced? Discuss the possibility of a loan (trial period) with our experts and hear the difference yourself.