Skip to product information
Media gallery

Media gallery
Philips Dynalite PDEG – Ethernet Gateway
Vendor: Dynalite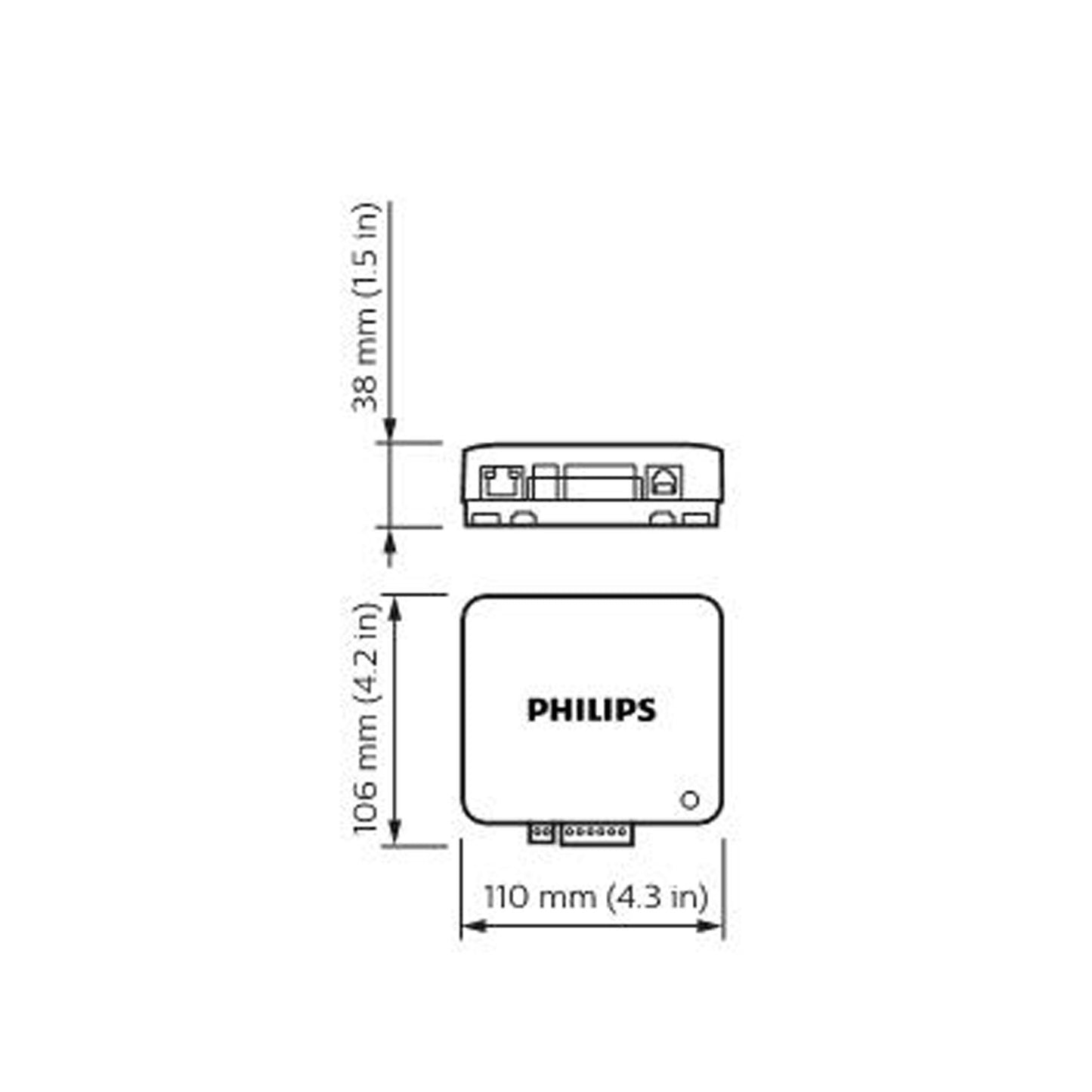 Notified by email when this product becomes available
Philips Dynalite PDEG – Ethernet Gateway
$0
Description

Specification

Installation

Returns
Philips Dynalite
PDEG – Ethernet Gateway
Flexible Ethernet integration
The Philips Dynalite PDEG provides a multipurpose Ethernet connection to a Philips lighting control system. It supports access to the lighting system via a dedicated Philips app as well as providing a web interface delivering access to the inbuilt timeclock and schedule editor functions. It provides bridging functionality between Ethernet backbone and the DyNet fieldbus devices.
Large storage capacity – The device stores large project files internally, which apps use to automatically configure their settings. This saves configuration time and ensures accuracy for phone and tablet control.
Built-in web server – Allows the user to edit and check system settings via the Network Hardware Checker and System Roll Call tools.
No technical skills needed – Inbuilt timeclock and schedule manager allow the user to manage operation and task scheduling without advanced technical knowledge.
Powerful custom task engine – Allows users or third-party systems to run macros, such as 'After Hours', 'Shut Down', 'Welcome' and more.
Advanced interoperability – Supports management of Philips Dynalite and Philips PoE fittings on a single system.
Item
Specification 

Details

Electrical
Dual supply option

12 / 24 VDC from an external regulated SELV / Class 2 power supply. Max 100 mA @ 12 V plus DyNet load, max 50 mA @ 24 V plus DyNet load or;
12 / 24 VDC from DyNet (no external PS connected). Max 100 mA @ 12 V, max 50 mA @ 24 V

DyNet DC Supply

Max 200 mA contribution to the network (when powered from external power supply)

Power supply voltage shall match network voltage

Control
Communication Ports

One RS-485 DyNet serial port

One 10/100BaseT Ethernet port

Supported Ethernet Protocols

TCP/IP (TCP, UDP)

HTTP, FTP
IPv4, IPv6

Storage Capacity

Max 16 MB for XML file storage

28 day rolling network log

User Controls

Service switch

Service LED

Ethernet LED's status

Diagnostic Functions

Device Online / Offline status

Physical

RS-485 Port Connections

Shield, GND, D-, D+, +Ve, AUX

All available on screw terminals

1 x 2.5 mm2 conductor size

Also available on RJ12 socket

Ethernet Port Connections

Female RJ45 socket

Supply Terminal

1 x 2 pole 5 mm pluggable screw terminal (+, -), 1 x 2.5 mm2 max conductor size per pole

Dimensions (H x W x D)

97 mm x 110 mm x 38 mm (3.8" x 4.3" x 1.5")

Packed Weight

0.21 kg

Construction

Low profile DIN-rail polycarbonate (6 unit)

Operating Conditions

Temperature: -5 to 50° C ambient

Humdity: 0 to 90% non-condensing

Storage & Transport

Temperature: -25 to 70° C ambient

Humidity: 0 to 90% non-condensing

Certification

Certification

CE, C-Tick, UL, FCC, ICES

Options & Ordering

Standard Product

EnvisionGateway DL-ETHENVG-101 (Philips 12 NC - 913703013809)
Sometimes we want to listen to our brand new audio setup without having to worry about dragging B&W up two flights of stairs - that's where we come in! Not only are our team experts in high quality AV equipment, they're also professional bodybuilders* who can deliver and install your new toys quickly and efficiently.
Our in-house team can service those in Brisbane, the Gold Coast, and the Sunshine Coast. Give us a call to get an obligation-free quote today!
*the term 'professional bodybuilders' is used here loosely...
Our refund policy operates in a 30-day window - after this time we are unable to accept the product and cannot issue a refund. Don't worry, our products are hand picked from thousands of luxury brands to ensure you are only offered the best of the best so we doubt you'll need to consider this policy at all. If you are concerned about making the wrong decision when it comes to your purchase, please feel free to talk with our team of experts who can advise you on equipment based on your personal music taste, aesthetics, and the layout of your listening room. Still not convinced? Discuss the possibility of a loan (trial period) with our experts and hear the difference yourself.