Skip to product information
Media gallery
Philips Dynalite DUS360CR-DALI – Multifunction Sensor
Vendor: Dynalite
Notified by email when this product becomes available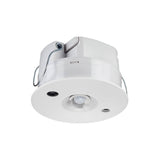 Philips Dynalite DUS360CR-DALI – Multifunction Sensor
$0
Description

Specification

Installation

Returns
Philips Dynalite
DUS360CR-DALI – Multifunction Sensor
Low profile recessed 360° ceiling sensor powered by the DALI network
The Philips Dynalite DUS360CR-DALI is a recess mountable 360 degree multifunction sensor that combines motion detection (PIR) and ambient light level detection (PE) in one device. The DUS360CR-DALI is powered and communicates to the networked control system via a DALI bus.
Powered directly by the DALI network – Eliminates the need for additional network field wiring.
Works with DALI master controller – Requires a DALI MultiMaster controller, such as the DDBC120-DALI, to operate.
Motion detection feature – Detection of motion within a scanned area triggers a programmed lighting action.
Segmented click-up bezel – Surrounds the motion sensor element and enables a portion of the sensing field to be masked. This prevents nuisance detection from adjacent doorways or corridors.
Daylight harvesting mode – Delivers automatic energy savings.
Ambient light level regulation – In applications where it is critical to maintain precise light, the PE function reads ambient levels and adjusts artificial light levels accordingly.
Infrared receive capability – Enables sign-on identification to the networked system.
Suitable for plenum use – UL approved for installation in air-handling plenum spaces.
Sometimes we want to listen to our brand new audio setup without having to worry about dragging B&W up two flights of stairs - that's where we come in! Not only are our team experts in high quality AV equipment, they're also professional bodybuilders* who can deliver and install your new toys quickly and efficiently.
Our in-house team can service those in Brisbane, the Gold Coast, and the Sunshine Coast. Give us a call to get an obligation-free quote today!
*the term 'professional bodybuilders' is used here loosely...
Our refund policy operates in a 30-day window - after this time we are unable to accept the product and cannot issue a refund. Don't worry, our products are hand picked from thousands of luxury brands to ensure you are only offered the best of the best so we doubt you'll need to consider this policy at all. If you are concerned about making the wrong decision when it comes to your purchase, please feel free to talk with our team of experts who can advise you on equipment based on your personal music taste, aesthetics, and the layout of your listening room. Still not convinced? Discuss the possibility of a loan (trial period) with our experts and hear the difference yourself.