Skip to product information
Media gallery

Media gallery

Media gallery
Philips Dynalite DDBC320-DALI Controller
Vendor: Dynalite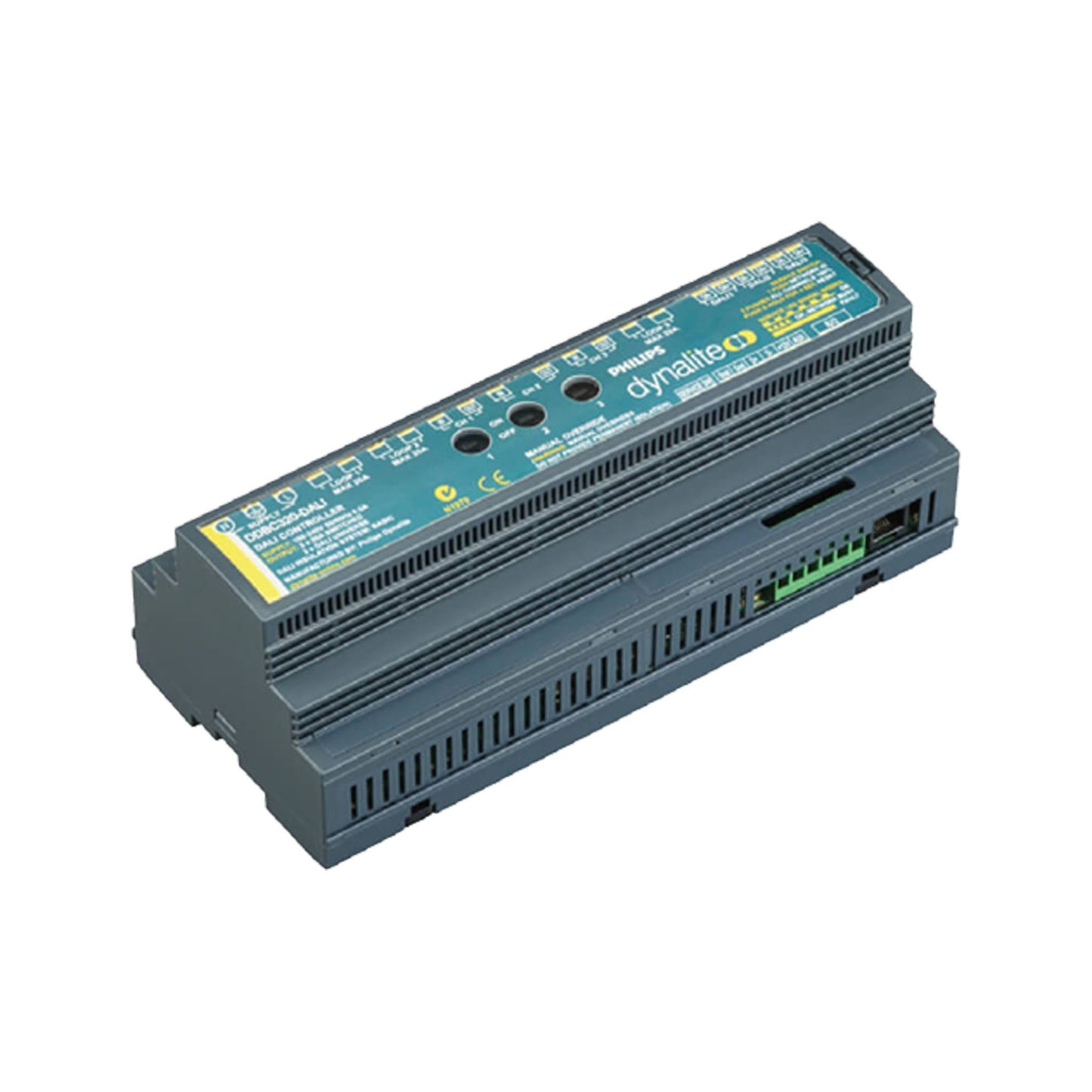 Notified by email when this product becomes available
Philips Dynalite DDBC320-DALI Controller
$0
Description

Specification

Installation

Returns
Philips Dynalite
DDBC320-DALI Controller
Power saving DALI control solution
The Philips Dynalite DDBC320-DALI features three DALI outputs, allowing control of up to 192 DALI devices. It also features 3 x 20 A feed-through switched circuits for DALI driver mains supply.
Compatible with a range of DALI fittings and devices – Including DALI drivers, DALI electronic low voltage transformers and DALI LED fixtures.
Built-in energy savings – Control signals can be programmed to operate in tandem with three internal switched outputs, which will automatically isolate the power circuit when all associated channels are at 0%. This is a useful feature as DALI drivers still draw significant power when lamps are turned off via a DALI command.
Fully scalable network solution – Direct mapping from DALI to the Philips Dynalite DyNet network protocol eliminates DALI imposed limits, such as maximum group sizes.
Flexible mounting solution – A DIN-rail mountable device, designed to be installed into the distribution board supplying power to the controlled lighting circuit.
Integral DALI bus power supply – Removes the need for provision of a separate external power supply and reduces distribution board wiring complexity.
Inbuilt diagnostic functionality – Features lamp and driver failure reporting, driver run time tracking for each driver and Device Online/Offline status indication.
Sometimes we want to listen to our brand new audio setup without having to worry about dragging B&W up two flights of stairs - that's where we come in! Not only are our team experts in high quality AV equipment, they're also professional bodybuilders* who can deliver and install your new toys quickly and efficiently.
Our in-house team can service those in Brisbane, the Gold Coast, and the Sunshine Coast. Give us a call to get an obligation-free quote today!
*the term 'professional bodybuilders' is used here loosely...
Our refund policy operates in a 30-day window - after this time we are unable to accept the product and cannot issue a refund. Don't worry, our products are hand picked from thousands of luxury brands to ensure you are only offered the best of the best so we doubt you'll need to consider this policy at all. If you are concerned about making the wrong decision when it comes to your purchase, please feel free to talk with our team of experts who can advise you on equipment based on your personal music taste, aesthetics, and the layout of your listening room. Still not convinced? Discuss the possibility of a loan (trial period) with our experts and hear the difference yourself.