Skip to product information
Media gallery

Media gallery

Media gallery

Media gallery
Performance TP-2.5i Phono Stage
Regular price

Sale price

$8,495

Unit price

per
Vendor: VTL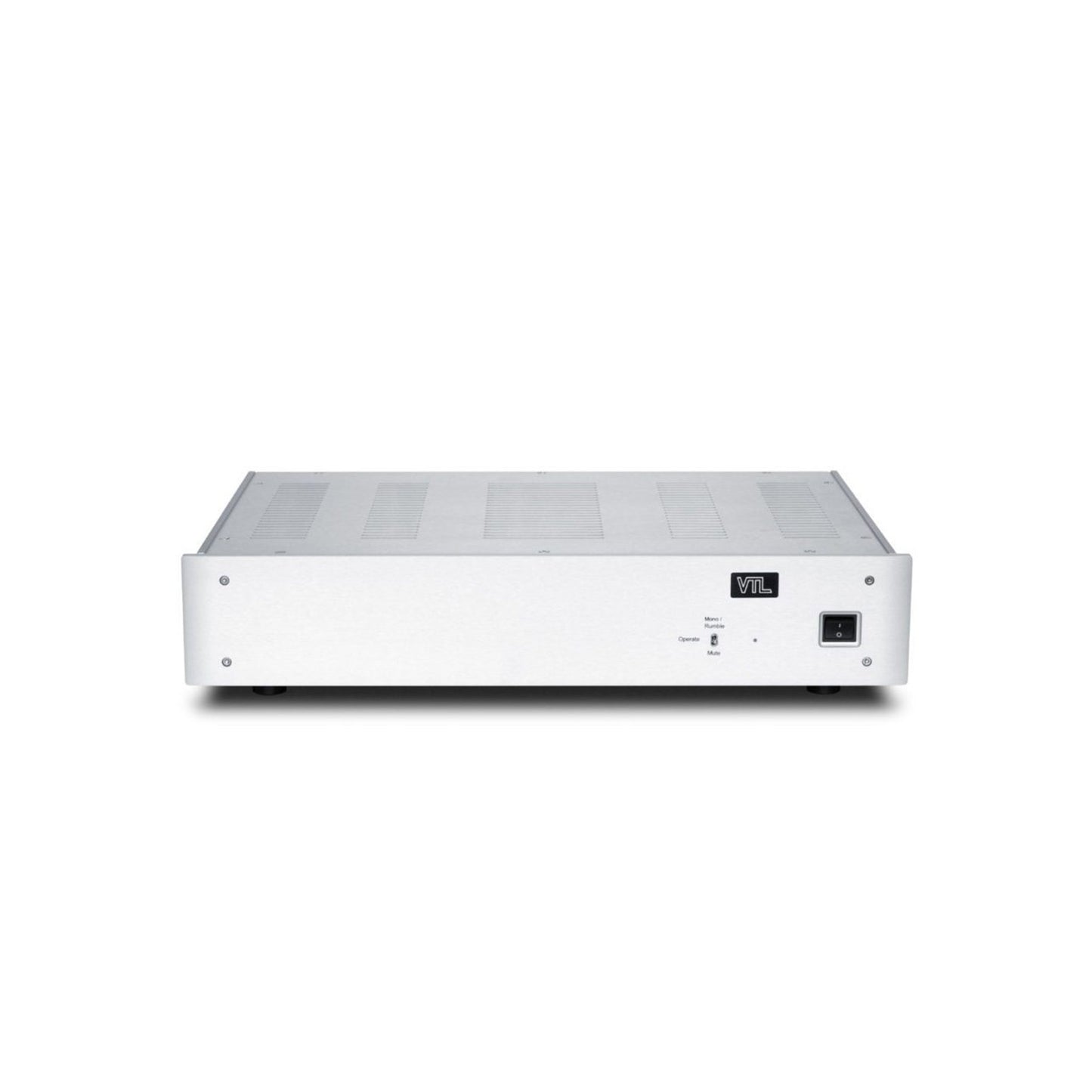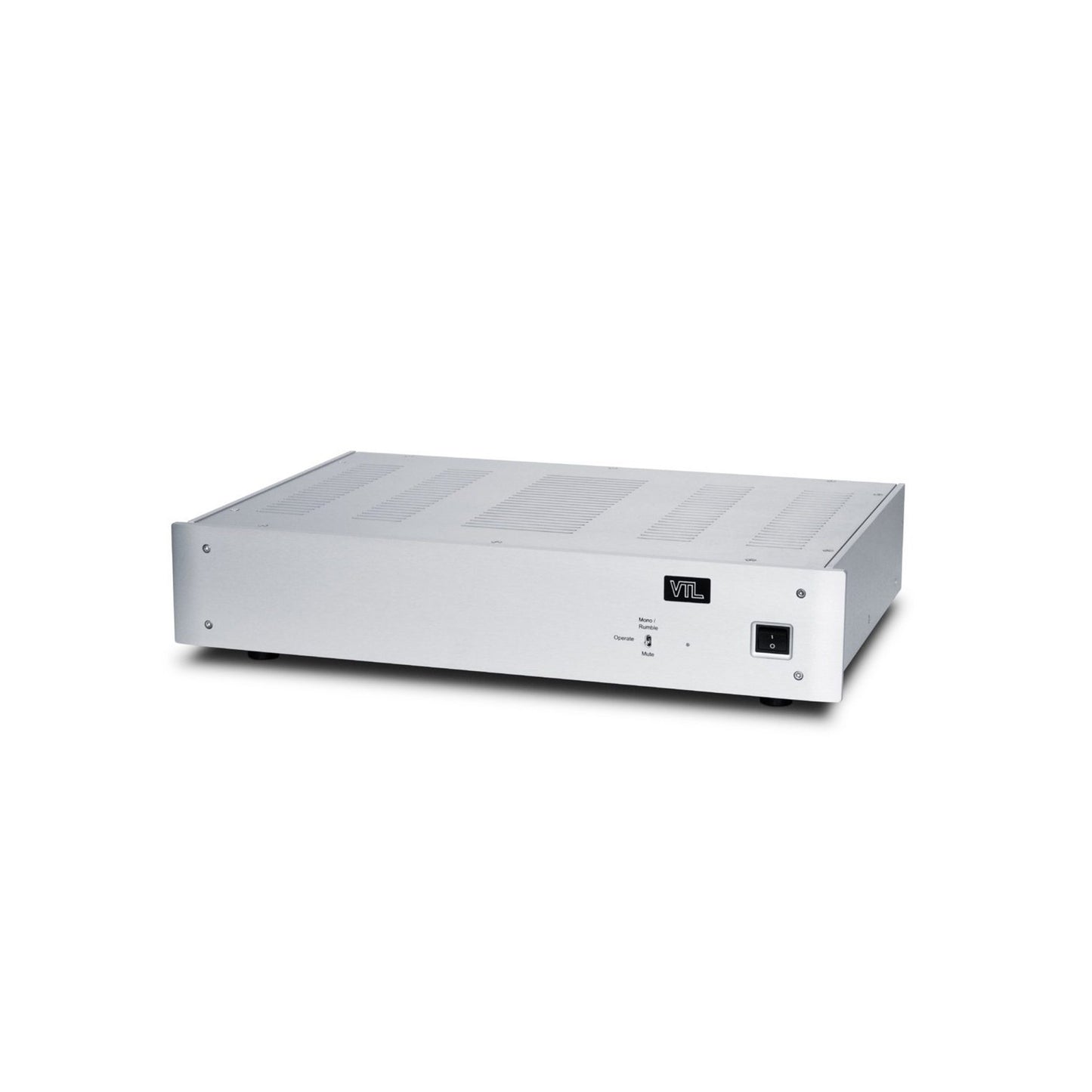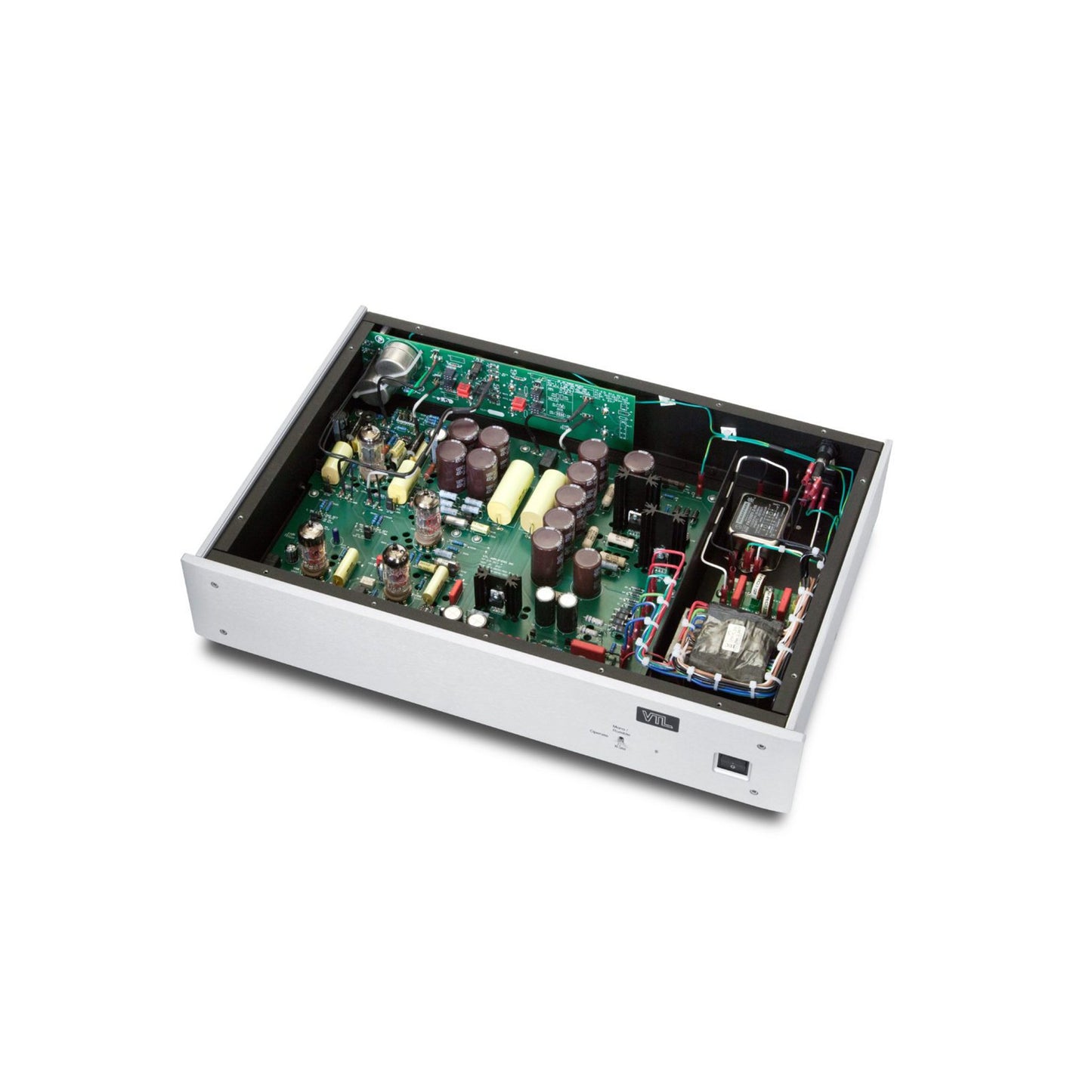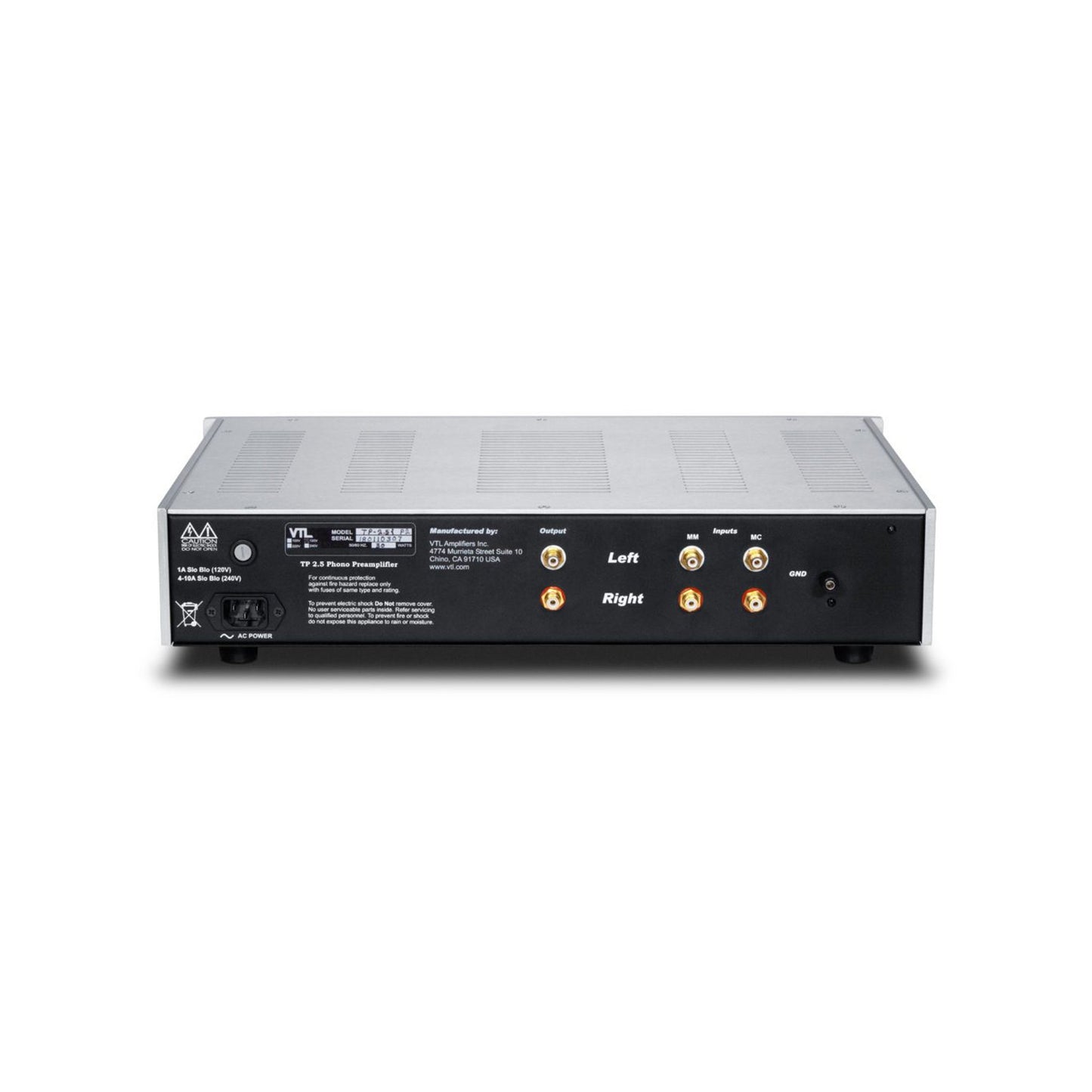 Notified by email when this product becomes available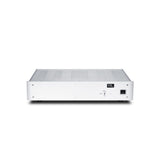 Performance TP-2.5i Phono Stage
$8,495
Description

Specification

Review

Installation

Returns
VTL
Performance TP-2.5i Phono Stage
*This product is built to order. The estimated delivery time is 3 months.
The new TP-2.5i phono stage represents a tremendous value for those looking to assemble a high resolution analog system at a reasonable cost. Completely re-designed from the earlier version, the TP-2.5i is trickled down from our flagship phono stage, the renowned TP-6.5. Delivering a large measure of the musicality and resolution of its much more expensive stablemate, the new TP-2.5i offers dramatic improvements in speed, delicacy, nuance and drive.
Crafted with a similar high quality build and finish as VTL's more expensive models, the TP-2.5i has an elegant silhouette, and the features to match. With an eye toward flexibility and user friendliness, the TP-2.5i offers user-adjustable cartridge impedance, and two levels of gain, with inputs for both MC and MM cartridges. JFET/tube hybrid circuitry is used for the MC stage, and all-tube circuitry for the MM stage.  Additional functions include a front-panel switchable function that is internally selectable between rumble filter or mono. The signal path is purposely kept simple and direct, with audiophile-grade components throughout, for ultimate sonic purity.
With the new TP-2.5i phono stage, VTL have created an entry to true high-end analog sound. The VTL 'family' genes of highly resolved detail, linearity and controlled bass are all there, along with tonal depth, richly textured midrange and spaciousness you won't find in most phono stages. For the true music lover seeking to capture the special magic that only a fine analog system can provide, the new TP-2.5i phono stage is an essential component.
Features
Low noise hybrid JFET/tube active MC stage, and pure tube MM stage.
Separate MM and MC inputs.
User-switchable MC resistive cartridge loading with 6 settings: 100Ω, 250Ω, 470Ω, 1kΩ, 4k7Ω, 47kΩ.
User selectable MC StepUp loads are 100Ω, 470Ω, 1kΩ.
User selectable MM loads are 10kΩ, 47kΩ, 100kΩ.
User- switchable MC gain settings of 62dB and 56dB.
Passive RIAA filter,
Buffered output for driving low impedances through any cable.
Zero microprocessor noise.
Front panel Power, Rumble/Mono and Mute switches.
Rumble function rolls off to -3dB at 10Hz.
Audiophile-grade components throughout, including REL caps.
Low-radiation power transformer with comprehensive AC RF filtering and shielding.


MC
MM
MC StepUp
Gain (Total 62dB)
Selectable 56 dB or 62 dB
46 dB

65 dB

Selectable Cartridge Load
100Ω, 250Ω, 470Ω, 1kΩ, 4.7kΩ, 47kΩ
47kΩ, 100kΩ

100Ω, 470Ω, 1kΩ

Signal to Noise Ratio
46 dB
65 dB

64 dB

Minimum Recommended Cartridge Output
0.2 mV
1.5 mV

0.2 mV

Vacuum Tube Complement
1 x 12AU7
2 x 12AX7
(1 x 12AT7 output)
Inputs
1 pair single-ended RCA
1 pair single-ended RCA
Outputs
1 pair single-ended RCA
Output Impedance
375Ω
Frequency Response +0 -1 dB
10 Hz —100 kHz
Max Output Voltage <1% THD
8 V
Channel Separation
> 60 dB (20 Hz — 20 kHz)
Power Consumption
25 W
Dimensions W x D x H
19 x 14 x 3.75 inch / 48.25 x 35.5 x 9.5 cm
Weight
25 lbs (11.34 kg) packed
"The VTL phonostage projected an immense soundstage and excellent dynamics."
"The clarity of the TP 2.5i was remarkable."
" … so vivid you could almost imagine yourself back at the original venue."
"On orchestral works, the VTL once more demonstrated exceptional prowess at reproducing the original venue."
Sometimes we want to listen to our brand new audio setup without having to worry about dragging B&W up two flights of stairs - that's where we come in! Not only are our team experts in high quality AV equipment, they're also professional bodybuilders* who can deliver and install your new toys quickly and efficiently.
Our in-house team can service those in Brisbane, the Gold Coast, and the Sunshine Coast. Give us a call to get an obligation-free quote today!
*the term 'professional bodybuilders' is used here loosely...
Our refund policy operates in a 30-day window - after this time we are unable to accept the product and cannot issue a refund. Don't worry, our products are hand picked from thousands of luxury brands to ensure you are only offered the best of the best so we doubt you'll need to consider this policy at all. If you are concerned about making the wrong decision when it comes to your purchase, please feel free to talk with our team of experts who can advise you on equipment based on your personal music taste, aesthetics, and the layout of your listening room. Still not convinced? Discuss the possibility of a loan (trial period) with our experts and hear the difference yourself.