Skip to product information
Media gallery

Media gallery
Fyne Audio Classic VIII
Regular price

Sale price

$9,995

Unit price

per
Vendor: Fyne Audio
Notified by email when this product becomes available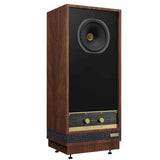 Fyne Audio Classic VIII
$9,995
Description

Specifications

Installation

Returns

FYNE AUDIO CLASSIC VIII FLOORSTANDING SPEAKERS
Tall, slim and elegant, the Vintage Classic VIII builds on the SM version with a larger floorstanding cabinet for a fuller, richer and more engaging sound. True to the Vintage Classic Series, the VIII is built within a rectangular cabinet with rich walnut veneer panels and striking baffle detail, including anodised gold trim and analogue control knobs set on a dedicated panel detailing frequency response graphs. Using the 200mm (8") Vintage Classic IsoFlare with FyneFlute roll surround and proven 25mm magnesium dome compression tweeter, this sumptuously retro design integrates a smaller form factor BassTrax porting system to deliver phenomenal bass from the relatively compact cabinet. Finished with the Vintage Classic woven cloth grille, the VIII will integrate seamlessly into any room.


MANUFACTURER DETAILS:
MEET THE VINTAGE CLASSIC SERIES
A perfect marriage of classic loudspeaker looks harking back to the golden days of Hi-FI and advanced acoustic engineering, the all new Vintage Classic Series from Fyne Audio bring Fyne's Vintage concept to a broader audience. Beautifully traditional with its flat sided rectangular cabinets that are wider than deep, Vintage Classic continues to encapsulate Fyne's Technical Director, Dr Paul Mills', no compromise approach to cutting edge acoustic design within.
Each model in the four strong Series features a dedicated IsoFlare driver with FyneFlute roll surround, pairing a multi-fibre low frequency mid/bass cone with a 75mm titanium dome compression tweeter with a traditional ferrite motor on the 10 and 12 inch models. The 8 inch floor standing and stand mount models benefit from a 25mm magnesium dome. A simplified BassTrax porting system brings all the benefits of Fyne's patented LF diffuser technology to all four models in the range, along with custom, hand made crossovers, finely tuned for each driver/cabinet combination.


ENGINEERED WITH CARE:
The Vintage Classic Series look comes from a fusion of the retro rectangular cabinets finished in traditional real wood veneers and a beautifully contrasting black finish baffle. Continuously variable control knobs offer subtle tuning of HF Energy and Presence, Retro-design and uncompromising acoustic engineering all in one. The Vintage Classic Series combines the timeless class of loudspeakers of yesteryear with the best of audio technology today.



ISOFLARE POINT SOURCE DRIVER
At the cutting edge of audio technology, Fyne Audio's IsoFlare driver is a point source, full range transducer system delivering exceptional musical cohesion and stereo imaging. The Vintage Classic IsoFlare drivers, in 8in, 10in and 12in versions, work in harmony with the dedicated crossovers to work at their very best in the large, flat-sided sided enclosures. Built on rigid, cast-aluminium chassis and lossy coupled to internal cabinet bracing, each driver has the firmest foundation on which to perform.
With the 10 and 12 inch models, the same 75mm titanium dome compression tweeter is used from the more affluent Vintage models, but driven in the Classic range by a more traditional and affordable ferrite magnet motor system. The 8 inch models use a 25mm magnesium dome with ferrite magnet system. The unique geometry of the high frequency unit's waveguide provides a flat frequency response and contributes to the driver's uniform dispersion. The mid/bass driver uses a ferrite motors to drive a multi-fibre cone, terminated with Fyne's unique FyneFlute roll surround to best dissipate cone energy at the outer perimeter.
The result is a point source driver, with a natural and articulate sound and true isotropic radiation from the cabinet. With no nodes or lobes in the dispersion pattern, stereo imaging is precisely focused both on and off axis. Combined with the IsoFlare's signature attributes of high power handling and incredible dynamics, Vintage Classic loudspeakers offer audio performance quite literally decades ahead of their style.



BASSTRAX TRACTRIX DIFFUSER SYSTEM
Appearing across the Fyne Audio Vintage Classic Series, BassTrax is Fyne's innovative and patented downward firing port system with 360 degree low frequency dispersion. Slightly simplified for the Vintage Classic Series, the cabinets are ported vertically at the base, firing downwards onto a mathematically shaped Tractrix shaped diffuser cone. This turns the plain bass wave into a 360 degree wavefront, exiting horizontally through vents on all four sides of the Vintage Classic cabinets.
Delivering deep, articulate and tuneful low frequencies, BassTrax offers the smoothest LF response down to very low registers without relying on extreme driver pressure. The result is much more natural and refined bass response, ideal for a wide range of musical genres.
As an added benefit, BassTrax's even LF output all around the speaker makes it far easier to place and integrate the Vintage Classic cabinets in the listening room. Compared to traditional front or rear ported loudspeaker designs, Vintage Classic can be situated nearer to the side or rear walls without adversely affecting low frequency performance. While front or rear porting may have been more in keeping with the retro style, when it comes to performance, Vintage Classic doesn't compromise.




CROSSOVER
Hand selected components, tuned by ear and hand-built onto vibration damping fibreboard panels, Vintage Classic crossovers are designed by Dr Paul Mills and his team in the time honoured way that predates even the most beloved speakers of the 1970s. Yet, that is where the crossover design similarities end. Leveraging some of the world's finest components, cutting edge computer modelling brings the design process right up to date.
With each crossover designed to seamlessly integrate the Vintage Classic IsoFlare driver and its dedicated Vintage Classic Cabinet, the component roster includes low loss laminated core inductors, high power precision resistors, and audiophile polypropylene capacitors. Hand built and hand soldered using Matched Crystal OFC silver plated wiring and, the result is a crossover designed to get the very best out of the Vintage Classic IsoFlare driver and enclosures as a system.
In keeping with some of the notable loudspeakers back in the day, Vintage Classic incorporates low-loss HF energy and Presence dials on the baffle. With a subtle +/- 3dB control on each, the HF energy control sets the tweeter level, while the Presence allows users to tweak the critical 2.5kHz- 5kHz region without impacting the overall balance. The precise control knobs are beautifully weighted and exceptionally well engineered, to give a superior user interface.




CLASSIC VINTAGE CABINETS
With luxury design cues straight out of the 1970s loudspeaker cabinet rulebook, Vintage Classic brings wide baffle / shallower cabinet concept into the 2020s. Real walnut wood veneers contrast the striking black baffle, with gold trim, control knobs and frequency spectrum diagram legends all adding to the nostalgia. The wood framed grilles feature a woven cloth, with the colour and light patterning inspired from Scottish kilt fabrics. As a truly modern twist, the grilles attach with hidden magnets on the baffle and on the back of the cabinet for storage during critical listening sessions.
Each model in the Vintage Classic Series uses a rectangular cabinet with straight panel sides, a flat top and a sturdy plinth section. Upgrading yesteryear's cabinet material of choice (half inch chipboard) to modern high density composite fibreboard in thick section panels, each cabinet has a unique bracing structure to further refine the mechanical performance well beyond the somewhat resonant cabinets of old.
Key to the Vintage Classic's bass performance is a unique implementation of Fyne's BassTrax LF porting system, with venting on all sides neatly concealed with matching grille cloth that seamlessly wraps around the cabinet. With their wide stance, contrasting finishes and textures, metal trim and unique grille cloth, the Vintage Classic Series cabinets are as uncompromisingly retro as they are quintessentially British.


| | |
| --- | --- |
| System Type | 2 way, downwards firing port, twin cavity, BassTrax Tractrix diffuser |
| Recommended amplifier power (Watt RMS) | 30 - 200 |
| Peak power handling (Watt) | 400 |
| Continuous power handling (Watt RMS) | 100 |
| Sensitivity (2.83 Volt @ 1m) | 91dB |
| Nominal impedance | 8 Ohm |
| Frequency response (-6dB typical in room) | 30Hz - 34kHz |
| Drive unit complement | 1 x 200mm IsoFlare point source driver, multi-fibre bass / midrange cone, FyneFlute surround with 25mm magnesium dome compression tweeter, ferrite magnet system |
| Crossover frequency | 1.8kHz |
| Crossover type | Bi-wired passive low loss, 2nd order low pass, 1st order high pass |
| System adjustments | High frequency energy (1.8kHz - 26kHz) +/- 3dB, Presence (2.5kHz - 5.0kHz) +/- 3dB |
| Dimensions - HxWxD | 873 x 380 x 300mm (34.4 x 15.0 x 11.8") |
| Finishes | Walnut |
| Cabinet Construction | High density fibreboard, walnut veneered with extensive internal bracing |
Sometimes we want to listen to our brand new audio setup without having to worry about dragging B&W up two flights of stairs - that's where we come in! Not only are our team experts in high quality AV equipment, they're also professional bodybuilders* who can deliver and install your new toys quickly and efficiently.
Our in-house team can service those in Brisbane, the Gold Coast, and the Sunshine Coast. Give us a call to get an obligation-free quote today!
*the term 'professional bodybuilders' is used here loosely...
Our refund policy operates in a 30-day window - after this time we are unable to accept the product and cannot issue a refund. Don't worry, our products are hand picked from thousands of luxury brands to ensure you are only offered the best of the best so we doubt you'll need to consider this policy at all. If you are concerned about making the wrong decision when it comes to your purchase, please feel free to talk with our team of experts who can advise you on equipment based on your personal music taste, aesthetics, and the layout of your listening room. Still not convinced? Discuss the possibility of a loan (trial period) with our experts and hear the difference yourself.