Skip to product information
Media gallery

Media gallery

Media gallery

Media gallery

Media gallery
Fathom f212v2-GLOSS
Regular price

Sale price

$15,995

Unit price

per
Vendor: JL Audio
Notified by email when this product becomes available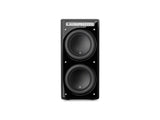 Fathom f212v2-GLOSS
$15,995
Description

Specification

Review

Installation

Returns
JL Audio
Fathom f212v2-GLOSS
The f212v2 is the ultimate expression of the Fathom formula. It is ideal for larger spaces thanks to its higher efficiency and higher power output. The combination of dual ultra-long throw W7 12-inch drivers and a very powerful switching amplifier give it jaw-dropping performance capabilities at any listening level.
Because it is built with the same driver and amplifier technology as our flagship Gotham®, the f212v2 delivers a tremendous level of sound quality. Low distortion, excellent dynamic capabilities and shockingly deep bass extension will allow you to experience all the excitement of the most demanding cinematic material, while also being able to reproduce all the nuance and texture of your most delicate musical material.
A complete set of signal processing features is easily accessible on the front surface of every Fathom. These include a highly flexible low-pass filter, variable phase, switchable polarity, e.l.f. trim and our powerful Digital Automatic Room Optimization (D.A.R.O.) system. A calibrated microphone is included for the D.A.R.O. system. Input connections are made via unbalanced RCA connections or balanced Neutrik® combo XLR/TRS jacks. Also included is an XLR output to connect a second Fathom® as a slave unit.


Finish: Gloss Black
Grille finish: Black fabric
Enclosure Construction: MDF
GENERAL SPECIFICATION
| | |
| --- | --- |
| Enclosure Type | Sealed |
| Enclosure Finish | Black Gloss |
| Frequency Response (Anechoic) | 20 - 97 Hz (±1.5dB) -3 dB at 19 Hz / 110 Hz -10 dB at 15 Hz / 157 Hz |
| Effective Piston Area (Sd) | 168 sq in / 0.1084 sq m |
| Effective Displacement | 574 cu in / 9.4 L |
| Amplifier Power | 3.6 kW RMS short-term |
| Power Mode(s) | Off, On or Automatic (Signal-Sensing) |
| Light Modes | Off, On or Dim |
SIGNAL PROCESSING
| | |
| --- | --- |
| Unbalanced Inputs | Stereo or Mono (two RCA jacks) |
| Balanced Inputs | Stereo or Mono (two female XLR jacks) |
| Speaker/High-Level Inputs | N/A |
| Input Grounding | Isolated or Grounded |
| Input Modes | Master or Slave |
| Level Control | Reference (fixed gain) or Variable, from full mute to +15dB over reference gain |
| Filter Mode(s) | Low-Pass |
| Filter Slope(s) | 12/24 dB/octave |
| Filter Frequency Range | 30 Hz - 130 Hz |
| Filter Defeat Function | Yes |
| Polarity | 0 or 180 degrees |
| Phase | Variable, 0 - 280 degrees |
| Extreme Low Frequency (E.L.F.) Trim | Variable, -12 dB to +3 dB at 25 Hz |
| Line Outputs | N/A |
| Output to Slave | Balanced (one male XLR jack) |
| Calibration Mode | Digital Automatic Room Optimization (D.A.R.O.), incudes laboratory-grade microphone |
PHYSICAL SPECIFICATION
Width (W)
14.92 in / 379 mm
Height (H)
31.96 in / 812 mm
Depth (D)
20.39 in / 518 mm
Net Weight
224 lb / 102 kg
Note:

 

Height dimensions include feet.
''...it is simply astonishing how much of a perceived difference that touch of ultra-low end makes in overall realism (both in the bass and in the perceived clarity of the midrange), without any of the usual penalties paid in midband veiling or midbass overlap."
Read the full review here on The Absolute Sound Logo.
"...the Gothams and the CR-1 are tickets to a full-range bliss you've never before experienced, because, in my own experience, it's never before been available at this level of unalloyed satisfaction. Both the Gotham subs and JL's CR-1 crossover, obviously, get my highest, most unqualified, most enthusiastic recommendation. I just wish all of you could hear them!"
Read the full review here on The Abso!ute Sound written by Jeff Dorgay. 
"The Gotham g213 produces state-of-the-art bass that will improve the highest of high-end systems. I've heard no other subwoofer that can match it."
Read the full review on Ultra Audio written by Jeff Fritz.
Sometimes we want to listen to our brand new audio setup without having to worry about dragging B&W up two flights of stairs - that's where we come in! Not only are our team experts in high quality AV equipment, they're also professional bodybuilders* who can deliver and install your new toys quickly and efficiently.
Our in-house team can service those in Brisbane, the Gold Coast, and the Sunshine Coast. Give us a call to get an obligation-free quote today!
*the term 'professional bodybuilders' is used here loosely...
Our refund policy operates in a 30-day window - after this time we are unable to accept the product and cannot issue a refund. Don't worry, our products are hand picked from thousands of luxury brands to ensure you are only offered the best of the best so we doubt you'll need to consider this policy at all. If you are concerned about making the wrong decision when it comes to your purchase, please feel free to talk with our team of experts who can advise you on equipment based on your personal music taste, aesthetics, and the layout of your listening room. Still not convinced? Discuss the possibility of a loan (trial period) with our experts and hear the difference yourself.