Skip to product information
Media gallery

Media gallery

Media gallery

Media gallery

Media gallery

Media gallery

Media gallery

Media gallery
Essence Preamplifier
Regular price

Sale price

$26,995

Unit price

per
Vendor: Gryphon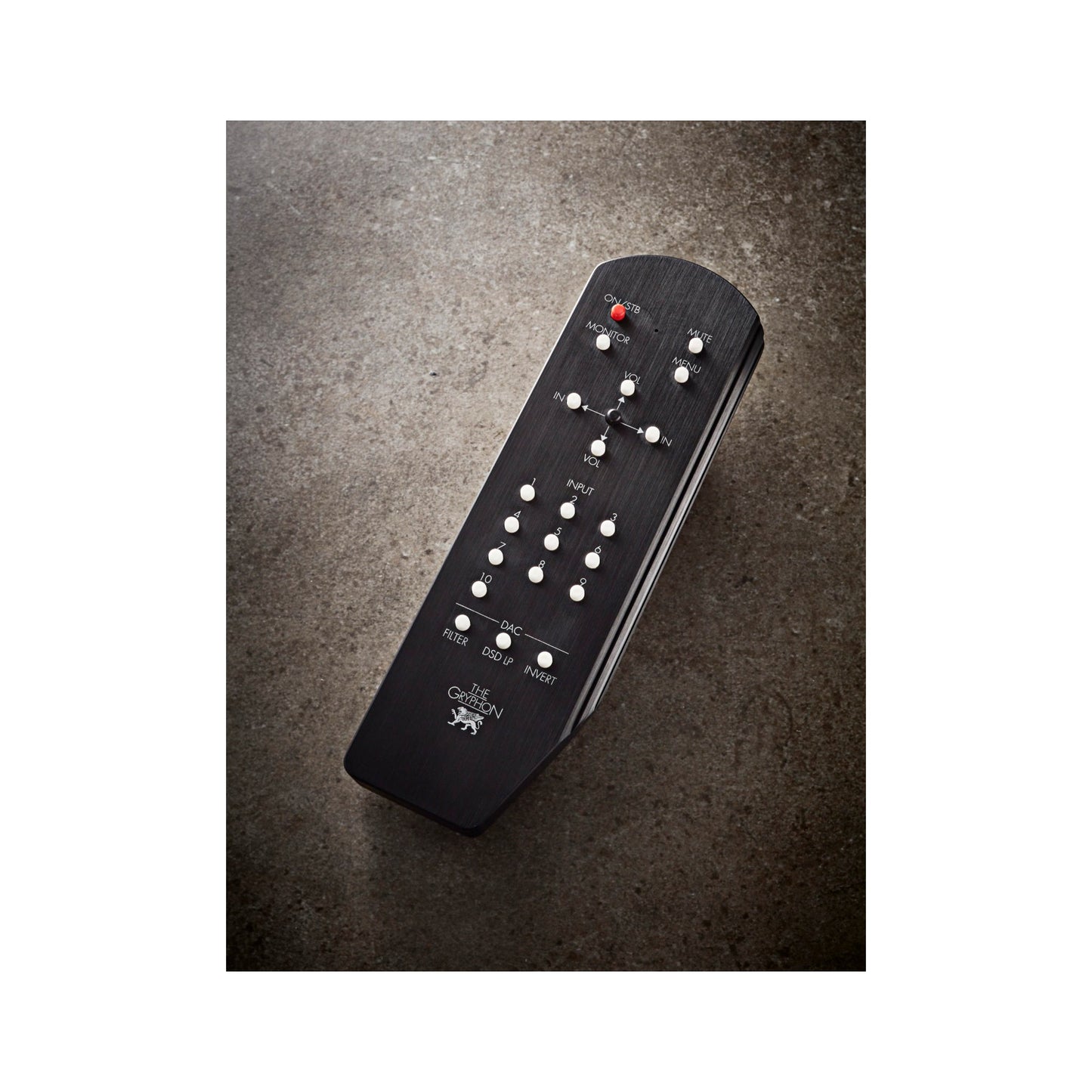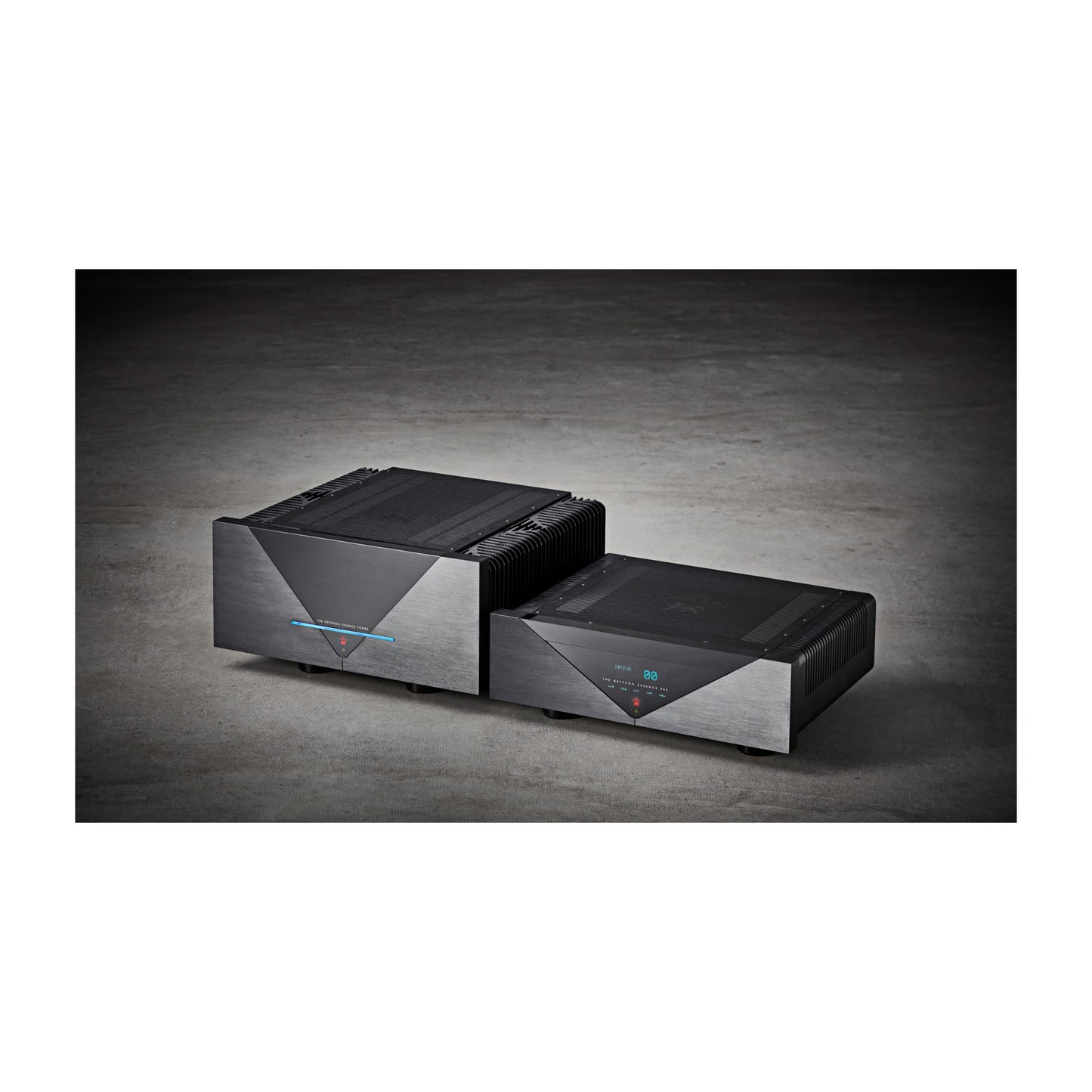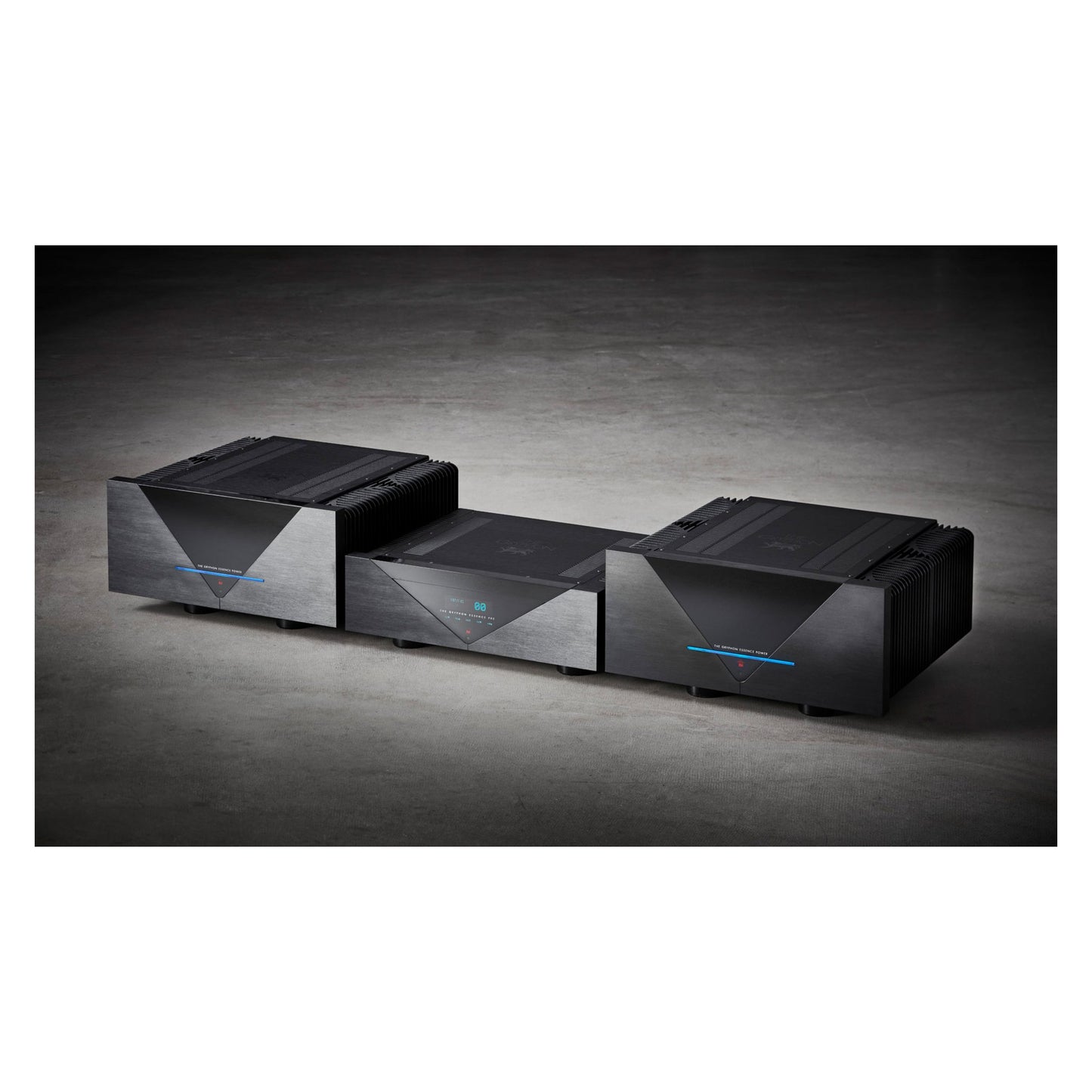 Notified by email when this product becomes available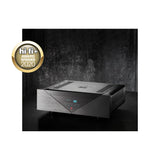 Essence Preamplifier
$26,995
Description

Specification

Review

Installation

Returns
Gryphon
Essence Preamplifier
The Gryphon Essence pure Class A amplification system has been developed based on the experience acquired and lessons learned from our top of the line Gryphon Pandora preamplifier and the stereo and monoblock Mephisto power amplifiers. Gryphon Essence exudes authority and maintains absolute control of your loudspeakers, with rarefied finesse to reveal even the subtlest variations in any style of music.
Gryphon Essence represents the perfect symbiosis of musical authority and effortless ease.
The strictly dual mono configuration achieves the shortest possible signal path with minimal internal wiring. In the interest of ultimate fidelity, superfluous circuity such as tone controls, balance controls, headphone connections, mono switching, polarity inversion and more have been banished from the signal path, thereby reducing interchannel crosstalk and signal path coloration to an absolute minimum.
As delivered, the Gryphon Essence preamplifier is a pure line preamplifier with two balanced XLR input and three single-ended phono inputs. With no internal wiring, the only cable are a short ground lead, display ribbons and AC power wiring mounted in a shielded channel from the rear IEC socket to the power switch to minimise 50/60 Hz interference.
Exhaustive investigation and auditioning have preceded the selection of every component part and many original, proprietary parts have been custom-designed and built exclusively for Gryphon.
Because we lavish attention on each aspect of the circuit and fully grasp the purpose and behavior of every single part of the whole, Gryphon's design team can optimize performance in every, before moving on to the next step. This ensures simplicity, a short signal path and a unity of purpose with a single, well-defined objective: musical purity.
The range of microprocessor controlled, fully adjustable menu items include input naming with up to eight characters, maximum level, start level, input level matching up to 8 dB, AV throughput, user selectable display brightness (100/75/50/25%, Off), default restoration and Gryphon Green Bias. The Gryphon Essence preamplifier can be configured with a 0 dB AV throughput for ideal integration with the owner's separate multi-channel installation.
As an optional extra, the Essence can be fitted with either an MM/MC phonostage or a digital to analogue converter. The phonostage is a Gryphon dual mono design based on the acclaimed Legato Legacy.
If you are using a compatible Gryphon Class A power amplifier, you may choose to connect the Green Bias control link, a Gryphon invention for automatic regulation of user selectable Class A bias between the sockets marked GREEN BIAS on the preamplifier and on the power amplifier.
Menu-Activated Functions
Maximum Level selects and stores in memory a maximum volume setting which cannot be exceeded, manually or by remote, until you re-set this function. This effectively protects your power amplifier and loudspeakers from expensive accidents.
Start-Up Level selects and stores in memory a default volume setting which will automatically be set by the preamplifier every time you turn it on.
Level Matching can be pre-set to automatically match the levels of your low-output and high-output sources. Matching is executed via the volume attenuator, with no additional components in the signal path.
Green Bias (active only when the Gryphon Essence is attached to a Gryphon Class A power amplifier via the Green Bias control link). Green Bias allows you to automatically switch between operation in 50%, 75% or 100% Class A with no sonic degradation.
Modular Options
The Gryphon Essence preamplifier offers the option of installing either a Gryphon PS2 phonostage or Gryphon ZENA DAC module at time of original purchase or at a later date. If your system consists of both analogue and digital sources, the DAC module can be installed and the Gryphon Sonett phonostage can be purchased as a stand-alone addition.
DAC Module
The Gryphon ZENA DAC module is the perfect match for the Essence preamplifier. With the module installed, the Essence display monitors the active digital input, sampling frequency, PCM/DSD format and selected digital filter setting.
At the time of original purchase or as the need arises at a later date, the Gryphon Essence can be fitted with a specially designed Gryphon ZENA DAC module based on the innovative, award-winning Gryphon Kalliope digital-to-analogue converter. The module adds four digital inputs (USB, balanced AES/EBU 115 Ω, TOSLink optical and BNC S/PDIF 75 Ω). USB can process PCM up to 32-bit/384 kHz as well as DSD (on Windows OS up to DSD512, on Mac OS up to DSD128, on Linux OS up to DSD128 DoP); via BNC S/PDIF and AES/EBU digital inputs up to192 kHz/32-bit PCM and via TOSLink up to 96 kHz/24-bit PCM. Format compatibility of the various inputs is subject to change without notice.
This future-proof digital module is ready for any current or foreseeable high resolution digital format.
PS2-S MM/MC Phono Module
Gryphon Audio Designs has consistently offered unwavering support to the LP format with high performance MC/MM phonostages as separate products or as optional modules for installation in preamplifiers and integrated amplifiers at all price points across our product range.
Based on the Legato Legacy phonostage, the Gryphon PS2-S MM/MC Phono Module is a true dual-mono design for enhanced channel separation, capable of extracting every musical detail for ultimate realism.
Nearly 40 years after the introduction of the compact disc, the LP still represents the largest selection of recorded music on any storage medium in human history. Therefore, we believe it is essential that Gryphon owners have full access to the artistic vision captured for all time by this true high-resolution format.
The Gryphon Essence preamplifier can be ordered with the PS2-S Phono Module factory-installed. The module can also be added later at a time of your choosing.
If the module slot in your Gryphon Essence preamplifier is already occupied by the Gryphon ZENA DAC Module, then the stand-alone Sonett Phonostage is recommended as a substantial upgrade for any system assembled to extract the very best from black vinyl grooves.
Style and performance
The peerless finish, build quality, ergonomics and pride of ownership that contribute to the totality of the Gryphon concept can only be fully understood and appreciated up close and in person. The distinctive, luxuriant finish of every Gryphon product arises organically out of the audio circuit design and the user interface for a truly unique integration of form and function.
The exemplary build quality combines brushed, anodised aluminium with subtle black acrylic details for a highly refined aesthetic sensibility.
From the very beginning, every Gryphon product has offered stunning audio performance, sumptuous styling and superb user- friendliness, catering to the needs of the discerning audiophile who demands musicality, convenience and aesthetics, all without compromise.
Essence bass performance is simply superb: firm, well-defined, with massive attack, in a pure demonstration of power.
The wealth of detail and fine handling of bass and high frequencies contribute to the preamplifier's ability to render the width and depth of a soundstage with three-dimensional realism and instrumental placement with great precision and realistic size.
Zero negative feedback

True Dual Mono configuration

Fully discrete, DC-coupled Class A circuit topology

Microprocessor-controlled 43-step fully balanced relay volume attenuator for best sonic

performance based on a minimalist contingent of ultra-precision resistors

High-speed, discrete, single-ended Class A input buffer for best possible sonic performance

Optional PCM/DSD DAC module with one USB, 2 x SPDIF, 1 AES and 1 optical input.

PCM up to Fs = 384 kHZ, DSD up to DSD512

Optional MM/MC PS2 / PS2-S phonostage module based on the legendary Legato

phonostage

Local shunt regulators for optimal noise suppression

Input level matching to prevent abrupt volume changes

Ultra-short signal path

Minimal internal wiring

Gold-plated Neutrik XLR sockets for two balanced sources and 1 output

Gold-plated phono sockets with Teflon insulation for 3 inputs and 2 outputs

Fixed-level AV throughput, balanced or single-ended, for uncompromising integration with

separate surround preamplifier

Large Vacuum Fluorescent Display for easy legibility

Adjustable display lighting (100/75/50/25%, Off)

Backlit touch-sensitive front panel controls

12 V DC link input and output

Green Bias link output for automatic Green Bias control with any Gryphon power amplifier

Stylish infrared remote control

Flash memory upgrades possible via PC or Key-fob

EU CE approval

Standby current consumption < 0.5 W

Designed and built in Denmark
Specifications:
+18 dB gain, max.

Output impedance: 15 Ohm XLR, 22.5 Ohm RCA

Frequency bandwidth (-3 dB): 0.1 Hz – 1 MHz

Power supply capacity: 2 x 26,000 μF

Input impedance, balanced (20 Hz – 20 kHz): 50 kOhm

Input Impedance, single-ended (20 Hz – 20 kHz): 25 kOhm
Dimension:

• 47 x 16.5 x 38.5 cm (WxHxD), 13.4 kg net. Specifications can be changed without notice.
 "Gryphon's excellent Essence preamp and power amplifiers are the real deal."

Sometimes we want to listen to our brand new audio setup without having to worry about dragging B&W up two flights of stairs - that's where we come in! Not only are our team experts in high quality AV equipment, they're also professional bodybuilders* who can deliver and install your new toys quickly and efficiently.
Our in-house team can service those in Brisbane, the Gold Coast, and the Sunshine Coast. Give us a call to get an obligation-free quote today!
*the term 'professional bodybuilders' is used here loosely...
Our refund policy operates in a 30-day window - after this time we are unable to accept the product and cannot issue a refund. Don't worry, our products are hand picked from thousands of luxury brands to ensure you are only offered the best of the best so we doubt you'll need to consider this policy at all. If you are concerned about making the wrong decision when it comes to your purchase, please feel free to talk with our team of experts who can advise you on equipment based on your personal music taste, aesthetics, and the layout of your listening room. Still not convinced? Discuss the possibility of a loan (trial period) with our experts and hear the difference yourself.