Skip to product information
Media gallery

Media gallery

Media gallery

Media gallery

Media gallery

Media gallery
Diablo 120 Integrated Amplifier
Regular price

Sale price

$18,995

Unit price

per
Vendor: Gryphon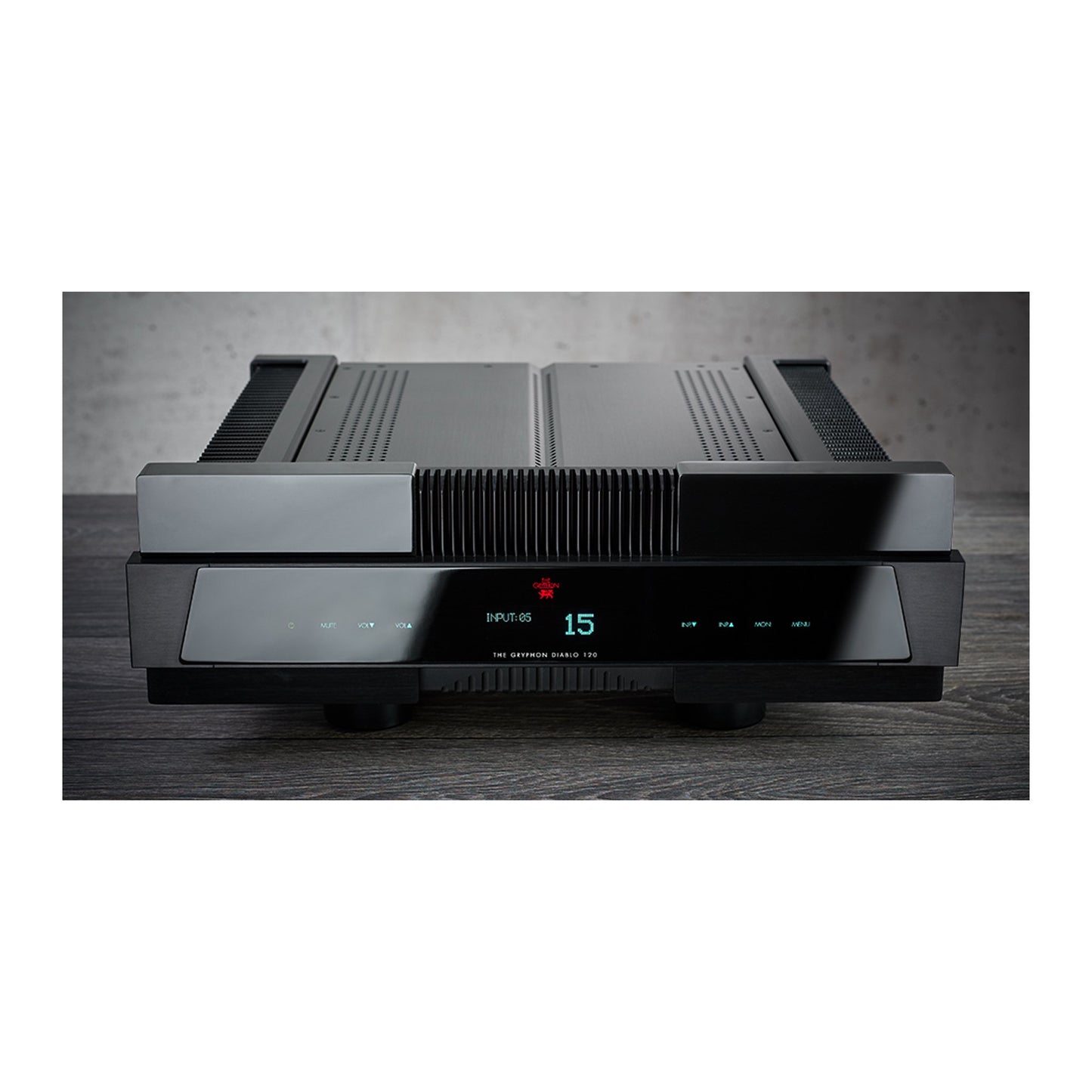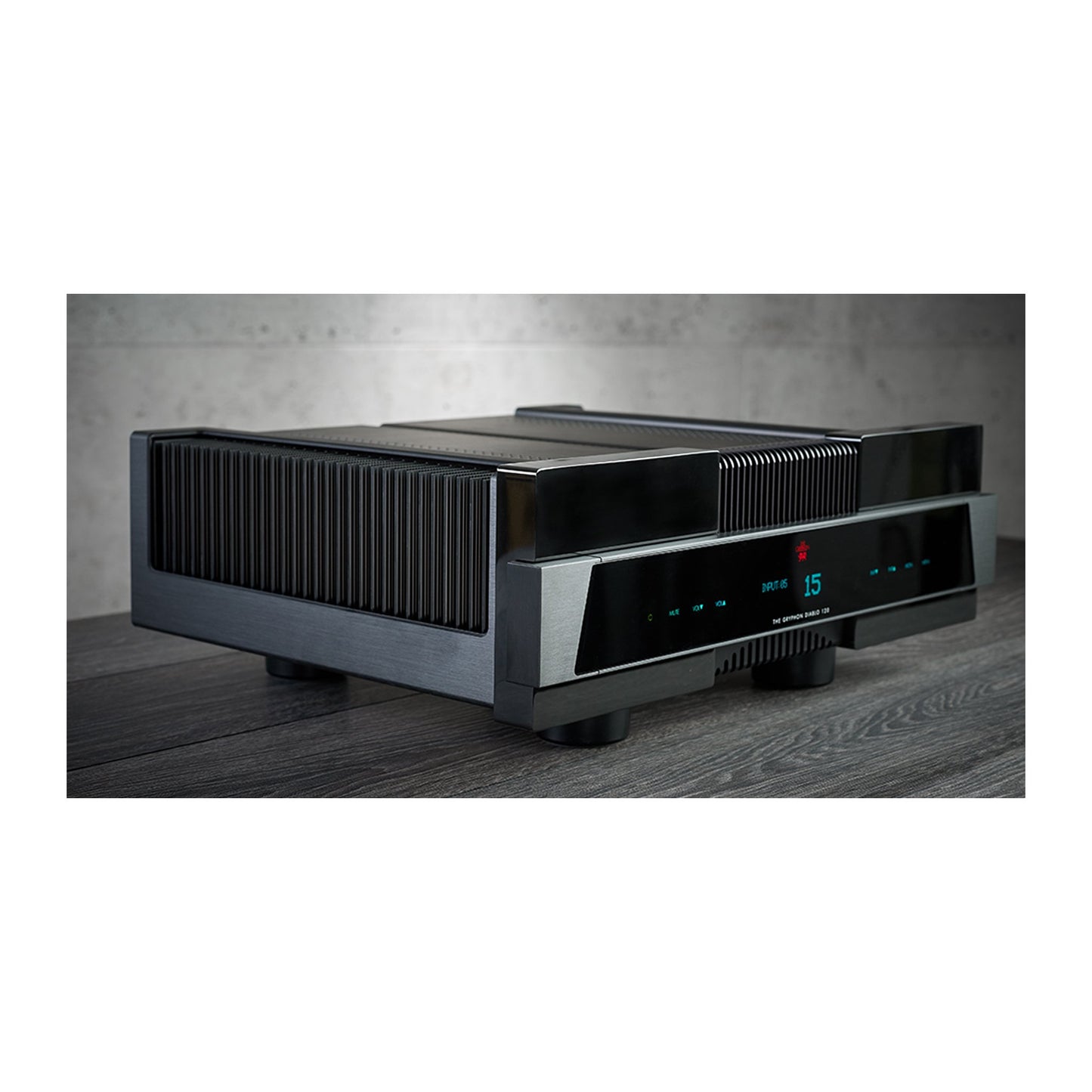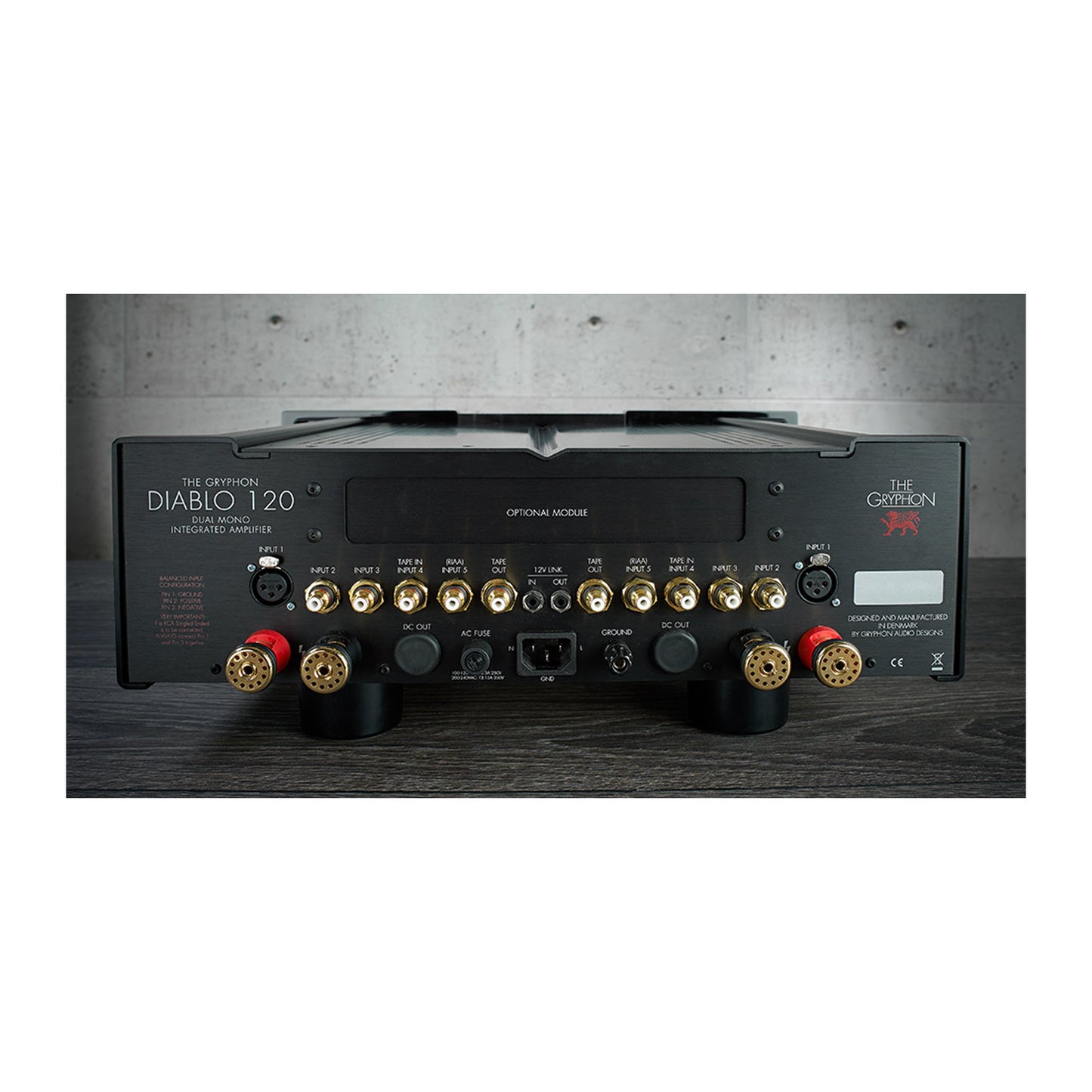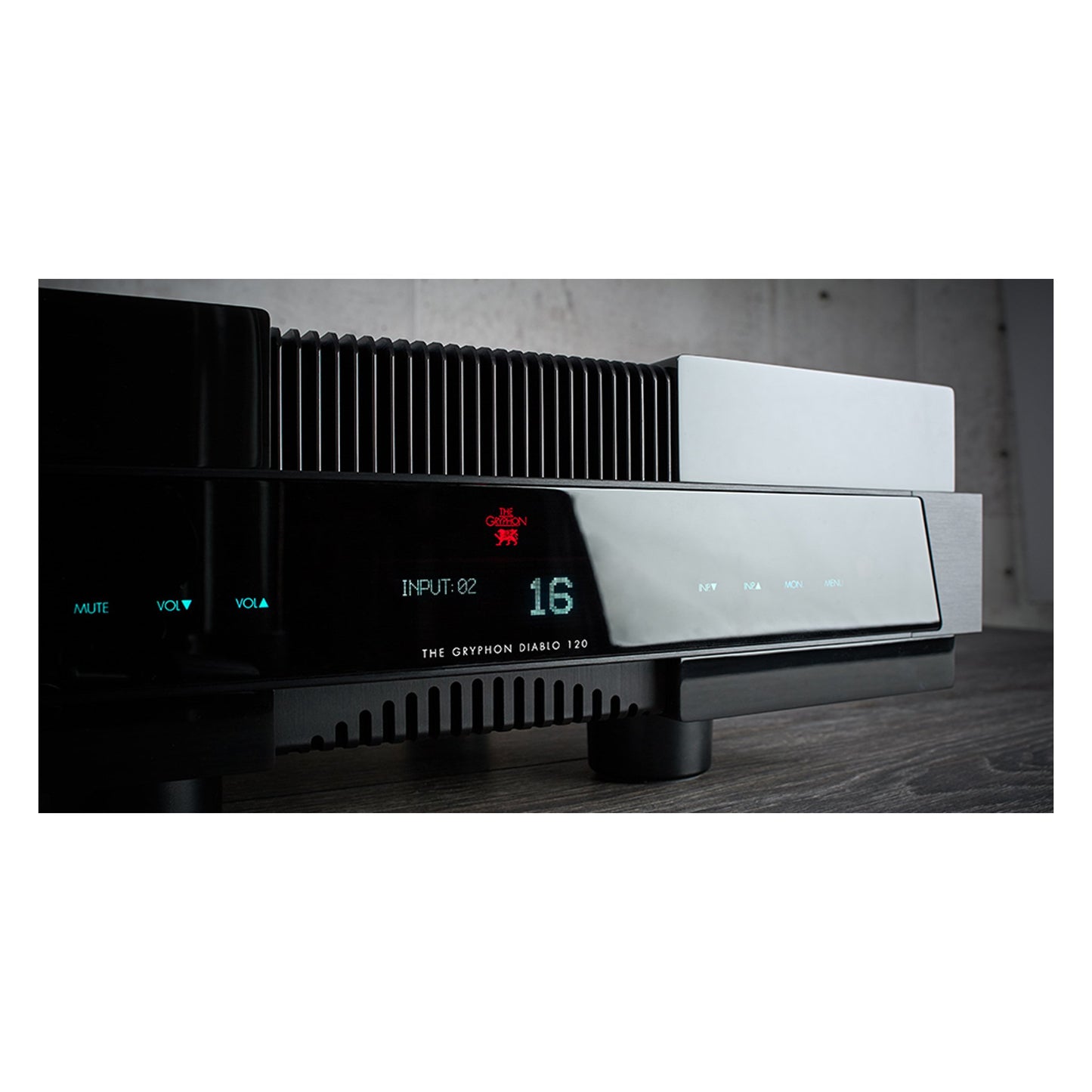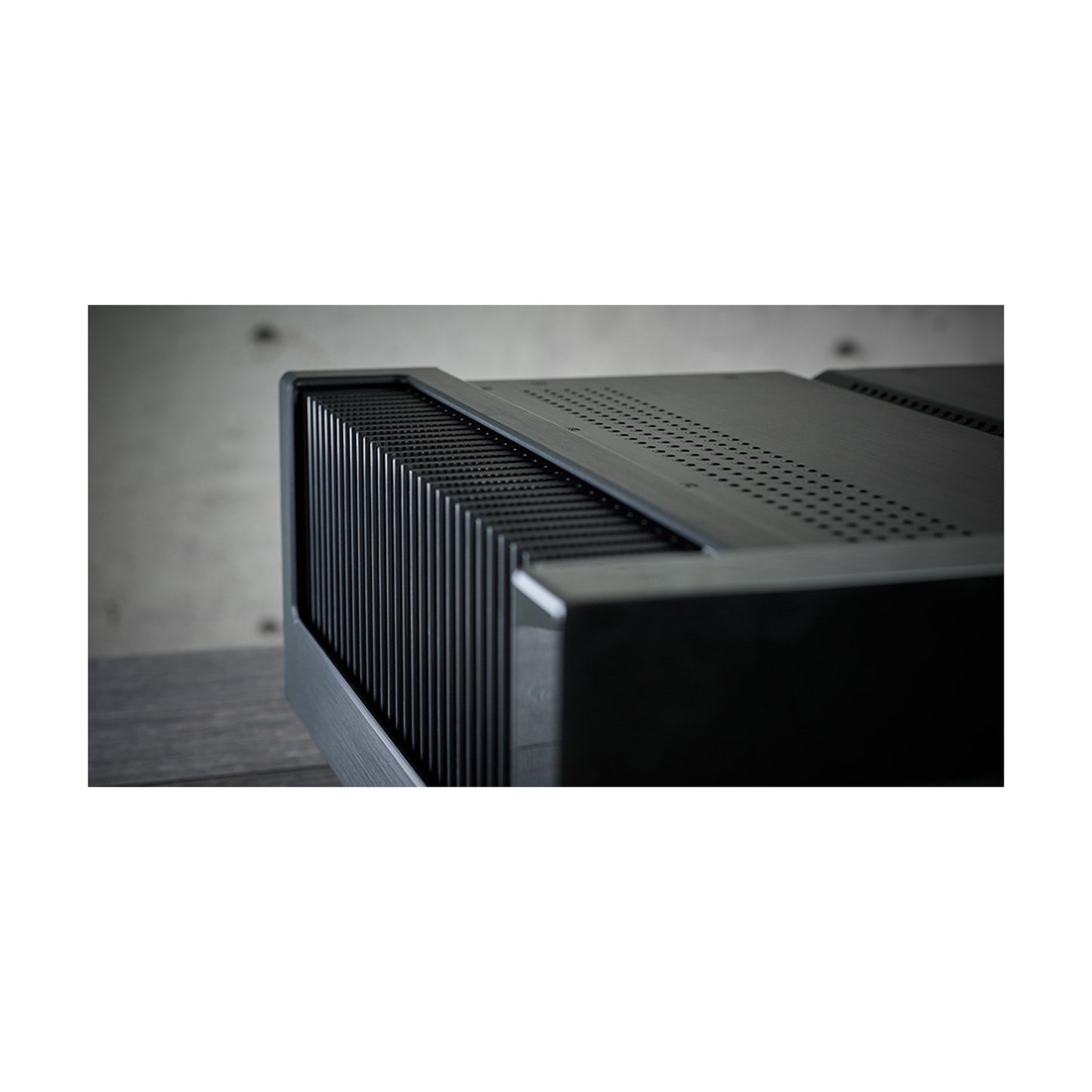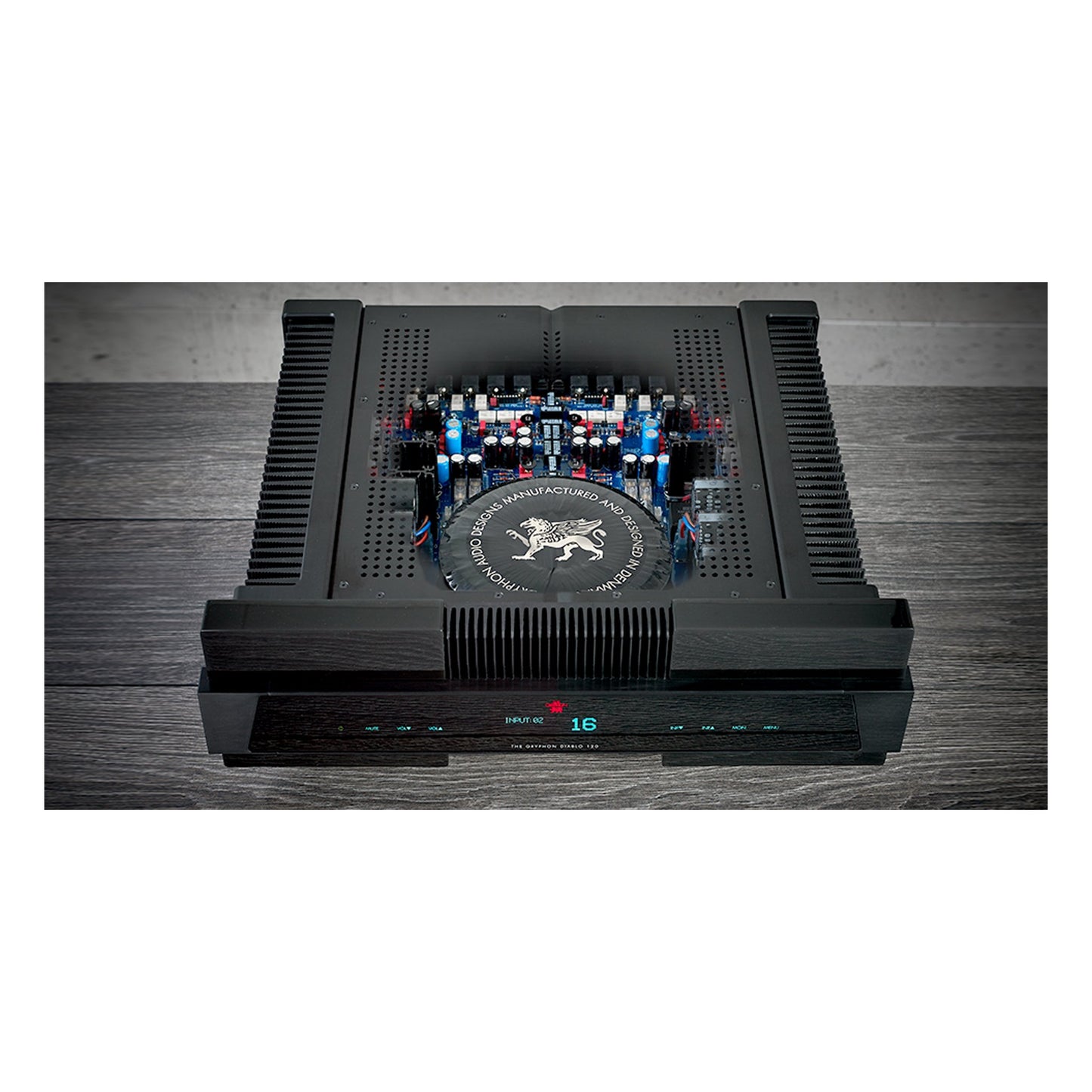 Notified by email when this product becomes available
Diablo 120 Integrated Amplifier
$18,995
Description

Specification 

Review

Installation

Returns
Gryphon 
Diablo 120 Integrated Amplifier
The concept of an integrated amplifier that embodies the same ethos, musical and sonic qualities as Gryphon Audio Designs' most esoteric offerings, but at a fraction of the cost, is clearly an attractive proposition and through the single-minded dedication of the Gryphon team, the integrated amplifier has come of age as a serious, respected High End component, bringing legendary Gryphon performance and styling to a new level of affordable cost and ease of use.
As far back as April, 2009, Gryphon introduced the original Atilla, building on the brand's impressive reputation as a pioneer in the design of unapologetic integrated amplifiers that can stand their ground against the competition's finest separate components.
French Haute Fidelité magazine called it a "Best Buy." Australian Hi-Fi magazine placed it "Easily up there with the very best" and UK magazine Hi-Fi Choice simply called the Gryphon Atilla "one of the very finest integrated amplifiers available."
In continuous production until 2016, the Atilla had a long run that is exceptional in High End audio. (Sadly, longevity is generally an overlooked and seriously undervalued attribute.)
In the interim period, Gryphon has made great advances in the critical fields of circuit topology and parts design and selection with the evolution of the state of the art, cost no object Pandora preamplifier and Mephisto power amplifier.
Now, drawing heavily on our experience with these uncompromising, reference level components, Gryphon Audio Designs proudly presents the next generation Atilla, the Gryphon Diablo 120.
Gryphon Diablo 120 exudes timeless elegance and beauty, informed by the unique vision of Gryphon founder and CEO Flemming E. Rasmussen.


INTEGRATED GREATNESS


The understated styling and forceful lines of the satin black, brushed aluminium chassis and gleaming black acrylic faceplate represent a superb level of fit and finish, exceptional audio finesse and a sense of unlimited power all on a single chassis.
The casework, consisting of interlocking blocks of flawless acrylic and deeply brushed and anodized aluminium, is true to the acclaimed Gryphon house style, a complex construct of contrasting angles and planes that is both reassuringly intricate and impressively solid.
Built entirely at Gryphon's Danish research and development and manufacturing facility, the Diablo 120 inherits the dual-mono circuitry, ultra-short signal path, heavily gold-plated printed circuit boards, minimal internal wiring, high-quality gold-plated and PTFE-insulated sockets and proprietary binding posts employed in our flagship models. Only the finest audiophile grade components have been selected based on strenuous, extended auditioning for sound quality, thermal stability and long-term reliability. The wire-wound emitter resistors in the original Atilla output stage have been upgraded to non-inductive types for Diablo 120.
The meticulous attention to electrical and mechanical grounding, typical of our top of the line designs, is also equally in evidence here.
The Diablo 120 integrated amplifier is essentially two independent mono devices for reduced crosstalk and minimal interchannel interaction. The only things shared electrically between channels are the famed Holmgren toroidal transformer and AC power cable.
The custom made 1,300 VA transformer adds substantial heft with discrete secondary windings for left and right channels. Each channel is fed by its own 60,000 µF capacitor bank.
The output power of the Diablo 120 is 20% greater than that of the original Atilla: 2 x 120 W (8Ω), 2 x 240 W (4Ω), 2 x 440 W (2Ω). Consistent increases of output power as impedance is halved is a reliable indicator of exceptional high current capability, just as the extraordinary wide audio bandwidth, 0.1Hz to 250 kHz (-3 dB), is a sign of extreme stability. Heatsink surface area has also been increased to match the increase in output power.
With two pairs of Sanken transistors, Diablo 120 can easily drive difficult loudspeaker loads without the faintest hint of strain.
The Diablo 120 circuit employs zero global negative feedback and a unique microprocessor controlled passive attenuator for the most transparent volume control ever conceived. Regardless of the selected level, the 46-step relay attenuator places maximum six resistors in the signal path for ultimate sonic purity.
A large, graphical vacuum fluorescent display is employed instead of a more conventional LED character display to provide space for more information and a larger, more easily legible font. The lavish display and extensive control circuits are powered independently via a separate, isolated transformer in order to eliminate any risk of noise contamination. All front panel controls are touch sensitive (capacitive actuation.)
The Diablo 120 offers one balanced and four single-ended inputs, a comprehensive menu of configuration options (four levels of display brightness, user-defined start and maximum volume settings, individual source labelling with eight-character names and a dedicated and electrically isolated A/V bypass function for uncompromising integration with a multi-channel audio system.

OPTIONS - DIGITAL OR ANALOGUE


At the time of original purchase or as the need arises at a later date, Gryphon Diablo 120 can be fitted with a specially designed Gryphon DAC PCM/DSD module based on the innovative, award-winning Gryphon Kalliope digital-to- analogue converter.
The module adds four digital inputs (USB, balanced AES/EBU 115 Ω, TOSLink optical and BNC S/PDIF 75 Ω). Via USB, the Diablo 120 DAC module can process PCM up to 32-bit/384 kHz as well as DSD (on Windows OS up to DSD512, on Mac OS up to DSD128, on Linux OS up to DSD128 DoP); via BNC S/PDIF and AES/EBU inputs up to192 kHz/32-bit PCM and via TOSLink up to 96 kHz/24-bit PCM. Format compatibility of the various inputs is subject to change without notice.
This future-proof digital module is ready for any current or foreseeable high resolution digital format.
In the finest Gryphon tradition, the Diablo 120 also offers the alternative of an exceptional MM/MC phonostage for the dedicated enthusiasts who continue to enjoy the musical treasures etched in the grooves of the long-playing, black vinyl disc.
Gryphon Diablo 120 conveys music with unusual poise and exceptional subtlety and definition. Lightning reflexes combine with harmonic richness, articulation and refinement to create a lush whole that is very comfortable to listen to over extended periods even at realistic levels.
Gryphon Diablo 120 offers a unique level of musical enthusiasm and energy that will satisfy and delight for many years to come.
Exterior design by Flemming E. Rasmussen
Electronics design by Tom Møller
True Dual Mono configuration
Zero negative feedback
Microprocessor-controlled 46-step relay volume attenuator for best sonic performance featuring only up to 6 resistors in series with signal at all levels
Optional phonostage MM/MC module
Optional DAC PCM/DSD module with one USB, 1 BNC S/PDIF, 1 AES/EBU and 1 optical input
Digital formats. USB: PCM: 44.1kHz, 48 kHz, 88.2 kHz, 9 6kHz, 176.4 kHz, 192 kHz, 352.8 kHz and 384 kHz up to 32-bit.
USB: DSD (DoP); DSD64 (2.822 MHz, 3.072 MHz), DSD128 (5.644 MHz, 6.144 MHz).
USB Native DSD: DSD256* (11.2896 MHz) and DSD512* (22.5792 MHz) (currently, DSD256 and DSD512 only on Windows OS)
BNC S/PDIF and AES/EBU digital inputs: up to 192 kHz/32-bit
TOSLink: up to 96 kHz/24-bit
One optional module can be installed at time of purchase or later, either phonostage or DAC
Ultra-short signal path
Minimal internal wiring
Two to four-layer printed circuit boards up to 70µm copper
Dual Mono Holmgren toroidal transformer
PCB-mounted sockets eliminate wiring and shorten signal path
Gold-plated Swiss Neutric XLR sockets for one balanced source
Gold-plated phono sockets with Teflon insulation for four inputs and one Tape output
Fixed-level AV throughput for uncompromising integration with surround preamplifier
Graphical Vacuum Fluorescent Display with larger font for improved legibility
Adjustable display intensity (100%, 75%, 50%, 25%, Off)
12VDC link input and output
Flash memory upgrades via Key-Fob
Non-invasive protection system
Infrared remote control
EU CE approval
Standby power consumption < 0.5 W
Designed and built in Denmark
2 x 120 W @ 8Ω, 2 x 240 W @ 4Ω, 2 x 440 W @ 2Ω
Output impedance: 0.030Ω
Bandwidth (-3 dB): 0.1 Hz to 250 kHz
Power Supply Capacity: 2 x 60,000 µF
Gain: +38 dB
Input Impedance, balanced (20-20,000 Hz): 40 kΩ
Input Impedance, single-ended (20-20,000 Hz): 8 kΩ
''This is a system in every sense of the word, delivering all the performance benefits that single-brand systems should – but so rarely do.''

Read the full review here on Hifi+. 

''Neutral in tone, with solid imaging, no hardness or glare, and excellent momentum and flow, it was the perfect companion for the amplifier section.''

Read the full review here on SoundStage. 
''The wealth of detail and fine handling of bass and high frequencies contribute to the amplifier's ability to render the width and depth of a soundstage that approaches the finest tube amplifiers.'

Read the full review here on Stereo+. 
Sometimes we want to listen to our brand new audio setup without having to worry about dragging B&W up two flights of stairs - that's where we come in! Not only are our team experts in high quality AV equipment, they're also professional bodybuilders* who can deliver and install your new toys quickly and efficiently.
Our in-house team can service those in Brisbane, the Gold Coast, and the Sunshine Coast. Give us a call to get an obligation-free quote today!
*the term 'professional bodybuilders' is used here loosely...
Our refund policy operates in a 30-day window - after this time we are unable to accept the product and cannot issue a refund. Don't worry, our products are hand picked from thousands of luxury brands to ensure you are only offered the best of the best so we doubt you'll need to consider this policy at all. If you are concerned about making the wrong decision when it comes to your purchase, please feel free to talk with our team of experts who can advise you on equipment based on your personal music taste, aesthetics, and the layout of your listening room. Still not convinced? Discuss the possibility of a loan (trial period) with our experts and hear the difference yourself.