Skip to product information
Media gallery
Diablo 120 DAC Module
Regular price

Sale price

$6,995

Unit price

per
Vendor: Gryphon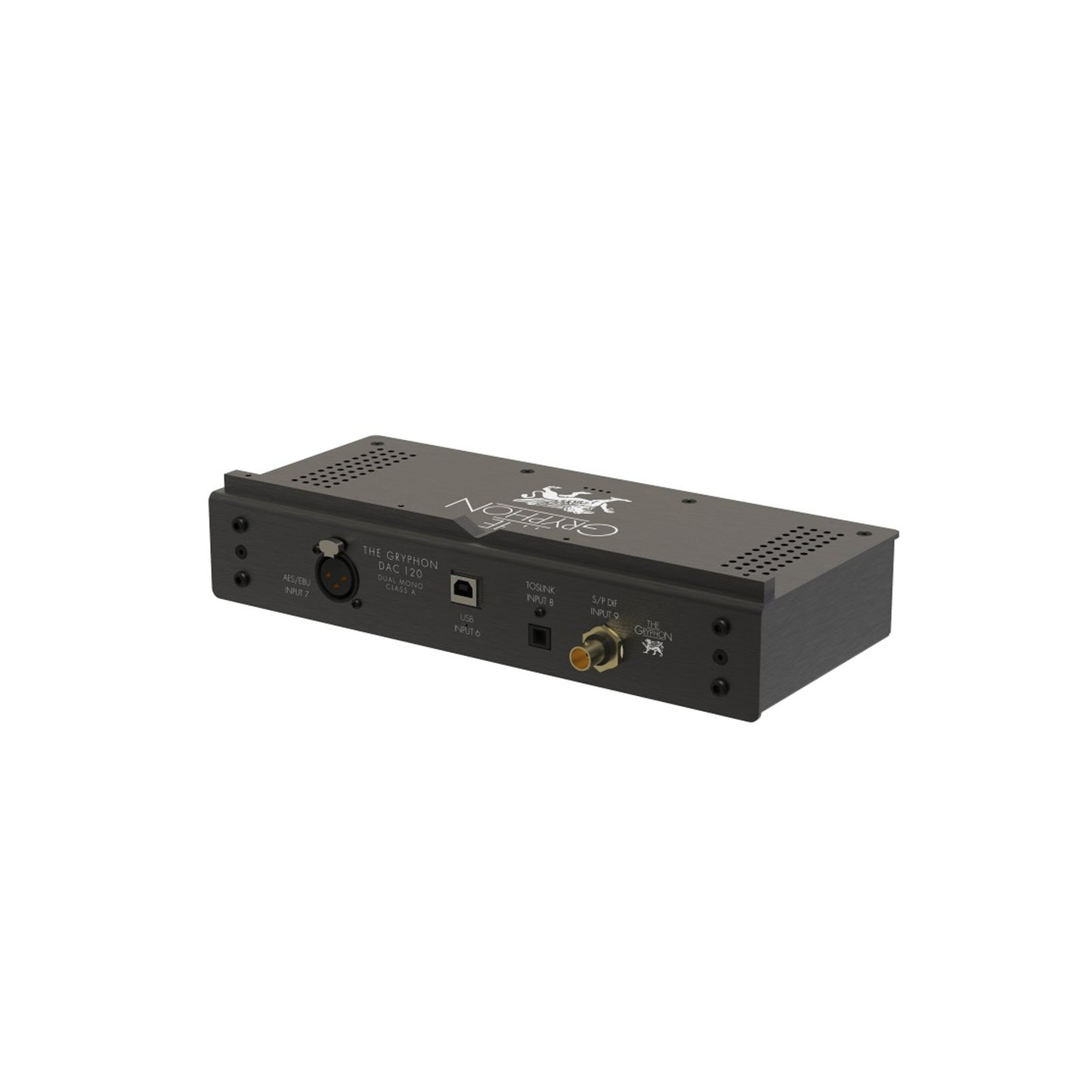 Notified by email when this product becomes available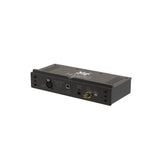 Diablo 120 DAC Module
$6,995
Description

Specification

Installation

Returns
Gryphon 
Diablo 120 DAC Module 
The Diablo 120 DAC module is the perfect match for the new Diablo 120 integrated amplifier. With the DAC installed, the Diablo 120 display informs you about the active digital input, sampling frequency, PCM/DSD format and selected digital filter setting.
At the time of original purchase or as the need arises at a later date, Gryphon Diablo 120 can be fitted with a specially designed Gryphon DAC module based on the innovative, award-winning Gryphon Kalliope digital-to- analogue converter. The module adds four digital inputs (USB, balanced AES/EBU 115 Ω, TOSLink optical and BNC S/PDIF 75 Ω). USB can process PCM up to 32-bit/384 kHz as well as DSD (on Windows OS up to DSD512, on Mac OS up to DSD128, on Linux OS up to DSD128 DoP); via BNC S/PDIF and AES/EBU digital inputs up to192 kHz/32-bit PCM and via TOSLink up to 96 kHz/24-bit PCM. Format compatibility of the various inputs is subject to change without notice.
This future-proof digital module is ready for any current or foreseeable high-resolution digital format.


True Dual Mono Class A Analogue topology
Zero negative feedback
Sabre ES9018 High-End D/A converter
USB input compatible with following audio formats via PC/MAC/Linux: PCM: 44.1, 48, 88.2, 96, 176.4, 192, 352.8 and 384 kHz, up to 32 bits DSD via USB: DSD64 (2.822MHz, 3.072MHz), DSD128 (5.644MHz, 6.144MHz), DSD256* (11.2896MHz) and DSD512* (22.5792MHz)
XLR, BNC inputs compatible with PCM: 22.05, 24, 32, 44.1, 48, 64, 88.2, 96, 176.4 and 192 kHz, up to 32 bits
TOSLink input compatible with PCM: 22.05, 24, 32, 44.1, 48, 64, 88.2 and 96kHz
User-selectable PCM and DSD digital roll-off filters
Temperature-compensated, ultra-low jitter crystal oscillator with better than 5 parts per million accuracy
Super-Capacitor (12.5 Farad!) power supply for USB module – acts like a true battery supply
First-order PCM analogue filters and second-order DSD analogue filters with Polypropylene capacitors
Analogue output stages with discrete, ultra-low noise +/- 15VDC regulated voltage supplies for excellent analogue THD and noise suppression
Multiple Local Voltage regulators for best digital noise suppression
Discrete, separate left/right channel ultra-low noise power supply for analogue section of ES9018 DAC
Ultra-short signal path
Minimal internal wiring
One four-layer printed circuit boards with 70µm copper
PCB-mounted sockets eliminate wiring and shorten signal path
Gold-plated Swiss Neutric XLR socket for one balanced 110 Ohm AES/EBU source
Gold-plated 75 Ohm BNC sockets with Teflon insulation for one S/PDIF source
One TOSLink optical input
Designed and built in Denmark
*(at the moment, DSD256 and DSD512 only on Windows systems).
Gryphon Audio Designs reserves the right to change specifications without further notice.
Sometimes we want to listen to our brand new audio setup without having to worry about dragging B&W up two flights of stairs - that's where we come in! Not only are our team experts in high quality AV equipment, they're also professional bodybuilders* who can deliver and install your new toys quickly and efficiently.
Our in-house team can service those in Brisbane, the Gold Coast, and the Sunshine Coast. Give us a call to get an obligation-free quote today!
*the term 'professional bodybuilders' is used here loosely...
Our refund policy operates in a 30-day window - after this time we are unable to accept the product and cannot issue a refund. Don't worry, our products are hand picked from thousands of luxury brands to ensure you are only offered the best of the best so we doubt you'll need to consider this policy at all. If you are concerned about making the wrong decision when it comes to your purchase, please feel free to talk with our team of experts who can advise you on equipment based on your personal music taste, aesthetics, and the layout of your listening room. Still not convinced? Discuss the possibility of a loan (trial period) with our experts and hear the difference yourself.