Skip to product information
Media gallery

Media gallery
A-250 Class-A Monophonic Power Amplifier
Vendor: Accuphase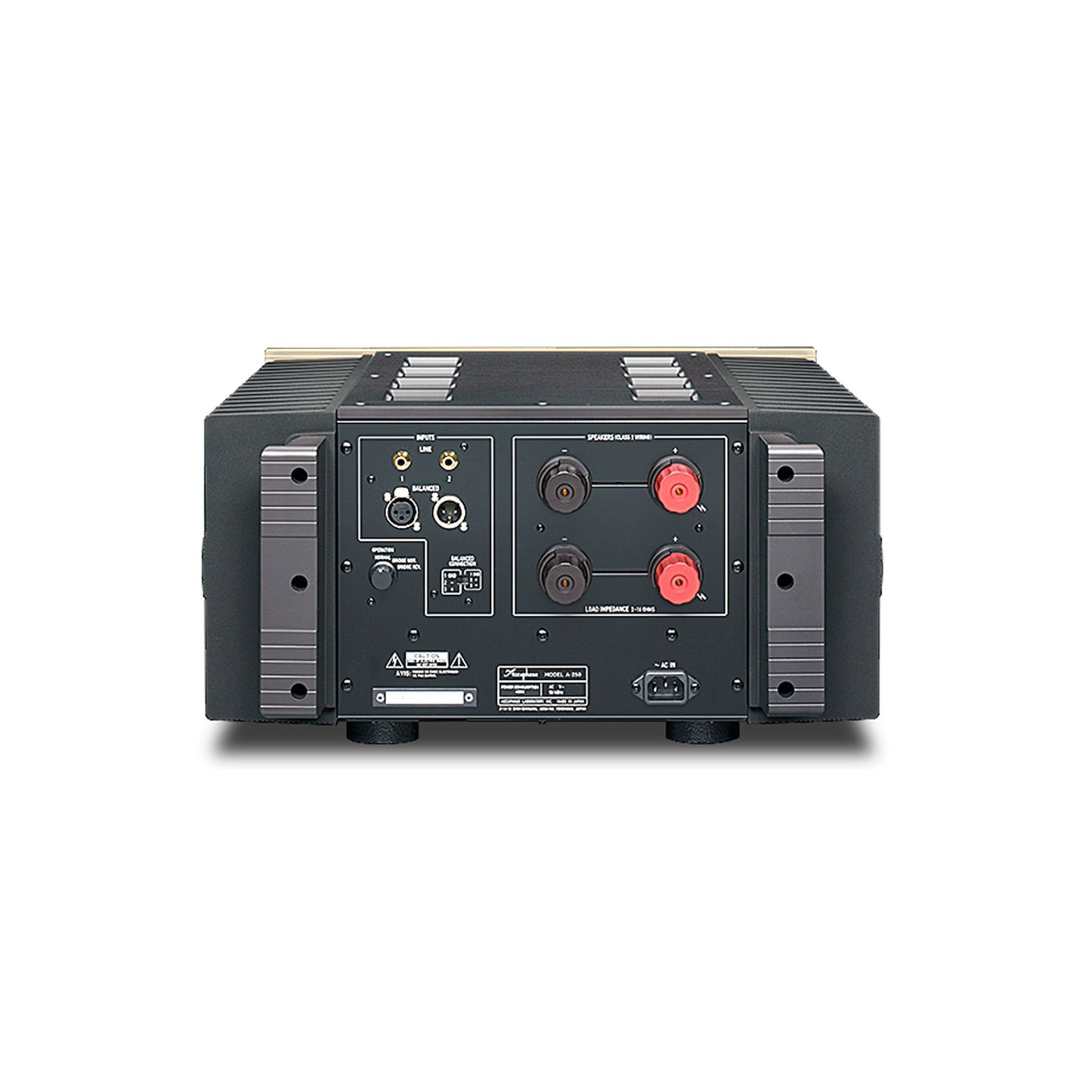 Notified by email when this product becomes available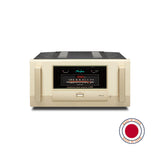 A-250 Class-A Monophonic Power Amplifier
$999,999,999,999
Description

Specification

Installation

Returns
Accuphase
A-250 Class-A Monophonic Power Amplifier
Ultra-low-noise design with unprecedented S/N ratio of 127 dB brings out a stunning wealth of detail. Semiconductor MOS-FET switches enable output circuitry without any mechanical contacts. Two pure class A power units arranged right and left are driven in parallel to deliver 100 watts into 8 ohms with impeccable quality. A damping factor in excess of 1,000 means that speaker control is nothing less than perfect. The massive A-250 represents a new pinnacle in power amplifier history. Encounter music like never before.
Pure Class A operation delivers 100 watts of quality power into 8 ohms
Two totally identical power amplifier units driven in parallel
20-parallel push-pull arrangement of MOS-FET devices in output stage delivers linear high power progression to ultra-low 1-ohm impedance
Input section configured as dual instrumentation amplifier
Double MCS+ circuit and current feedback topology in amplification stage
Support for bridged use of two A-250 units for even higher output power
Strong power supply with massive high-efficiency toroidal transformer and large filtering capacitors
Continuous Average Output power (20-20,000 Hz)

Normal mode: 

800 watts into 1 ohm*1

400 watts into 2 ohms

200watts into 4 ohms

100 watts into 8 ohms*2

Bridge mode (2 units):

1600 watts into 2 ohms*1

800 watts ito 4 ohms

400 watts into 8 ohms

Notes:

(*1) Rating makes *1 are for music signals only.

(*2) The output range for pure class A operation is 100 W.

Total Harmonic Distortion

0.05% with a 2-ohm load

0.03% with a 4 to 16-ohm load

Intermodulation Distortion
0.01% 
Frequency Response

At rated continuous average output: 20 - 20 000 Hz + 0 - 0.2dB

At 1 watt output: 0.5 - 160000Hz +0 - 3.0dB

Gain
MAX, -3dB, -6dB, -12dB
Output Load Impedance

Continuous output: 2 to 16 ohms

With music signal: 1 to 16 ohms

Damping factor
1 000
Input Sensitivity ( with 8-ohm load)

1.13 V for rated continuous average output

0.11 V for 1 watt output

Input Impedance

Balanced: 40 Kilohms

Line: 20 Kilohms

Signal-to-Noise Ratio

(A-weighted, with input shorted)

127dB (GAIN selector in MAX position)

133dB (Gain selector in  -12dB position)

At rated continuous average output

Output Level Meter

Digital Power Meter:

5-digit indication showing true power ( W)

Range selection AUTO / 10W / 100W / 1000W

Bar graph meter:

Represents output voltage values (dB) using 40 points

Peak hold time:

1 second / infinite selectable

*Display off switch provided

Power Requirements
120/220/230 V AC, 50/60 Hz
Power Consumption

300 watts idle

430 watts in accordance with IEC 60065

Maximum Dimensions

Width: 465mm (18.31)

Height: 238mm (9.37)

Depth: 514mm (20.24)

Mass

46.0kg (101.4 lbs) net

55.0kg (121.3 lbs) in shipping carton
Sometimes we want to listen to our brand new audio setup without having to worry about dragging B&W up two flights of stairs - that's where we come in! Not only are our team experts in high quality AV equipment, they're also professional bodybuilders* who can deliver and install your new toys quickly and efficiently.
Our in-house team can service those in Brisbane, the Gold Coast, and the Sunshine Coast. Give us a call to get an obligation-free quote today!
*the term 'professional bodybuilders' is used here loosely...
Our refund policy operates in a 30-day window - after this time we are unable to accept the product and cannot issue a refund. Don't worry, our products are hand picked from thousands of luxury brands to ensure you are only offered the best of the best so we doubt you'll need to consider this policy at all. If you are concerned about making the wrong decision when it comes to your purchase, please feel free to talk with our team of experts who can advise you on equipment based on your personal music taste, aesthetics, and the layout of your listening room. Still not convinced? Discuss the possibility of a loan (trial period) with our experts and hear the difference yourself.