Skip to product information
Media gallery

Media gallery
Aavik P-580 Stereo Power Amplifier
Regular price

Sale price

$43,400

Unit price

per
Vendor: Aavik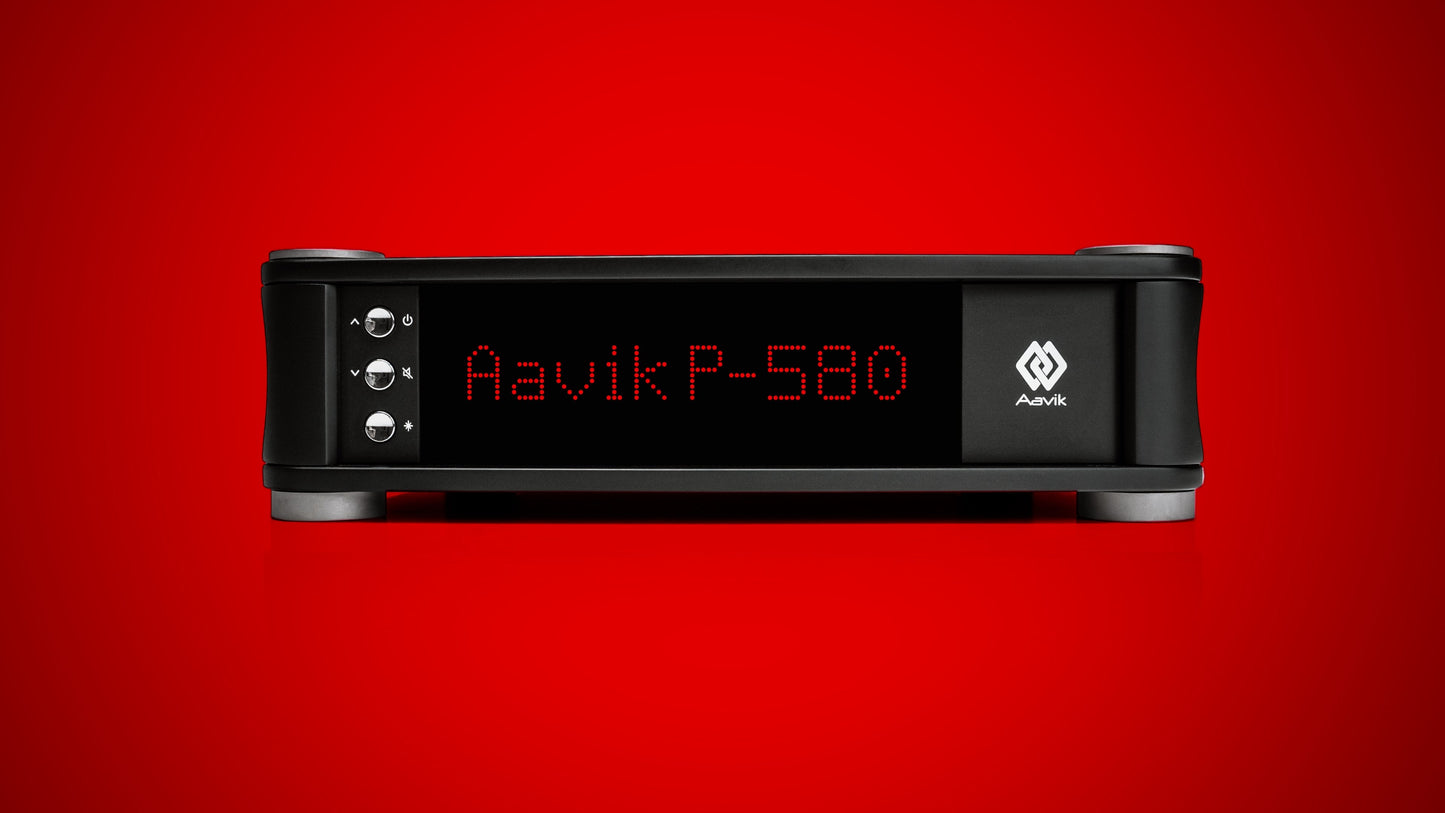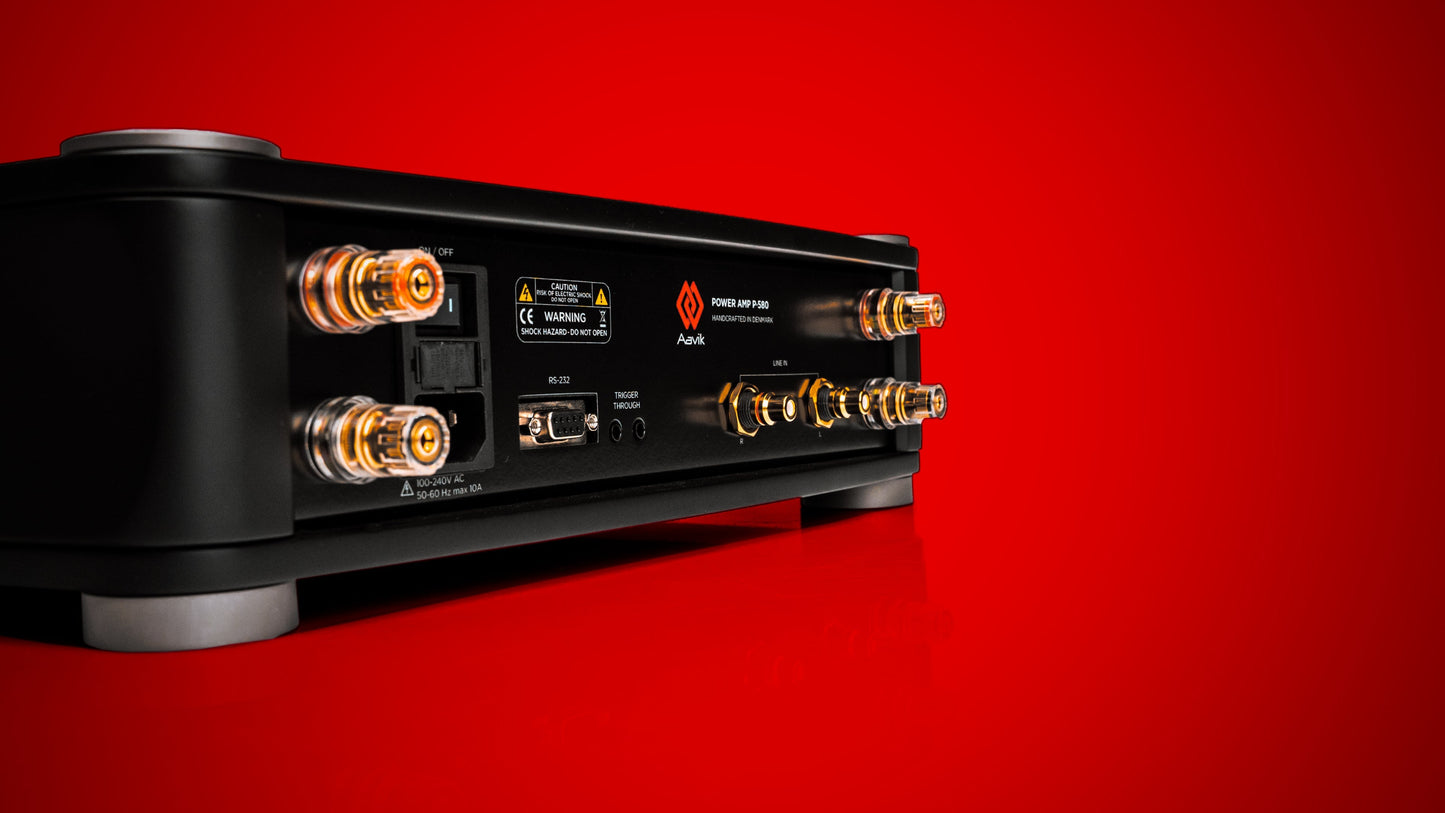 Please contact us to purchase.
Notified by email when this product becomes available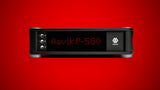 Aavik P-580 Stereo Power Amplifier
$43,400
Description

Specifications

Installation

Returns
Statement Stereo Power Amplifier
For many music enthusiasts, the new generation of Aavik integrated amplifiers provides more than enough performance. However, for those looking to raise the bar to another level and perhaps those looking for the ultimate configuration & customisation options provided by Aavik's analog crossover, choosing separate control (pre) and power amplifiers leads to a greater level of sonic bliss.
Aavik's new flagship P-580 Power Amplifier sets new standards for all the critical criteria that define the unadulterated sound quality of authentic music and evoke that unique sensation of emotional ease and deeply felt passion. The P-580 is equipped with sophisticated noise suppressing technologies that brings down the noise floor to unprecedented levels and unleashes a dynamic scale of music that projects even the tiniest musical details onto a palpably larger sound stage with an extremely quiet background.
What differenciates the premium P-580 over the P-280 is the additional noise reduction control and the installation of switchless, optical LDR-based components. They generate a dramatically lower noise floor than conventionally used switches and relays. This allows to audibly express even the tiniest musical details onto an amazingly holistic sound stage.
What also elevates the Aavik 580 standalone series to a higher performance level is its inner chassis, which is made of solid copper. The effect of this is a further reduction in the hysteresis, which secures more energy and power to the music.
To achieve the ambitious performance levels required of this amplifier, Aavik utilize the patented UMAC™ amplifier technology. This technology was developed to avoid the design flaws of traditional switching amplifiers. UMAC technology primarily targets two areas of modulated amplifier design. Firstly, the PWM* generation is produced with sine wave modulation rather than the more common triangle modulation. The benefit is that sine waves create far less high frequency noise than triangles, no sharp corners, and thus require far less inductive filtering at the output. The lower inductance in the output gives the amplifiers a much better damping factor and thus a distinctly better speaker control. Secondly, the advanced dual mixed mode feedback allows damping factors that are characteristic of only the very best inear amplifiers.
The P-580 simply has to be experienced in order to comprehend what this level of technology is capable of. Contained within a compact, elegant case is one of the most astonishingly transparent & holographic power amplifiers ever made. If you have a desire to be emotionally transported by your music system, to relax and allow your mind to believe in the event, to experience it in a visceral, palpable way….the Aavik P-580 is your ticket to audiophile heaven.
Using Technology to Create Better Sound
The Aavik separate preamplifier and power amplifier range contains the following unique technologies:
Switchless Optical Gain Selection – LDR based
The LDR (Light dependent resistor) is ultra quiet thanks to the switchless principle. The traditional MOS-FET switch arrays and relays create much more noise. They suppress subtle sound details and unnaturally color the tone.
Resonant mode power supply – Quiet but extremely powerful
The power supply allows a much better power distribution and a huge dynamic headroom. Unlike the square waves used by conventional switch mode power supplies, the Aavik resonant mode power supplies boast a design which is principally driven by sine waves. When more power is needed, the operating frequency increases, which in turn has the advantage that the power density also increases. This provides a higher peak power when required by the music.
A Pure Copper Inner Chassis
The P-580 incorporates a pure copper inner chassis which mitigates the effect of hysteresis. Hysteresis is commonly accepted as a phenomenon that designers have to live with but Aavik decided to tackle it directly, which is difficult and expensive to do. This technology is unique to Aavik and results in ultimate clarity and unrestrained signal flow. Once you've heard the difference, your brain acceptes the new possibility and it is difficult to go back to traditional chassis technologies.
Scandinavian Design Aesthetic
The Aavik design language is Scandinavian understatement and expresses simplicity and minimalism featuring only a few buttons for logical operation. The multifunctional main knob allows simple navigation and control of the various functions. A distinguishing design feature of the new Aavik series is a huge red display, which makes it easy to read all details of the selected operational settings.
A Cabinet with Excellent Sonic Qualities
Aavik have designed the enclosure to minimise the use of aluminium and its associated mechanical resonance. Over the years, Aavik have been testing various materials and ultimately designed an innovative natural-based composite material, which reduces the mechanical influence, particularly the hysteresis. The sonic result is distinctly audible and reflects a further prominent cornerstone in Aavik's quest for the ultimate music experience.
Videos
AAVIK 180, 280, 580 Series Quick Promotional Video
 
Ansuz Acoustics, Aavik Acoustics, Company Tour Pt. 2, tour the factory, making the amplifiers
 
Awards
Type
Power Amplifier
Line
Gain 24-34dB
Input impedance 10K ohm
Input sensitivity (32dB gain) 1.23Vrms
Output
2 x 300W 8 ohm, 2 x 600W 4 ohm
Distortion (THD+N): <0.006% (1-100W, 1kHz, 8 ohm)
IMD: <0.002% (1-100W, 4 ohm)
TIM: <0.008% (1-100W, 4 ohm)
Aavik Noise Reduction
Active Tesla Coils: 108
Active Square Tesla Coils: 240
Dither circuitry: 13
Anti-Areal Resonance Coils: 4
Power consumption
Standby <0.5W
Idle <50W
Dimensions
102 x 384 x 400mm
Weight
10.7kg
Sometimes we want to listen to our brand new audio setup without having to worry about dragging B&W up two flights of stairs - that's where we come in! Not only are our team experts in high quality AV equipment, they're also professional bodybuilders* who can deliver and install your new toys quickly and efficiently.
Our in-house team can service those in Brisbane, the Gold Coast, and the Sunshine Coast. Give us a call to get an obligation-free quote today!
*the term 'professional bodybuilders' is used here loosely...
Our refund policy operates in a 30-day window - after this time we are unable to accept the product and cannot issue a refund. Don't worry, our products are hand picked from thousands of luxury brands to ensure you are only offered the best of the best so we doubt you'll need to consider this policy at all. If you are concerned about making the wrong decision when it comes to your purchase, please feel free to talk with our team of experts who can advise you on equipment based on your personal music taste, aesthetics, and the layout of your listening room. Still not convinced? Discuss the possibility of a loan (trial period) with our experts and hear the difference yourself.