Skip to product information
Media gallery

Media gallery
Aavik I-580 Integrated Amplifier
Regular price

Sale price

$37,400

Unit price

per
Vendor: Aavik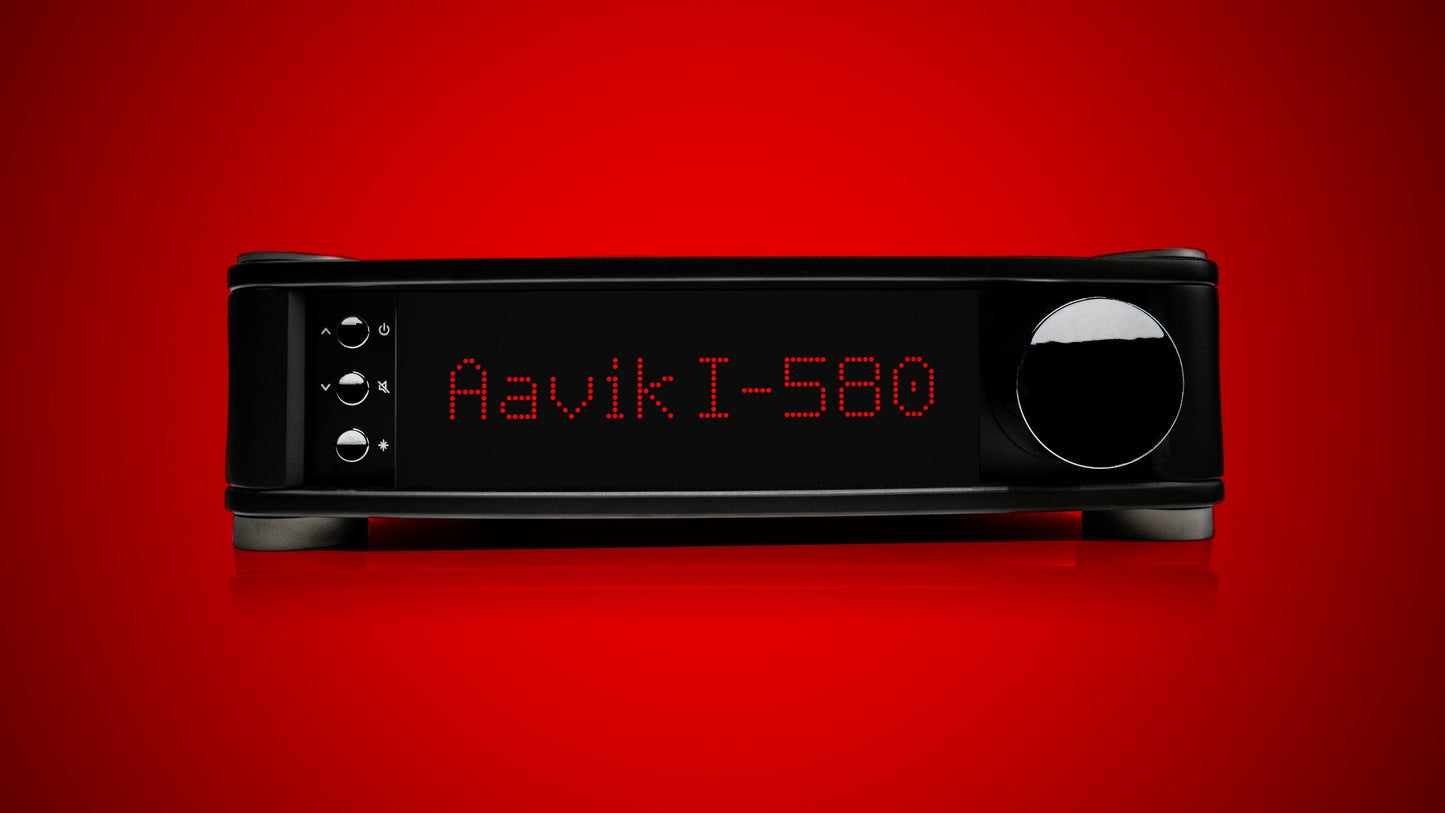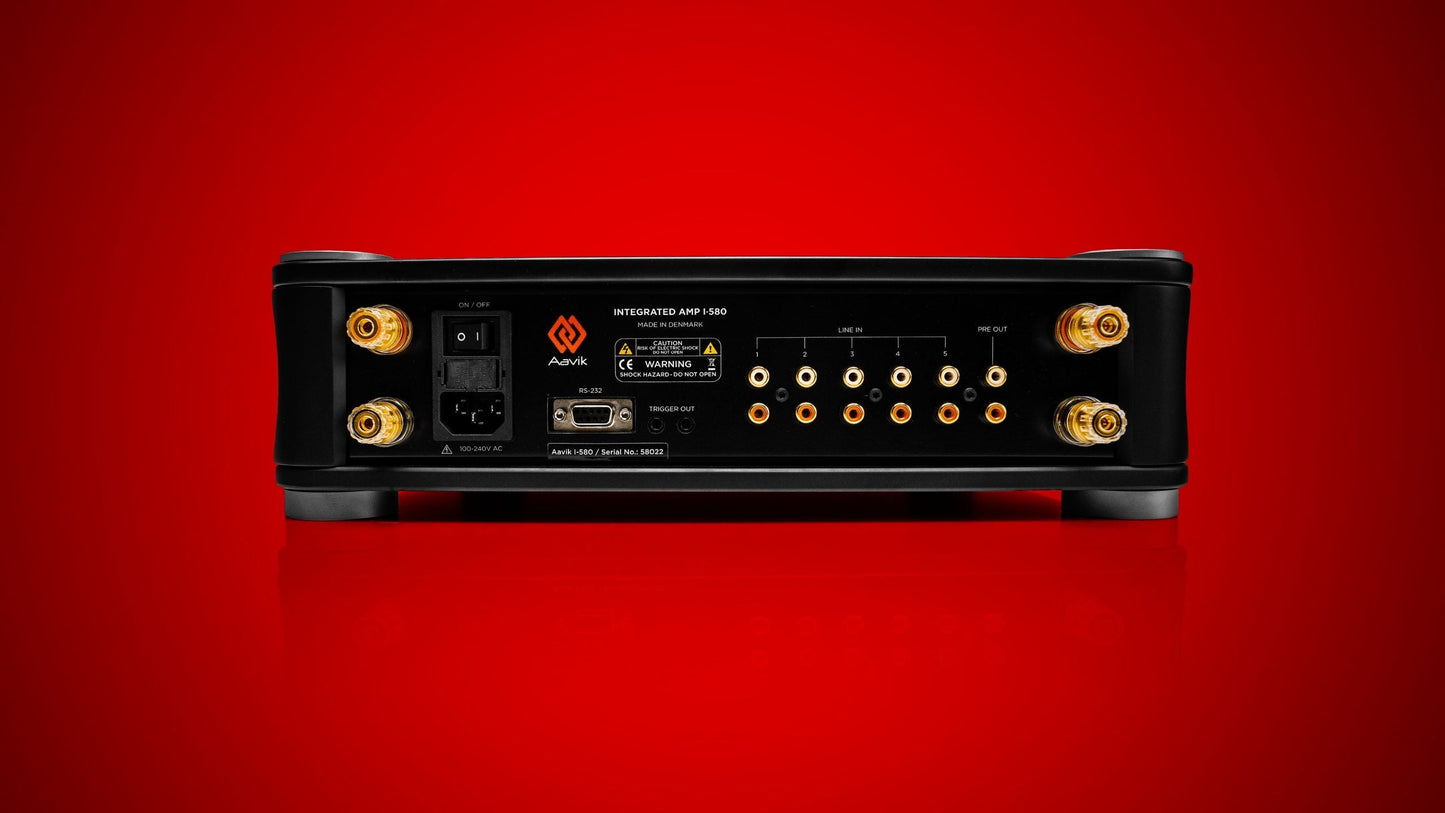 Please contact us to purchase.
Notified by email when this product becomes available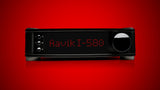 Aavik I-580 Integrated Amplifier
$37,400
Description

Specifications

Installation

Returns
Statement Integrated Amplifier
The Aavik I-580 integrated amplifier receives the inputs from your individual Hi-Fi devices and transforms these signals into an authentic musical experience. Therefore, the architecture of the new Aavik integrated amplifier boasts sophisticated high-end electronic components set in a state-of-the-art enclosure. Based on ample power supplies, the Aavik amplifier provides unprecedented dynamic speed, tight control and balanced stability, which creates persuasive and crystal clear soundstage images that express even the finest sonic details. The Aavik I-580 integrated amplifier is a technological tour-de-force which exists in a rarified league of its own. It is packed full of technologies that are not even on the radar of other manufacturers.
Sonically, it is difficult to imagine a one box amplifier that is capable of this level of detail & articulation within the context of a hyper-low noise floor and absence of common electrical artefacts. This amplifier provides jaw dropping moments for audiophiles who feel like they're listening to their favourite music 'properly' for the first time. Crazy good!
AAVIK UMAC™ AMPLIFIER – UNMATCHED AUDIO CONTROL
Aavik utilises the patented UMAC™ amplifier technology. This technology was developed to avoid the design flaws of traditional switching amplifiers. UMAC technology primarily targets two areas of modulated amplifier design. The PWM (Pulse Width Modulation) generation is produced with sine wave modulation rather than the more common triangle modulation. The benefit is that sine waves create far less high frequency noise than triangles, no sharp corners, and thus require far less inductive filtering at the output. The lower inductance in the output gives the amplifiers a much better damping factor and thus a distinctly better control of the speakers. In addition, the advanced dual mixed mode feedback allows damping factors that are characteristic of only the very best linear amplifiers.
VOLUME CONTROL – AFFECTS THE SONIC EXPERIENCE
The Aavik line stage boasts a unique, inverted, virtual GND (Ground) amplifier topology, which provides the highest stability. The feedback gets so powerful that it allows to damp the signal to a gain lower than 1. This preserves the full signal with the lowest Signal to Noise Ratio – no matter if you turn the volume up or down. This will provide your loudspeakers with a clear and distinct information flow to make even the finest details of timbral and textural nuances audible on an extremely quiet sound stage.
PREMIUM TECHNOLOGIES FOR UNCONSTRAINED SIGNAL FLOW
Aavik heavily draw on the experience and extensive R&D of their sister company, Ansuz-Acoustics™. They employed their groundbreaking, effective noise cancelling technologies and fitted all models of their new range of electronics with Tesla coils, dither circuitry and anti aerial resonance coils. These innovative technologies are geared towards paving the way for an absolutely unconstrained signal flow. Aavik has also prepared the top and bottom surfaces on all Aavik series to best accommodate Ansuz Darkz™, which represent the most effective way of preventing mechanical vibrations.
RESONANT MODE POWER SUPPLY – QUIET BUT EXTREMELY POWERFUL
The new Aavik series is designed to ensure massive power resources with ultra-low noise. Unlike the square waves used by conventional switch mode power supplies, the new Aavik series boast a resonant mode design which is principally driven by sine waves. When more power is needed, the operating frequency increases, which, in turn, has the advantage that the power density also increases, thus allowing higher peak power when required by the music.
The noise floor in the raw power supply is extremely low but could be even further lowered by the ultra-low noise regulators supplying the different parts of the circuit. The noise of these regulators is measured in a few microvolts respectively nanovolts, which is significantly lower than the noise level of conventional regulators.
SCANDINAVIAN DESIGN AESTHETIC
The Aavik design language is Scandinavian understatement and expresses simplicity and minimalism featuring only a few buttons for logical operation. The multifunctional main knob allows simple navigation and control of the various functions. A distinguishing design feature of the new Aavik series is a huge red display, which makes it easy to read all details of the selected operational settings.
A CABINET WITH EXCELLENT SONIC QUALITIES
Aavik have designed the enclosure to minimise the use of aluminium and its associated mechanical resonance. Over the years, Aavik have been testing various materials and ultimately designed an innovative natural-based composite material, which reduces the mechanical influence, particularly the hysteresis. The sonic result is distinctly audible and reflects a further prominent cornerstone in Aavik's quest for the ultimate music experience.
The Aavik Integrated Amplifier Range
Aavik have produced 3 levels of performance within the acclaimed I-180, I-280 and I-580. The I-180 represents great value with a high-end performance capability beyond its price level. The I-280 adds significantly more resonance control techologies resulting in an even lower noise floor, resolution and accuracy. The I-580 introduces the unique copper inner chassis, Titanium level resonance control, and the maximum Ansuz Acoustics resonance mitigation technology, taking performance to a statement level.
Videos
Ansuz Acoustics, Aavik Acoustics, Company Tour Pt. 2, tour the factory, making the amplifiers
 
Reviews
It is absolutely amazing how the top model Aavik I-580 can top their sound with the described means. What doesn't change with the I-580 is its just as outstanding practicality. Compared to the usual aluminium altars in this class, the Danish amp
with NBCM housing is light, compact, visually more restrained, but offers plenty of power without acting as a heating plant and straining the electricity bill unduly. Its low noise coupled with the incredibly sovereign and lively sound sets standards for the Class D principle. To me, this is what a forward-looking and also more sustainable amplifier concept looks like. If you want the absolute best in high end, you have to dig deep into your pockets accordingly. The Aavik I-580 is a prime example. Happy the one who can afford it! If not: The I-280 is an excellent compromise.
Read Review
The Danish device effortlessly balanced sounding impeccably controlled yet simultaneously relaxed and swingy. There was constant flow, continuous movement, and never any static rattling off of sounds. This test was an absolute joy. During my time with the Aavik device, I wrote a very specific note for myself: "Exceptional clarity and decisiveness in the sound profile; definition of spatial references." The legendary production Buena Vista Social Club had a magnetic pull on me and sucked me into the warm glow of a Cuban dance hall, right in the thick of it – in front of me played a semi-circle of musicians, with every voice and instrument painted as an unshakable, life-sized acoustic image. Then, in the roughly outlined, stripped back studio glory of Jason Maraz's album entitled 'We sing. We dance. We steal things', his presence simply wowed me – just listen to the track "If it Kills Me", a real gem, and even the slight humming of Mraz's guitar amp gave me goosebumps. So once again, the only conclusion to be drawn is that Michael Borresen is really onto something. His latest bold stroke of an amplifier is expensive, very expensive in fact, and equally unconventional, but it's not just to be different – clearly this is unconventional both on purpose and for a purpose. In short, the Aavik I-580 is a formidable amplifier. Period. Listen and enjoy.
Read Review
Awards
Type
Integrated Amplifier
Line
Gain (line 1-4: 5-15dB; maximum input 4.5V RMS
Gain (line 5: 1-11dB; maximum input 6.5V RMS
Input impedance 10K Ohm
Pre-amp Output
1 pair of RCA output
Max output: 7.5Vrms
Distortion, line stage: <0.005% (THD at 1kHz, 1V input)
Output impedance: 50 Ohms
Volume Control
76 1dB steps
Output
2 x 300W 8 Ohm, 2 x 600W 4 Ohm
Distortion (THD+N): <0.006% (1-100W, 1kHz, 8 Ohm
IMD: <0.002% (1-100W, 4 Ohm)
TIM: <0.008% (1-100W, 4 Ohm)
Aavik Noise Reduction
Active Tesla Coils: 108
Active Square Tesla Coils: 240
Dither circuitry: 11
Anti-Aerial Resonance Coils: 4
Power consumption
Standby: <0.5W
Idle: <50W
Dimensions
102 x 384 x 400mm
Weight
10.7kg
Sometimes we want to listen to our brand new audio setup without having to worry about dragging B&W up two flights of stairs - that's where we come in! Not only are our team experts in high quality AV equipment, they're also professional bodybuilders* who can deliver and install your new toys quickly and efficiently.
Our in-house team can service those in Brisbane, the Gold Coast, and the Sunshine Coast. Give us a call to get an obligation-free quote today!
*the term 'professional bodybuilders' is used here loosely...
Our refund policy operates in a 30-day window - after this time we are unable to accept the product and cannot issue a refund. Don't worry, our products are hand picked from thousands of luxury brands to ensure you are only offered the best of the best so we doubt you'll need to consider this policy at all. If you are concerned about making the wrong decision when it comes to your purchase, please feel free to talk with our team of experts who can advise you on equipment based on your personal music taste, aesthetics, and the layout of your listening room. Still not convinced? Discuss the possibility of a loan (trial period) with our experts and hear the difference yourself.