Skip to product information
Media gallery

Media gallery
Aavik D-180 High Performance DAC
Regular price

Sale price

$11,400

Unit price

per
Vendor: Aavik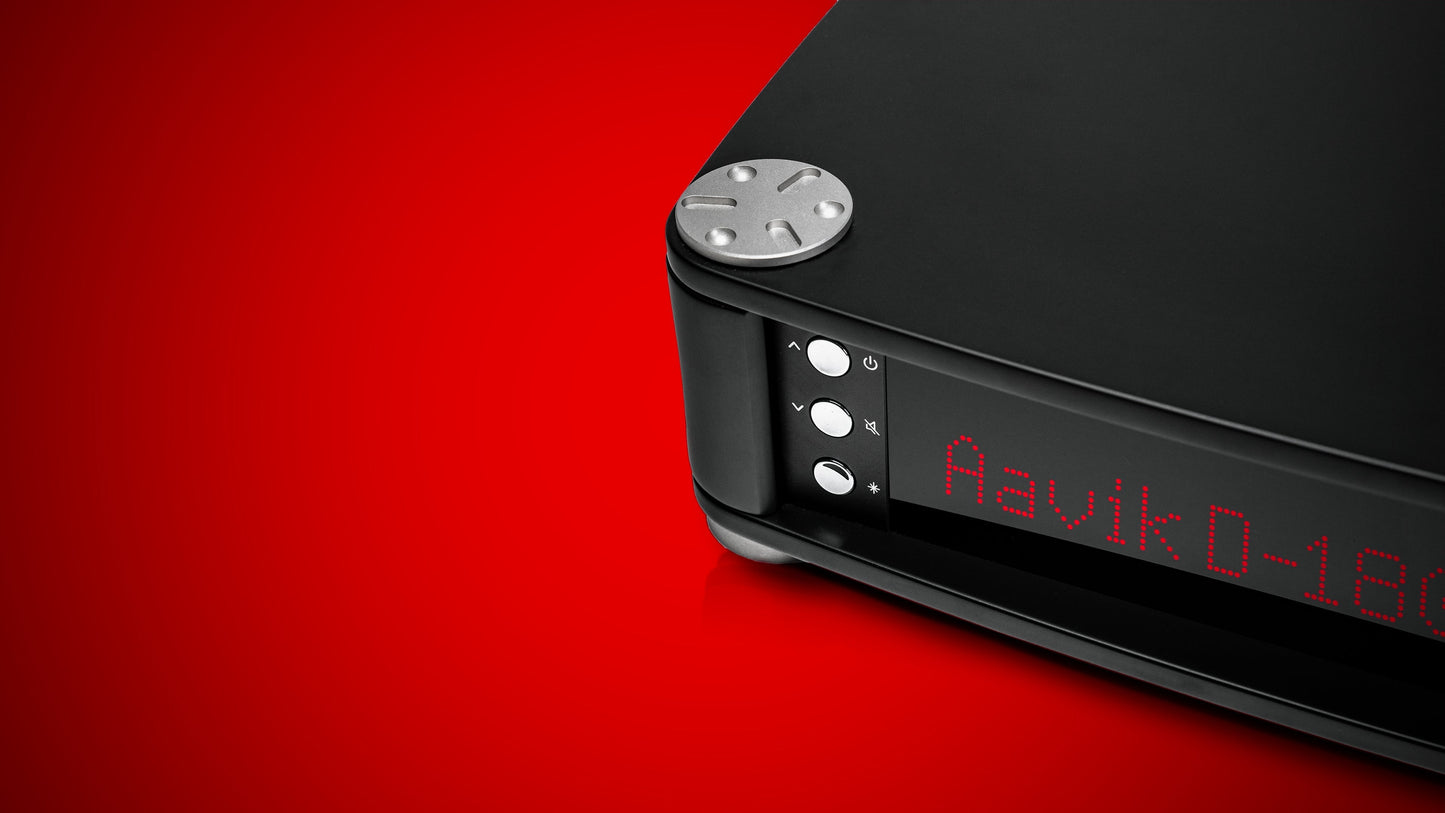 Notified by email when this product becomes available
Aavik D-180 High Performance DAC
$11,400
Description

Product Specification

Installation

Returns
Analog, warm and detailed
Aavik's ultimate goal in developing their separate DAC models has been to transfer the digital signals into a natural, harmonious, yet dynamic music experience without losing any of the enormous amount of information contained in the digital source. To reach this goal, Aavik's engineers have been extremely fastidious in selecting the electronic components and have spared no effort to exploit any opportunity for acoustic improvement.
The Aavik DAC section is designed around 5 digital inputs, which all excel in audio performance. The DAC operates without any digital signature. This makes any music sound natural and authentic. The digital circuits boast the best high frequency capacities and great care was devoted to the set-up of the PCB design. By employing time-aligned, ultra-short, 4-layer PCB traces, Aavik aims to preserve the natural and pristine sound quality of the wide and complex range of different signals.
The DAC circuits are also fitted with ultra-low jitter onboard clocks. To minimise timing errors in the digital-to-analogue conversion, all DAC circuits are isolated with 13 onboard, separate, low-noise, high PSRR (power supply rejection ratio) voltage regulators, each feeding only one stage of the signal handling.
The USB input is galvanically isolated to avoid noise pollution from the host. The digital inputs are routed to an Asynchronous Sample Rate Converter, where they are re-sampled and re-clocked to 200 kHz/24 bit Pulse Code Modulation, feeding current output DAC chips. For the current-to-voltage conversion, Aavik uses a differential floating topology with virtual ground. This isolates the signal path from both potential ground noise and signal-induced ground modulation.
To best accommodate individual listening preferences, and fit hand in glove into your existing audio system, Aavik has designed 4 individual settings. Since the selected signal source connected to the input can tinge the actual sound performance, up-sampling can be switched on and off. There is also a choice between a slow (soft high-frequency roll-off) and a fast (steep high-frequency roll-off) filter.
The D-180 is the first model in the Aavik DAC range and offers exceptional value, sharing much of its DNA & technology with the state-of-the-art D-580. It offers a great sound that is balanced, tonally correct, dynamic and highly musical. An audiophile's dream!
Unique Technology
PREMIUM TECHNOLOGIES FOR UNCONSTRAINED SIGNAL FLOW
Aavik collaborate with their sister company, Ansuz-Acoustics™ and draw on their experience and extensive R&D in the fields of resonance control and noise cancelling technologies. Aavik have fitted all of their streamer models with with Tesla coils, dither circuitry and anti aerial resonance coils. These innovative technologies are geared towards paving the way for an absolutely unconstrained signal flow. Aavik has also prepared the top and bottom surfaces on all the servers to accommodate the Ansuz Darkz™, which represent the most effective way of preventing mechanical vibrations.
RESONANT MODE POWER SUPPLY – QUIET BUT EXTREMELY POWERFUL
The new Aavik series is designed to ensure massive power resources with ultra-low noise. Unlike the square waves used by conventional switch mode power supplies, the new Aavik series boast a resonant mode design which is principally driven by sine waves. When more power is needed, the operating frequency increases, which, in turn, has the advantage that the power density also increases, thus allowing higher peak power when required by the music.
The noise floor in the raw power supply is extremely low but could be even further lowered by the ultra-low noise regulators supplying the different parts of the circuit. The noise of these regulators is measured in a few microvolts respectively nanovolts, which is significantly lower than the noise level of conventional regulators.
SCANDINAVIAN DESIGN AESTHETIC
The Aavik design language is Scandinavian understatement and expresses simplicity and minimalism featuring only a few buttons for logical operation. The multifunctional main knob allows simple navigation and control of the various functions. A distinguishing design feature of the new Aavik series is a huge red display, which makes it easy to read all details of the selected operational settings.
A CABINET WITH EXCELLENT SONIC QUALITIES
Aavik have designed the enclosure to minimise the use of aluminium and its associated mechanical resonance. Over the years, Aavik have been testing various materials and ultimately designed an innovative natural-based composite material, which reduces the mechanical influence, particularly the hysteresis. The sonic result is distinctly audible and reflects a further prominent cornerstone in Aavik's quest for the ultimate music experience.
The Aavik DAC Range
Aavik have produced 3 levels of performance within the acclaimed D-180, D-280 and D-580. The D-180 represents great value with a high-end performance capability beyond its price level. The D-280 adds significantly more resonance control techologies resulting in an even lower noise floor, resolution and accuracy. The D-580 introduces the unique copper inner chassis, Titanium level resonance control, and the maximum Ansuz Acoustics resonance mitigation technology, taking performance to a statement level.
Videos
Aavik 180 Series—Danish High End Components
 
Awards
Reviews
A big round of applause for a D/A-converter that is not cheap, but nevertheless seems remarkably affordable in view of its outstanding qualities.
Read Review
In one word, resolution. In two words, higher contrast. In three words, livelier dynamic energies.
Read Review
There are three series currently available from Aavik: 180, 280 and 580. Aavik claims that they are very similar, but where they differ is the amount of built-in Ansuz noise-canceling technology. I've been told that Michael Børresen, who is in charge of design and development at Aavik, has started an "all-out war on noise". Every one of his products does something to minimize noise whether it's mechanical or electrical. The difference between the 180 to the 280 series is that the 280 gets more Tesla coils and as a result, there is more of Ansuz noise-canceling technology. The 580 series adds a copper chassis and some other premiums, but the heart of the product remains the same. This makes the 180 series an incredible value…. I highly recommend any of these three Aavik components. My recommendation takes a giant step higher if these components are used together, not only because even a stack of only two of them looks so impressive, but because they seem to form a symbiotic sonic relationship.
Read Review
Type
DAC
Digital
2 x BNC S/P-DIF (32-192k samples, 24-bit)
2 x TOSLINK optical (32–192k samples, 24-bit)
USB fully isolated, UAC 2, asynchronous
USB: PCM 32 – 192 k-samples, 24-bit, DSD 64 – DSD 128
Distortion: <0,005% (THD at 1kHz at 0dB)
Output
1 pair of RCA outputs
Output: 4.5Vrms at 0dB
Output impedance: 100 ohms
Aavik Noise Reduction
Active Tesla Coils: 36
Active Square Tesla Coils: 104
Dither circuitry: 5
Power consumption
Standby <0.5W
Idle <50W
Dimensions
102 x 384 x 400mm
Weight
5.4kg
Sometimes we want to listen to our brand new audio setup without having to worry about dragging B&W up two flights of stairs - that's where we come in! Not only are our team experts in high quality AV equipment, they're also professional bodybuilders* who can deliver and install your new toys quickly and efficiently.
Our in-house team can service those in Brisbane, the Gold Coast, and the Sunshine Coast. Give us a call to get an obligation-free quote today!
*the term 'professional bodybuilders' is used here loosely...
Our refund policy operates in a 30-day window - after this time we are unable to accept the product and cannot issue a refund. Don't worry, our products are hand picked from thousands of luxury brands to ensure you are only offered the best of the best so we doubt you'll need to consider this policy at all. If you are concerned about making the wrong decision when it comes to your purchase, please feel free to talk with our team of experts who can advise you on equipment based on your personal music taste, aesthetics, and the layout of your listening room. Still not convinced? Discuss the possibility of a loan (trial period) with our experts and hear the difference yourself.