Skip to product information
Media gallery
Phono Equalizer Unit AD-2850
Vendor: Accuphase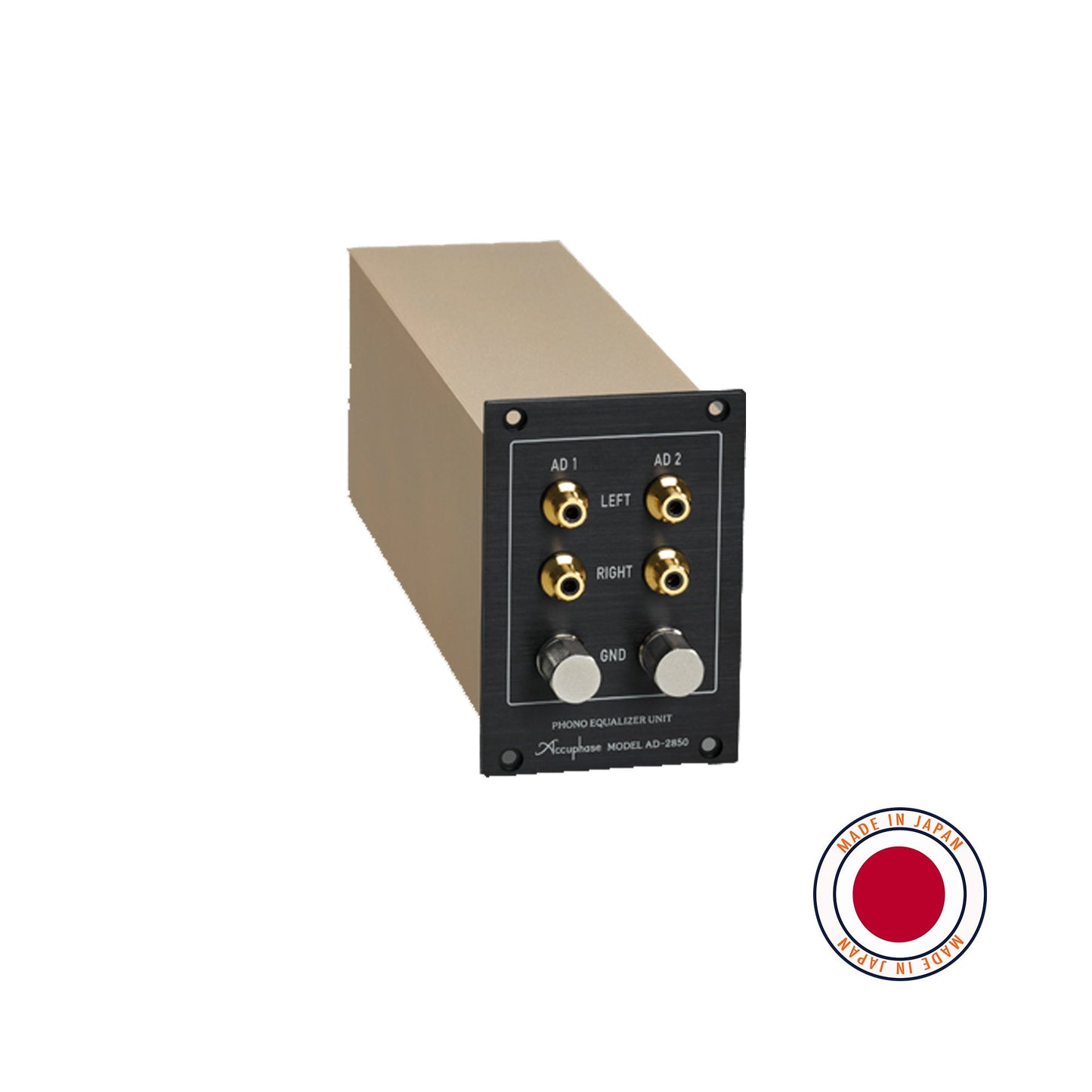 Notified by email when this product becomes available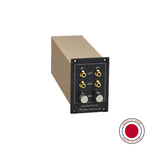 Phono Equalizer Unit AD-2850
$999,999,999,999
Description

Specification

Installation

Returns
Accuphase
Phono Equalizer Unit
AD-2850
AD-2850 is the dedicated phono equalizer unit. Analog records can be reproduced with high quality by installing AD-2850 in a rear-panel slot. The AD-2850 features separate input circuitry for MC and MM cartridges to ensure optimum matching and realize outstanding S/N ratio. 2 sets of analog-player input jacks, the AD1 and AD2 are equipped, and their selections are switchable with the INPUT selector of pre-amplifiers.
Differential amplifier circuit with ultra low noise bipolar-transistors for MC cartridges.
Differential amplifier circuit with ultra low noise junction-FET for MM cartridges.
Differential RIAA equalizer circuit is designed to provide super accurate RIAA equalization characteristics.
MC Load settings are selectable from among 4 values "10Ω/30Ω/100Ω/300Ω". The input impedance for both MM settings is 47kΩ.
Storing separate MC Load and/or AD GAIN settings for each installed AD input (AD1 and/or AD2) is available, and it enables the smooth switching of 2 kinds of analog players or tone arms.
The printed circuits are made from glass cloth fluorocarbon resin.
Guaranteed Specifications [Guaranteed specifications are measured according to EIA standard RS-490] (Specifications installed in C-2850)
FREQUENCY RESPONSE
| | |
| --- | --- |
| MM/40dB, MC | 20~20,000Hz ±0.2dB |
| MM/30dB  | 20~20,000Hz ±0.3dB |


AD MAXIMUM INPUT VOLTAGE (1kHz, 0.005% THD)
| | |
| --- | --- |
| MM/30dB INPUT   | 310mV |
| MM/40dB INPUT | 96.5mV |
| MC/60dB INPUT | 9.5mV |
| MC/70dB INPUT | 3.2mV |
GAIN (GAIN SELECTOR SET TO 18dB POSITION, 12/18/24 dB SETTINGS AVAILABLE)
| | |
| --- | --- |
| AD[MM:30/40dB]INPUT → BALANCED/LINE OUTPUT | 48/58dB |
| AD[MM:30/40dB]INPUT → REC OUTPUT : | 30/40dB |
| AD[MC:60/70dB]INPUT → BALANCED/LINE OUTPUT : | 78/88dB |
| AD[MC:60/70dB]INPUT → REC OUTPUT : | 60/70dB |
INPUT SENSITIVITY AND IMPEDANCE
Input
Input Sensitivity
Input Impedance
For Rated Output
For 0.5V Output
AD-MM/30 dB INPUT
8.0 mV
2.0 mV
47 kilohms
AD-MM/40 dB INPUT
2.5 mV
0.63 mV
47 kilohms
AD-MC/60 dB INPUT
0.25 mV
0.063 mV
10/30/100/300 ohms, switchable
AD-MC/70 dB INPUT
0.08 mV
0.02 mV
10/30/100/300 ohms, switchable
BALANCED/LINE
252 mV
63 mV

40/20 kilohms, switchable


SIGNAL-TO-NOISE RATIO
Input

Input

 

shorted (A weighting)
EIA S/N
S/N ratio at rated output
AD-MM/30 dB INPUT
94 dB
86 dB
AD-MM/40 dB INPUT
85 dB
86 dB
AD-MC/60 dB INPUT
80 dB
86 dB
AD-MC/70 dB INPUT
73 dB
87 dB
BALANCED/LINE
111 dB
110 dB


AD-2850 CIRCUIT DIAGRAM (ONE CHANNEL)
A major feature of the AD-2850 is the use of a balanced configuration or the internal circuitry. Separate input stages optimized for MC and MM cartridges respectively bring out the best performance from every cartridge. When using the MM input, high output impedance matching is achieved by means of a low noise FET configuration. By contrast, the MC input needs to handle very low-level signals with low input impedance. This is realized by the use of a differential input circuit with low-noise bi-polar transistors together with a low-impedance NFB loop, resulting in playback with minimal noise. Also, the built-in differential RIAA equalizer circuit with using high-precise components for both feedback side and ground side is designed to provide super accurate RIAA equalization characteristics. The MC input impedance can be switched to 10, 30, 100, or 300 ohms, while the MM input impedance is fixed to 47 k ohms. In addition, the gain can be set to 60 or 70 dB for MC and to 30 or 40 dB for MM. All of these functions are controlled with switches on the front panel of pre-amplifiers. Operation convenience therefore is exactly the same as when using a pre-amplifier with built-in phono equalizer.
            Printed circuit boards used in the AD-2850



COMPATIBILITY
COMPATIBILITY WITH OTHER PRE-AMPLIFIERS (C-2820/C-2420 etc)
The AD-2850 can be used in the models C-2820/C-2810/C-2800/C-2420/C-2410/C-2400/C-290V/C-290. However, the 300 ohm position for the MC impedance can be used only in the models C-2850/C-2820/C-2420, because other models have no corresponding selector position on the front panel. Also, the actual gain will be different from the indication of the AD gain selector knob as follows. MC: 60dB, 70dB, MM: 30dB, 40dB.
Sometimes we want to listen to our brand new audio setup without having to worry about dragging B&W up two flights of stairs - that's where we come in! Not only are our team experts in high quality AV equipment, they're also professional bodybuilders* who can deliver and install your new toys quickly and efficiently.
Our in-house team can service those in Brisbane, the Gold Coast, and the Sunshine Coast. Give us a call to get an obligation-free quote today!
*the term 'professional bodybuilders' is used here loosely...
Our refund policy operates in a 30-day window - after this time we are unable to accept the product and cannot issue a refund. Don't worry, our products are hand picked from thousands of luxury brands to ensure you are only offered the best of the best so we doubt you'll need to consider this policy at all. If you are concerned about making the wrong decision when it comes to your purchase, please feel free to talk with our team of experts who can advise you on equipment based on your personal music taste, aesthetics, and the layout of your listening room. Still not convinced? Discuss the possibility of a loan (trial period) with our experts and hear the difference yourself.