Skip to product information
Media gallery

Media gallery
E-380 Integrated Stereo Amplifier
Vendor: Accuphase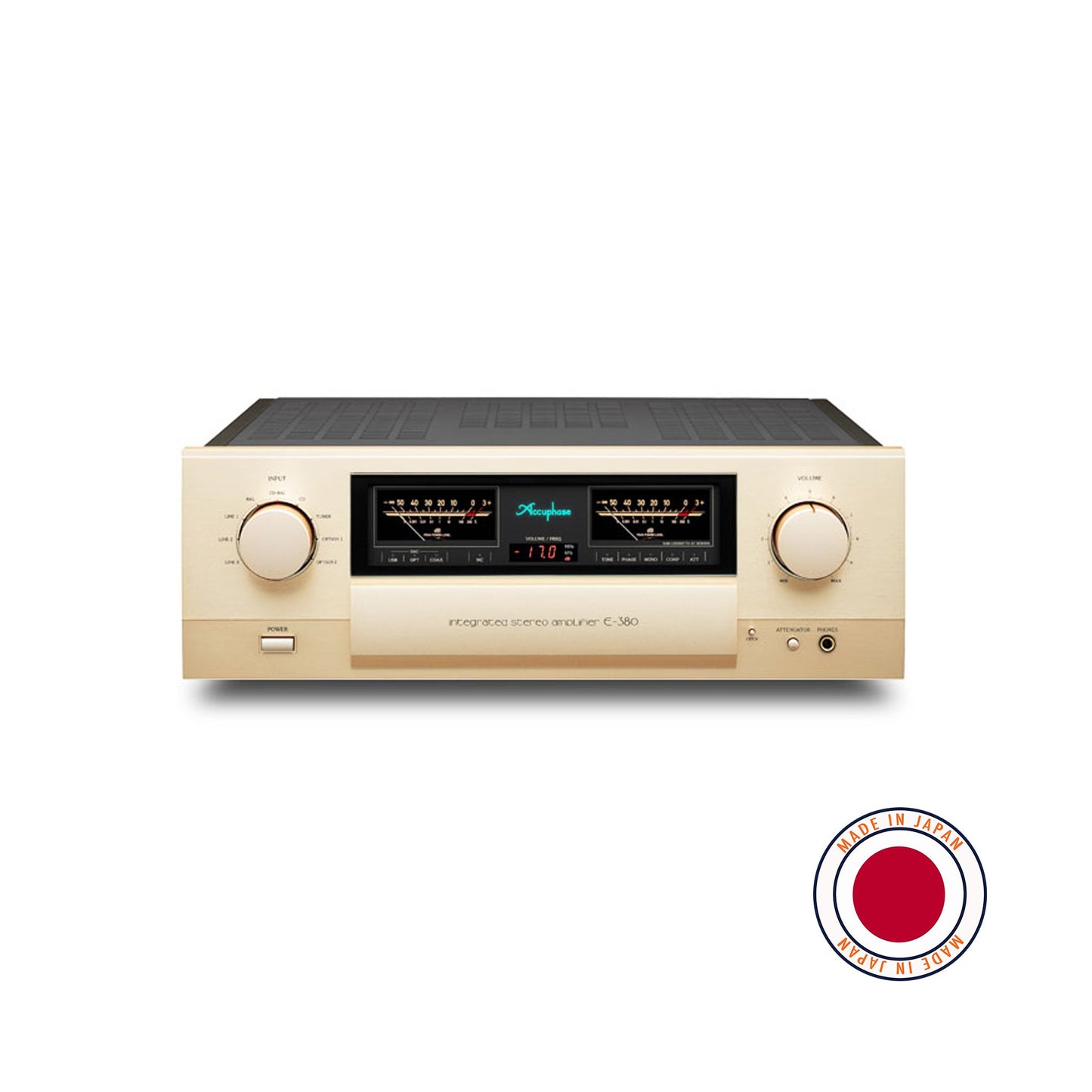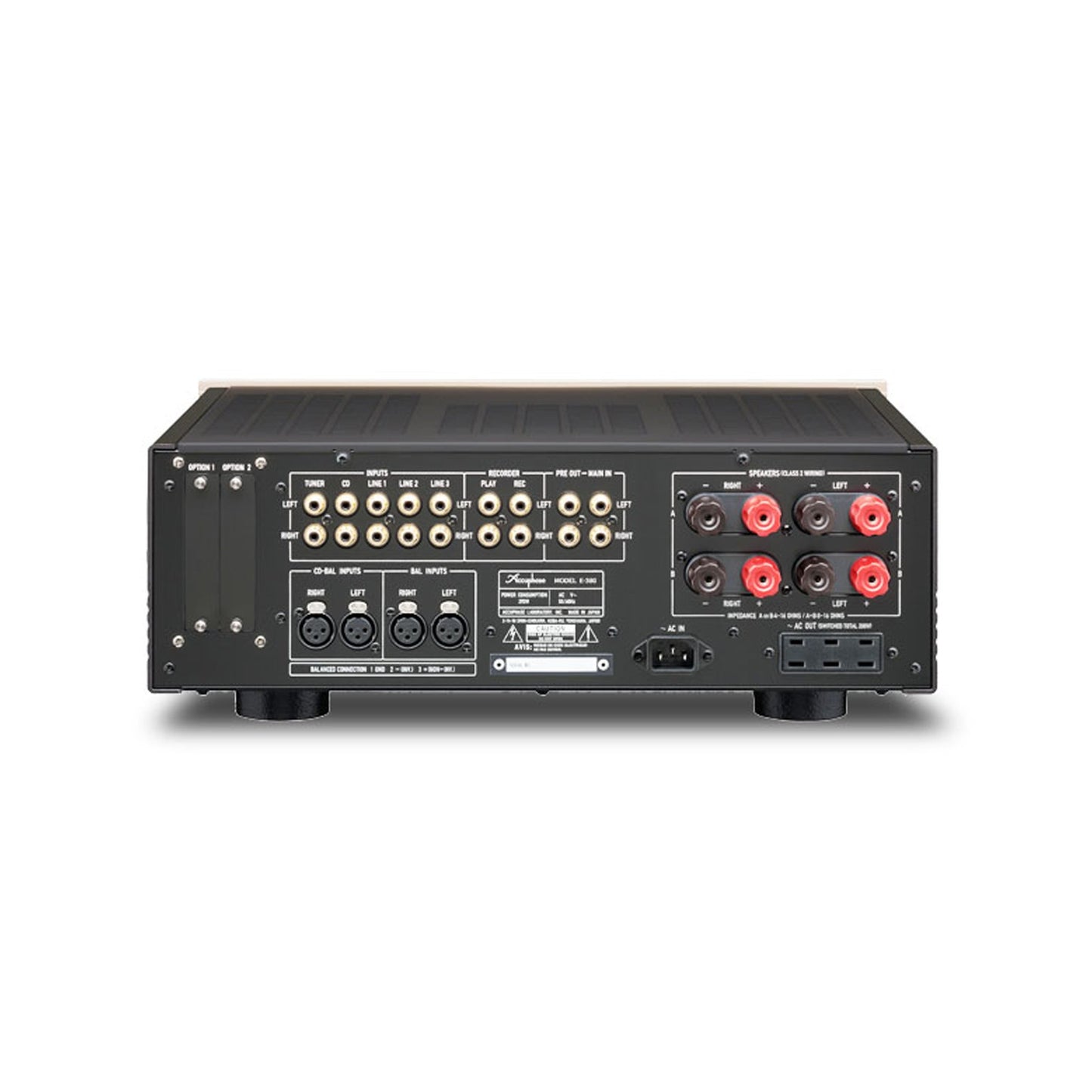 Notified by email when this product becomes available
E-380 Integrated Stereo Amplifier
$999,999,999,999
Description

Specification

Installation

Returns
Accuphase
E-380 Integrated Stereo Amplifier
The E-380 realizes a 20% increase in rated output power thanks to a reinforced power amplification stage and power supply. The further evolved AAVA volume control system allows music enjoyment at any level without even the slightest degradation of signal quality. The power amplifier section utilizes the instrumentation amplifier principle to achieve outstanding S/N ratio. Low impedance design of the output circuitry results in a damping factor of 500, ensuring that the potential of every speaker can be brought out to the fullest. Enjoy a musical performance of amazing transparency and dynamism.
AAVA volume control
Power amplification stage with bipolar transistors in double parallel push-pull configuration
Rated for 180 watts into 4 ohms and 120 watts into 8 ohms
High damping factor of 500
Power amplification stage configured as instrumentation amplifier
Current feedback amplification topology in power amplification stage
Logic-control relays for shortest signal paths
Strong power supply with massive high-efficiency transformer and large filtering capacitors
Protection circuitry using MOS-FET switches
Continuous Average Output Power

(20 - 20,000 Hz)

(both channels driven)

THD

(20 - 20,000 Hz)

(both channels driven)
4 to 16 ohm load
0.05%
| | |
| --- | --- |
| Intermodulation Distortion |                  0.01% |
Frequency Response

HIGH-LEVEL INPUT

At rated continuous average output: 20 - 20,000 Hz +0, –0.5 dB

MAIN IN

At rated continuous average output: 20 - 20,000Hz (+0, -0.2 dB) 

At 1 watt output: 3 - 150,000 Hz +0, –3.0 dB

Damping Factor
500 (with 8-ohm load, 50 Hz)
Input Sensitivity and impedance

Input

Input sensitivity

| | |
| --- | --- |
| For rated output |  For 1 Watt output (EIA) |

Input impedance
HIGH LEVEL INPUT

155 mV     14.2mV

20 kilohms
BALANCED INPUT

155mV      14.2mV 

40 kilohms

 

MAIN IN

1.23V         113mV

20 kilohms

 

Output voltage Impedance
PRE OUTPUT 1.23 V 50 ohms (at rated continuous average output)
Gain

HIGH LEVEL INPUT → PRE OUTPUT: 18 dB

MAIN IN → OUTPUT: 28 dB

Tone Controls

Turnover frequency and adjustment range

BASS: 300 Hz ±10 dB (50 Hz)

TREBLE: 3 kHz ±10 dB (20 kHz)

Loudness compensator
+6dB (100Hz)
Attenuator
-20dB

S/N Ratio,

Input-converted Noise

Input

S/N ratio at rated output

(A-weighted, with input shorted)

S/N ratio (EIA)
HIGH LEVEL INPUT
109dB
99dB
BALANCED INPUT
98dB
98dB
MAIN IN
124dB 
102dB

Power Meters

Logarithmic type peak level display of output in dB or percent

Output Load Impedance

4 to 16 ohms (terminals A or B driven) 

8 to 16 ohms (terminals A and B driven simultaneously) 

Stereo Headphones
Suitable impedance: 8 ohms or higher
Power Requirements
120 V/220 V/230 V AC (Voltage as indicated on rear panel), 50/60 Hz 
Power Consumption

46W idle

292W in accordance with IEC 60065

Maximum Dimensions

Width 465 mm ( 18.31")

Height 171 mm ( 6.73")a

Depth 422 mm (16.61'')

Mass

22.8 kg (50.3 lbs) net

29.0 kg (63.9 lbs) in shipping cart
Sometimes we want to listen to our brand new audio setup without having to worry about dragging B&W up two flights of stairs - that's where we come in! Not only are our team experts in high quality AV equipment, they're also professional bodybuilders* who can deliver and install your new toys quickly and efficiently.
Our in-house team can service those in Brisbane, the Gold Coast, and the Sunshine Coast. Give us a call to get an obligation-free quote today!
*the term 'professional bodybuilders' is used here loosely...
Our refund policy operates in a 30-day window - after this time we are unable to accept the product and cannot issue a refund. Don't worry, our products are hand picked from thousands of luxury brands to ensure you are only offered the best of the best so we doubt you'll need to consider this policy at all. If you are concerned about making the wrong decision when it comes to your purchase, please feel free to talk with our team of experts who can advise you on equipment based on your personal music taste, aesthetics, and the layout of your listening room. Still not convinced? Discuss the possibility of a loan (trial period) with our experts and hear the difference yourself.