Skip to product information
Media gallery

Media gallery
DP-560 MDS SA-CD Player
Vendor: Accuphase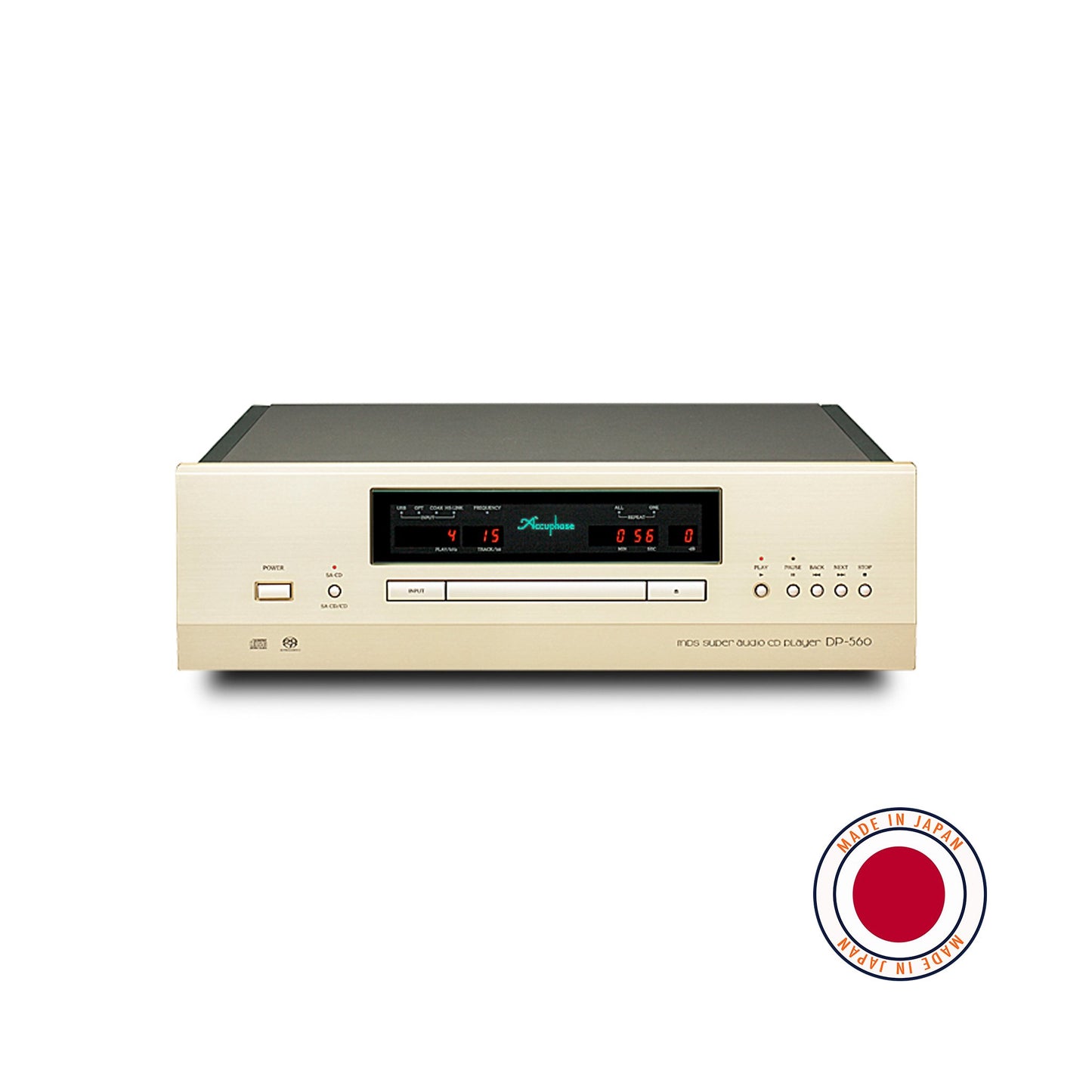 Notified by email when this product becomes available
DP-560 MDS SA-CD Player
$999,999,999,999
Description

Specification

Installation

Returns
Accuphase
DP-560 MDS SA-CD Player
Newly designed next-generation SA-CD/CD drive combined with exquisite disc tray and ultra-quiet disc loading mechanism for silky smooth operation. Innovative MDS+ type D/A converter using four parallel DAC circuits ensures highly accurate D/A conversion of DSD and PCM signals. Separate configuration of transport and processor sections, each equipped with a set of HS-LINK, coaxial, optical, and USB (input only) connectors. USB connector provides support up to 384 kHz/32-bit and 11.2896 MHz/1-bit DSD.
High-grade SA-CD/CD drive.
MDS+ type D/A converter with four parallel devices.
Support for playback of data discs (CD-R/-RW, DVD-R/-RW/+R/+RW).
Direct Balanced Filter with separate line and balanced signal paths.
HS-LINK and USB digital interfaces.
Transport outputs and digital inputs allow insertion of DG-58 into signal path for sound field correction Phase selector for balanced outputs.
Sampling frequency and quantization bit display.
Transport Section


Compatible Disc Format


2-channel Super Audio CD (SA-CD)
CD
DSD Disc DVD-R/-RW/+R/+RW (DSF File Format) 
Data Disc CD-R/-RW, DVD-R/-RW/+R/+RW
(Supported Formats: WAV, FLAC, DSF, DSDIFF)

Data Read Principle 



Non-contact optical pickup 


Laser Diode Wavelength

 


Transport Outputs

HS-LINK

| | |
| --- | --- |
| Connector Type  | RJ-45 |
| Suitable Cable | Dedicated HS-LINK cable |

COAXIAL

 

| | |
| --- | --- |
| Format | IEC 60958 compliant |

OPTICAL


| | |
| --- | --- |
|  Format | JEITA CP-1212 Compliant  |

Digital Processor Section 

Digital Inputs

HS-LINK

| | |
| --- | --- |
| Connector type | RJ-45 |
| Suitable Cable | Dedicated HS-LINK cable |

COAXIAL 

| | |
| --- | --- |
| Format | IEC 60958 |
| Suitable cable | 75-ohm coaxial digital cable |

OPTICAL

| | |
| --- | --- |
| Format | JEITA CP-1212 compliant |
| Suitable cable | JEITA standard optical fiber cable |

USB

Format
USB2.0 Hi-speed 
(480Mbps) compliant
Suitable cable
USB2.0 cable

Sampling Frequency


 HS-LINK 

(*: only with HS-LINK Ver.2)

32kHz to192kHz, *352.8kHz, *384kHz (16 to 32-bit 2-channel PCM)

2.8224MHz, *5.6448MHz (1-bit 2-channel DSD)

OPTICAL 

32kHz to 96kHz, (16 to 24-bit 2-channel PCM)

USB

32kHz to 384kHz (16 to 32-bit 2-channel PCM)

2.8224MHz, 5.6448MHz, 11.2896 MHz (1-bit 2-channel DSD)
(11.28966MHz: ASIO only)

D/A Converter
4MDS+ principle
Frequency Response
0.5 to 50,000Hz +0, -3.0dB
Total Harmonic Distortion
0.0006% (20 to 20,000Hz)
Signal-to-noise ratio
119dB
Dynamic Range
116dB
Channel Seperation
117dB
Output Voltage and Impedance

BALANCED: 2.5V 50ohms, balanced XLR type
LINE:             2.5V 50ohms, RCA phono jack

Output Level Control
0dB to -80.0dB in 1-dB steps (digital)

General

Power Requirements
AC120 V/220 V/230 V (Voltage as indicated on rear panel) 50/60Hz
Power Consumption
18W
Max. DImensions

Width 465mm (18.3 in)

Height 151mm (5.9 in)

Depth 393mm (15.5 in)

Mass

18.8kg (41.5 lbs) net

25.0kg (55.1 lbs) in shipping carton
Remarks
This product is available in versions for 120/220/230V AC. Make sure that the voltage shown on the rear panel matches the AC line voltage in your area.
The 230V version has an Eco Mode that switches power off after 120 minutes of inactivity.
THe shape of the AC inlet and plug of the supplied power cord depends on the voltage rating and destination country.
Sometimes we want to listen to our brand new audio setup without having to worry about dragging B&W up two flights of stairs - that's where we come in! Not only are our team experts in high quality AV equipment, they're also professional bodybuilders* who can deliver and install your new toys quickly and efficiently.
Our in-house team can service those in Brisbane, the Gold Coast, and the Sunshine Coast. Give us a call to get an obligation-free quote today!
*the term 'professional bodybuilders' is used here loosely...
Our refund policy operates in a 30-day window - after this time we are unable to accept the product and cannot issue a refund. Don't worry, our products are hand picked from thousands of luxury brands to ensure you are only offered the best of the best so we doubt you'll need to consider this policy at all. If you are concerned about making the wrong decision when it comes to your purchase, please feel free to talk with our team of experts who can advise you on equipment based on your personal music taste, aesthetics, and the layout of your listening room. Still not convinced? Discuss the possibility of a loan (trial period) with our experts and hear the difference yourself.