Skip to product information
Media gallery

Media gallery
Digital Inputs DAC-50
Vendor: Accuphase
Notified by email when this product becomes available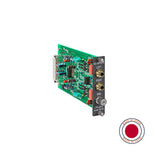 Digital Inputs DAC-50
$999,999,999,999
Description

Specification

Installation

Returns
Accuphase
Digital Inputs 
DAC-50
The DAC-50 is an optional digital input board that supports a broad range of digital sound sources and is equipped with a high-precision MDS type D/A converter for optimal sound quality. The converter uses AK4490EQ chips from Asahi Kasei Microdevices in a double parallel configuration per channel. Installing the board in a slot on the rear panel of a supported Accuphase component provides direct input capability for signals from digital components for high-grade playback. Three types of inputs are provided: USB (Type B), OPTICAL (for optical fiber cable), and COAXIAL (for coaxial cable). The USB input handles signals up to 11.2 MHz / 1-bit 【DSD】 and 384 kHz / 32-bit【 PCM】, the coaxial input supports up to 192 kHz / 24-bit and the optical input up to 96 kHz / 24-bit
FUNCTION
An automatic change of the coax input / optical fiber /USB input
Automatic recognition of number of sampling frequency /bit /MHz de-emphasis
 
GUARANTEED SPECIFICATIONS
USB

USB 2.0 High Speed (480Mbps) compliant

Sampling frequency DSD/2.8224MHz,5.6448MHz,11.2896MHz(1bit)

*11.2896MHz(ASIO only)

PCM/ 32kHz~384kHz,32bit

Optical 

JEITA CP-1212 compliant
Sampling frequency 32kHz~96kHz, 24bit

Coaxial

IEC 60958/AES-3 compliant

Sampling frequency 32kHz~192kHz, 24bit

About sampling frequency display

Sampling frequencies up to 192 kHz are shown as is.


Signals with the following sampling frequencies are handled without problem, but the indication is always "192.0 kHz"

【DSD】 2.8224 MHz, 5.6448 MHz, 11.2896 MHz




【PCM】 352.8 kHz – 384 kHz

【PCM】 352.8 kHz – 384 kHz 

* The reproduction of music data by the USB depends on OS on the PC and softwareof music reproduction. * Please refer to the manual of the PC for setting and the connection method of the PC about USB.
SUPPLIED ACCESSORIES
CONNECTION
* If multiple input signals are supplied at the sametime, the unit automatically locks onto a signal when"OPTION 1" is selected, using the following priority sequence: COAXIAL → OPTICAL → USB
* To exclude a signal from being selected, either disconnect the cable or turn power of the respective equipment off.
PHOTO SHOWS OPTION BOARD INSTALLATION EXAMPLE


CONNECTION EXAMPLE OF DAC-50
USB
Format
 USB 2.0 Hi-Speed (480 Mbps) compliant
Sampling Frequency

2.8224 MHz, 5.6448 MHz, 11.2896 MHz (1-bit 2-channel DSD) (11.2896 MHz: ASIO only)

32 kHz – 384 kHz (16 – 32-bit 2-channel PCM respectively)

Suitable Cable
USB 2.0 cable with Type B connector (max. 2 m)
OPTICAL
| | |
| --- | --- |
| Format |  JEITA CP-1212 compliant |
| Sampling Frequency | 32 kHz – 96 kHz (16 – 24-bit 2-channel PCM respectively) |
| Suitable Cable | JEITA standard optical fiber cable |
COAXIAL
Format
IEC 60958 AES-3 compliant
Sampling Factor

 32 kHz – 192 kHz

(16 – 24-bit 2-channel PCM respectively)

Suitable Cable
75-ohm coaxial digital cable
ABOUT SAMPLING FREQUENCY DISPLAY WHEN DAC-50 IS INSTALLED IN C-2120, E-600, E-470, OR E-270
Sampling frequencies up to 192 kHz are shown as is. Signals with the following sampling frequencies are handled without problem, but the indication is always "192.0 kHz": 【DSD】 2.8224 MHz, 5.6448 MHz, 11.2896 MHz 【PCM】 352.8 kHz – 384 kHz
SUPPORTED MODELS
● Preamplifiers C-2000, C-2110, C-2120, C-245 (※), CX-260 (※)
● Integrated amplifiers   E-213, E-250, E-260, E-270, E-307 (※), E-308 (※), E-350, E-360, E-370, E-408, E-450, E-460, E-470, E-530, E-550, E-560, E-600, E-650
Input selection, sampling frequency display and other specifications differ depending on the model. (※: Installing two DAC-XX boards is not supported.)
*The capability for playback of music data via USB depends on the operating system and music playback software of the computer.
* For information on settings for USB and connection methods, please refer to the computer documentation.

SUPPLIED ACCESSORY
● USB Utility 2 CD-ROM
Sometimes we want to listen to our brand new audio setup without having to worry about dragging B&W up two flights of stairs - that's where we come in! Not only are our team experts in high quality AV equipment, they're also professional bodybuilders* who can deliver and install your new toys quickly and efficiently.
Our in-house team can service those in Brisbane, the Gold Coast, and the Sunshine Coast. Give us a call to get an obligation-free quote today!
*the term 'professional bodybuilders' is used here loosely...
Our refund policy operates in a 30-day window - after this time we are unable to accept the product and cannot issue a refund. Don't worry, our products are hand picked from thousands of luxury brands to ensure you are only offered the best of the best so we doubt you'll need to consider this policy at all. If you are concerned about making the wrong decision when it comes to your purchase, please feel free to talk with our team of experts who can advise you on equipment based on your personal music taste, aesthetics, and the layout of your listening room. Still not convinced? Discuss the possibility of a loan (trial period) with our experts and hear the difference yourself.