Skip to product information
Media gallery

Media gallery

Media gallery

Media gallery
Denon PMA-900HNE Streaming Amplifier
Regular price

Sale price

$1,699

Unit price

per
Vendor: Denon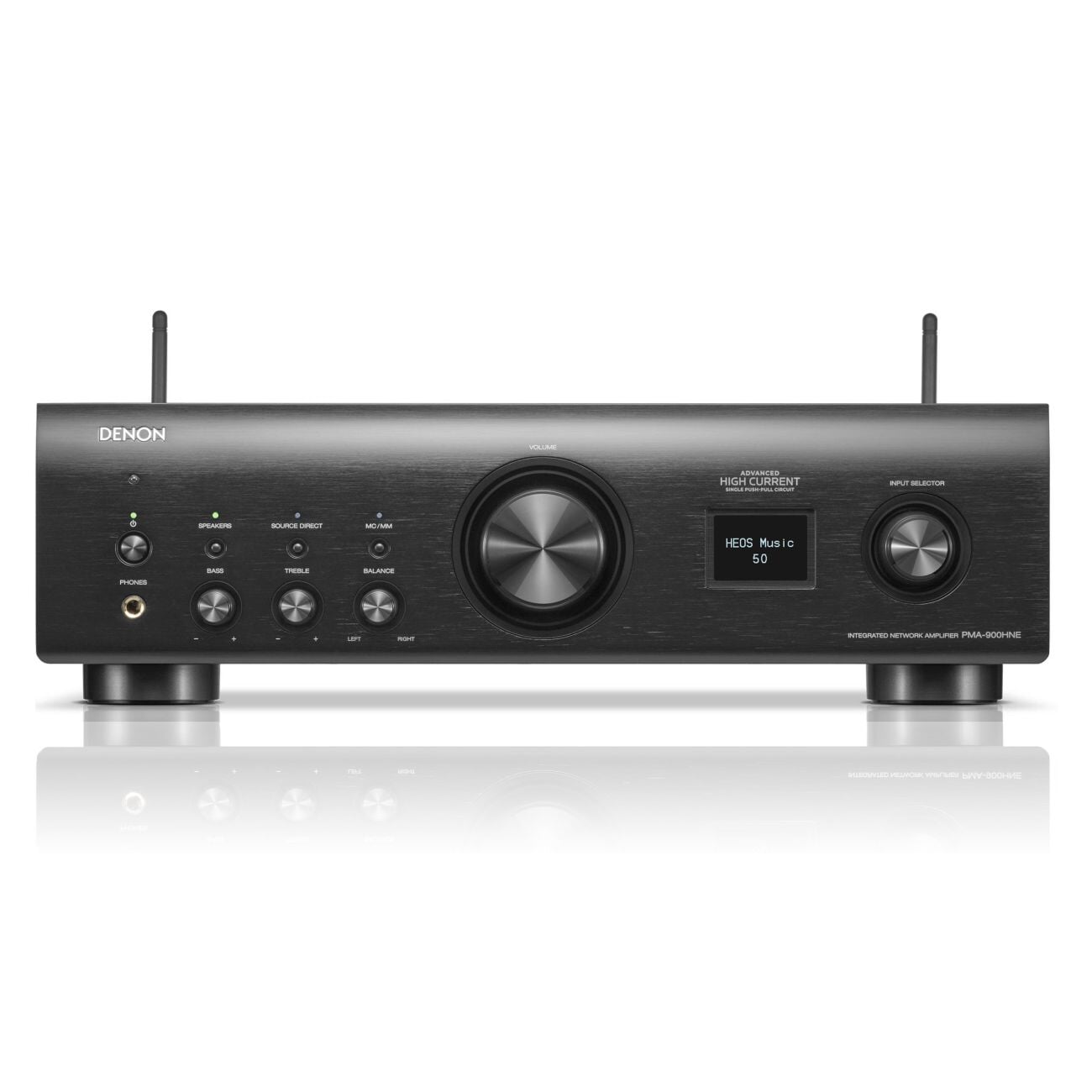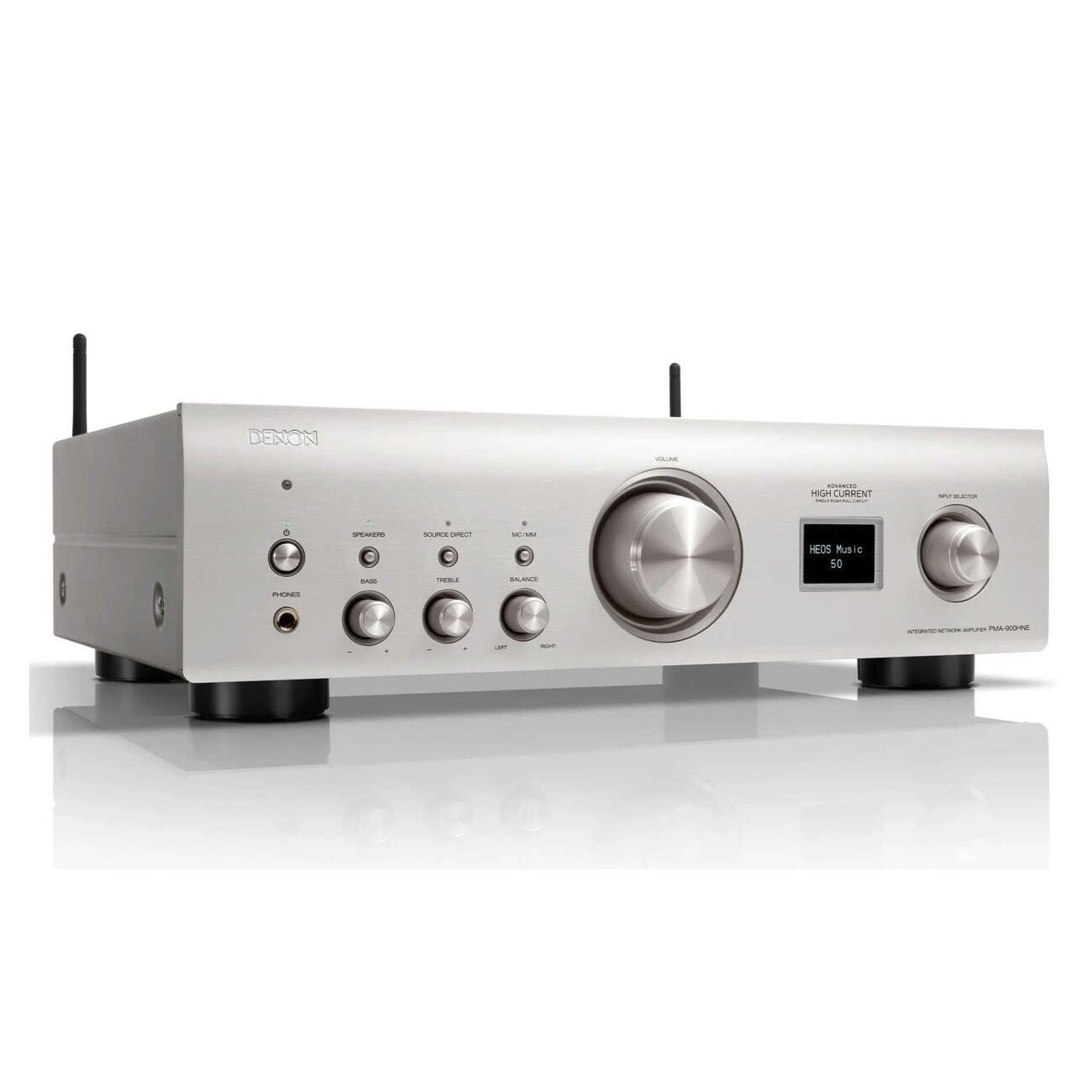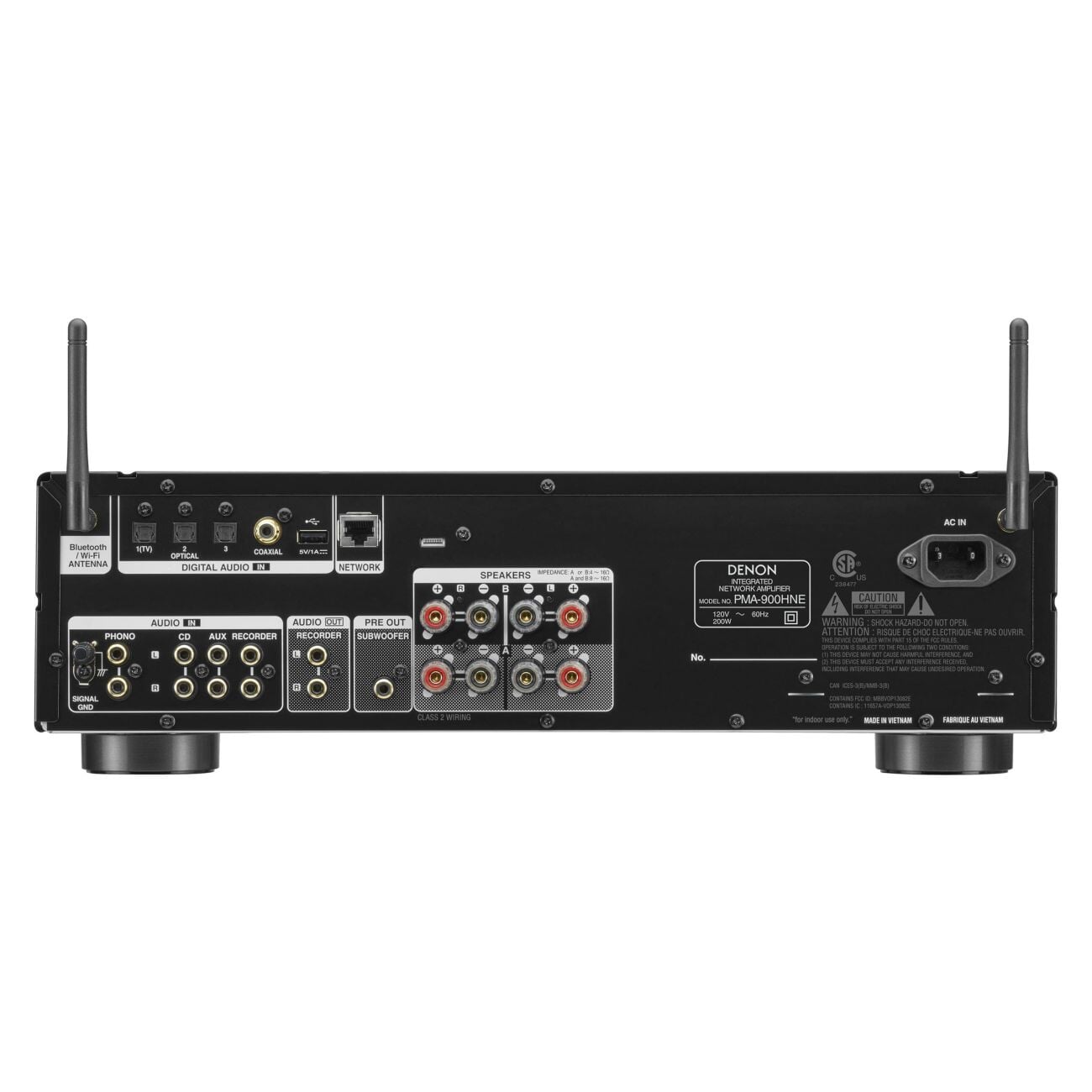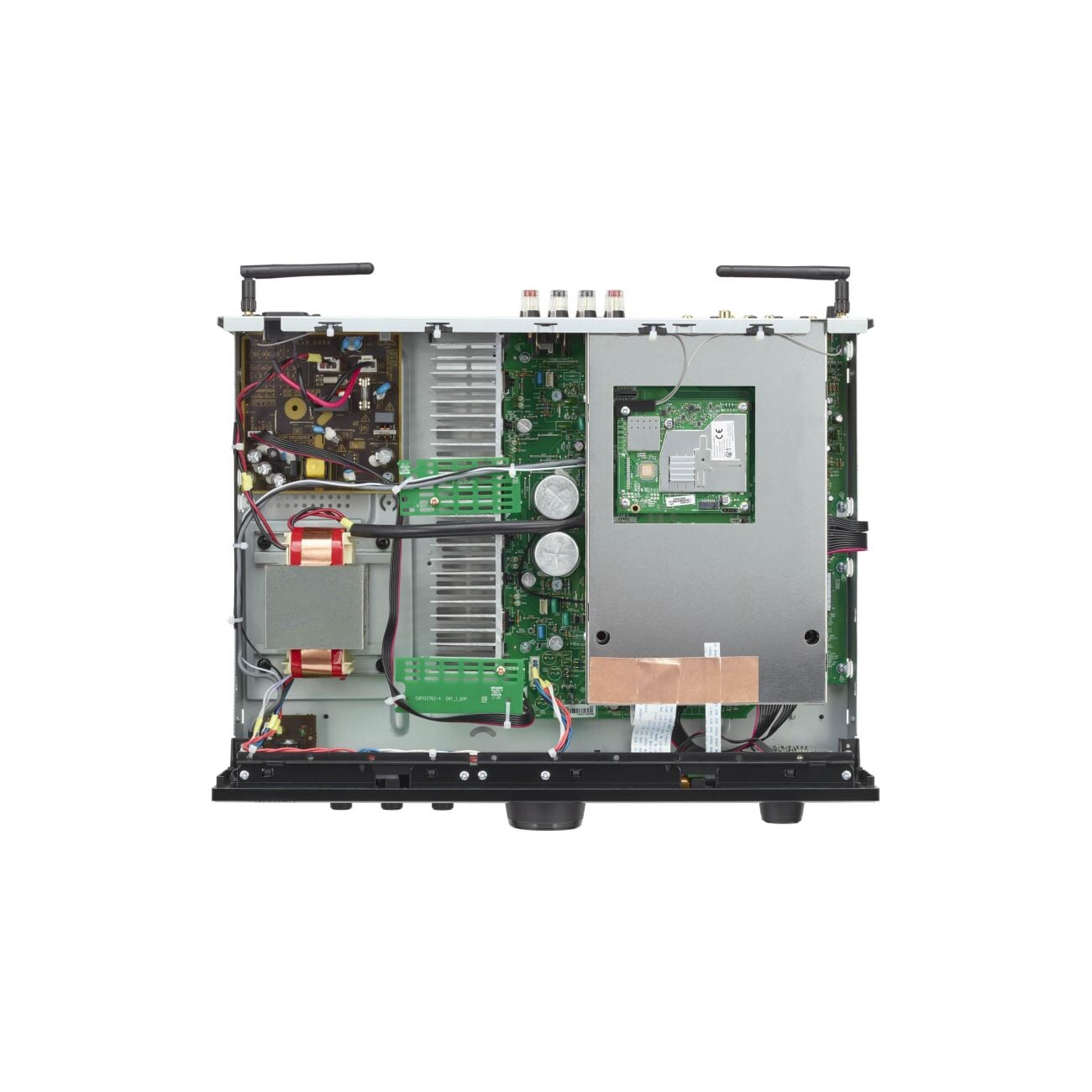 Notified by email when this product becomes available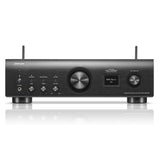 Denon PMA-900HNE Streaming Amplifier
Description

Specifications

Installation

Returns
The Denon PMA-900HNE Integrated Network Amplifier, featuring Advanced High Current amplifier design, delivers superior audio from analogue and digital sources. With Phono input, digital inputs for TV sound, plus network audio streaming by HEOS® Built-in, Denon PMA-900HNE upgrades your listening experience from any source.

Streaming Amplifier with Analogue & Digital Connectivity: Bring out the best from your analogue, digital, and streaming sources with the Denon PMA-900HNE Integrated Network Amplifier featuring Advanced High Current amplifier design.
Built-In Music Streaming: Extend your audio experience with nearly unlimited sources. The HEOS® Built-in Wi-Fi connects to your network to provide near-limitless streaming options. Listen to a wide array of online music services or connect to a smart device via AirPlay 2 or Bluetooth. Supports Spotify, TIDAL, Amazon Music, TuneIn, Deezer, and more to wirelessly stream and enjoy the most popular music services.
Over 110 Years of Firsts In Audio Technology: Founded in 1910, Denon has a deep heritage of "firsts" in audio technology. This focused investment in audio R&D ensures you get the latest technology and highest quality with every listening experience.
Advanced High Current Single Push-Pull Circuit: Enjoy powerful sound with detailed, musical accuracy. The PMA-900HNE incorporates Advanced High Current (AHC) transistors with two to three times the electrical current supply capacity of conventional audio power transistors. The acclaimed Denon AHC single push-pull circuit is adapted from high-end models to join the discrete amplifier in the PMA-900HNE, producing powerful sound with musical fidelity.
Build Integrity with Thoughtfully Selected Components: With a more than 110-year legacy of designing premium audio components, trust that your Denon product is built to last.
"Roon Tested" Certified: All Denon products featuring HEOS Built-in, and AirPlay 2 are Roon Tested. Get more out of your digital music library with searchable, surfable information about your favourite artists and songs. Find lyrics, concert dates, photos, bios, reviews and more. Subscription required.
High Precision Electrical Volume Control with Variable Gain: The PMA-900HNE embraces electrical volume control while preserving the analogue feeling of operation. The unique mechanism offers a smooth and absolutely channel-linear control of the master volume.
Vibration-Resistant Design for Pristine Sound: Vibration-resistant design reduces the adverse audio effects of heavy components within amplifiers resulting in pristine sound quality that meets Denon standards.
Main Transformer with Individual Wiring: Separate coiled wires for the audio and control circuits of the PMA-900HNE's main power transformer eliminates interference and maintains exceptional sound quality.
Signal Level Divided Construction: The audio circuit uses the Signal Level Divided Construction (SLDC) chassis developed by Denon to ensure that delicate musical signals are faithfully amplified and transmitted to the speakers.
Digital Audio Inputs: Connect your TV, media player, computer or any digital source via the Optical and Coaxial digital inputs for an exceptional audio performance with the built-in DAC. The PMA-900HNE features three optical inputs and one coaxial input and supports PCM signals up to 192 kHz/24-bit to improve sound quality of your TV audio and more. Also, the USB-A connection can be used to input high-resolution sound from an audio source on your computer.
TV Auto Standby (Digital Input): The PMA-900HNE includes auto-sensing to automatically switch the unit on when it senses a digital audio signal from an external source like your TV.
MM & MC Phono Equalizer: The PMA-900HNE includes a phono equalizer that supports input from both MM and MC cartridges. This phono equalizer has high gain, and unlike loops in other circuit board patterns which cause adverse effects on sound quality, the simple, straightforward design significantly improves sound quality.
Hi-Res Audio Certified: Enjoy your audiophile-quality digital collection from a USB drive or through your network connection including formats like MP3, ALAC, WAV, FLAC HD, and DSD.
Works with Alexa: Control the PMA-900HNE hands-free with Amazon Alexa and your voice. Adjust the volume, skip to the next track, and more "Just Ask." Requires Alexa app and Amazon Echo, Dot, or equivalent.
Works with Google Assistant: Ask your Google Assistant speaker or phone to stream your favourite songs. Control volume, play, pause, skip tracks, and more.
About Denon
As Japan's first audio electronics manufacturer and with a deep legacy of firsts, Denon is absolutely one of the longest running audio companies emanating from Japan. Founded in 1910, their aim has always been to enable the entertainment moments that matter through the relentless pursuit of quality, innovation and audio performance and Audio Trends teamed up with Denon way back in 1982. Even then, we had difficulties keeping up with demand because they just couldn't physically produce enough gear for the world market! How have they been so successful over decades and still are up with the best in mass-produced audio components when the market has become very crowded?
Innovative engineering and technology are at the core of what makes a Denon product so iconic. Through a disciplined approach to design and production, their Japanese based engineers ensure that only superb craftsmanship, precision engineering and impeccable performance go into every component. The creation of products that can deliver total quality enjoyment to others is a fundamental driving passion and the main reason why they exist. What's more, their constant quest to create the perfect entertainment component is the key to transforming creative ideas into leading innovation, and to anticipating consumer needs. In recent times, this has included the development of mobile technologies, so that customers can enjoy the best possible quality reproduction in any format.
For everyone at Denon, Passion, Artistry, and Technology are more than buzzwords – they are part of the quintessential philosophy behind everything they do. These three elements and decades of innovation and engineering excellence have shaped their entire culture. Every detail of a Denon product is crafted around these elements with a single goal in mind: to maximise the entertainment experience. It is worthy of note that Denon is distributed in Australia by Sound United who are the international owners of the brand so after-sales-service is readily available if required.
Denon PMA-900HNE Review
"Denon's PMA-900HNE is a perfect choice for music lovers building an affordable system with wide functionality and powerful sound. The company's proven Advanced High Current technology is on hand to capably drive partnering loudspeakers and – in a first for a Denon integrated amp – HEOS wireless streaming and app control join a connections roster that also includes Bluetooth and a headphone socket. Using the PMA-900HNE with a turntable or television is also possible too, the latter via its ability to learn the commands of a TV remote. Pick it up with Denon's equally affordable DCD-900NE CD player and you have a brilliant two-box system that covers all the bases." EISA Best Product Award
Design: Streaming Amplifier with Analogue and Digital Connectivity
2 x 50 Watts into 8 Ohms (20-20,000 Hz) at 0.07% THD
2 x 85 Watts into 4 Ohms (1 kHz, 0.7% THD)
4 Ohm capability allows use with a wide range of speakers
Source Direct mode bypasses tone control circuits for cleaner sound
Advanced Ultra High Current single push-pull circuit power amplifier
Signal-To-Noise Ratio: 105 dB (line in), 86 dB (moving magnet), 71 dB (moving coil)
Low-Noise OLED front-panel display
Front-Panel tone controls (treble and bass)
Remote Control included
Connections
3 Optical & 1 Coaxial Digital audio inputs
Ethernet Port for connecting to your home network
USB Type-A for streaming music from a thumb drive
Dedicated Phono Stage compatible with moving coil and moving magnet cartridges
3 Stereo RCA inputs for analogue sources
Stereo RCA audio output for recording
Mono RCA output for a powered subwoofer
Binding Posts and front-panel A/B switching for two pairs of speakers
Built-In Headphone Amplifier with full-size 6.35 mm (¼") jack on front panel
Network Streaming
Built-In Dual-Band Wi-Fi and Bluetooth 4.2
HEOS Built-In Technology:
Internet Radio via TuneIn, iHeart Radio and more
Cloud-Based access to popular streaming services, including Spotify Connect, Apple Music, TIDAL, Deezer and more
Wirelessly connects compatible HEOS components for whole-home audio
Works with Amazon Alexa (voice control device sold separately)
Apple AirPlay® 2 allows wireless streaming via iPhone®, iPad®, iPod® or computer running iTunes®
Works as a Roon player (requires subscription and Roon Core running on your network)
Roon Core is media server software that runs on your computer, NAS drive, or other compatible hardware
General
Included Accessories: 1.7m Power Cable, RC-1246 Remote Control, 2 'AAA' Batteries, 2 Wi-Fi/Bluetooth Antennas, Quick Start Guide, Spotify Connect Instructions, Heos Brochure, Safety Instructions, Notes on Radio, Warranty Information, Bluetooth/Wi-Fi antenna note
Available Finishes: Black & Silver
Dimensions (WxHxD): 434 x 131 x 376mm
Weight: 8.3kg
Manufacturer's Warranty: 2 Years
Sometimes we want to listen to our brand new audio setup without having to worry about dragging B&W up two flights of stairs - that's where we come in! Not only are our team experts in high quality AV equipment, they're also professional bodybuilders* who can deliver and install your new toys quickly and efficiently.
Our in-house team can service those in Brisbane, the Gold Coast, and the Sunshine Coast. Give us a call to get an obligation-free quote today!
*the term 'professional bodybuilders' is used here loosely...
Our refund policy operates in a 30-day window - after this time we are unable to accept the product and cannot issue a refund. Don't worry, our products are hand picked from thousands of luxury brands to ensure you are only offered the best of the best so we doubt you'll need to consider this policy at all. If you are concerned about making the wrong decision when it comes to your purchase, please feel free to talk with our team of experts who can advise you on equipment based on your personal music taste, aesthetics, and the layout of your listening room. Still not convinced? Discuss the possibility of a loan (trial period) with our experts and hear the difference yourself.