Skip to product information
Media gallery

Media gallery

Media gallery

Media gallery
Denon PMA-1700NE Integrated Amplifier
Regular price

Sale price

$2,999

Unit price

per
Vendor: Denon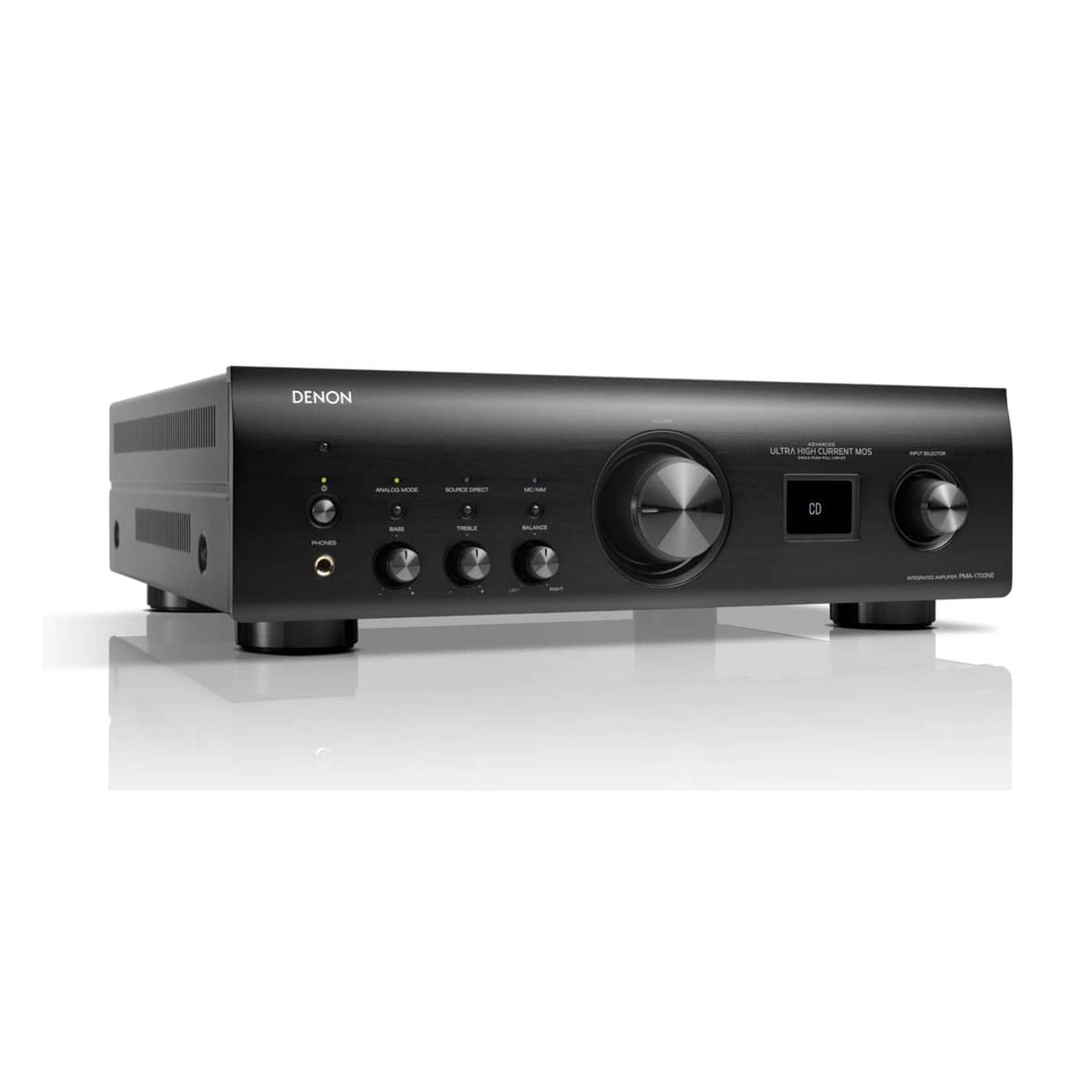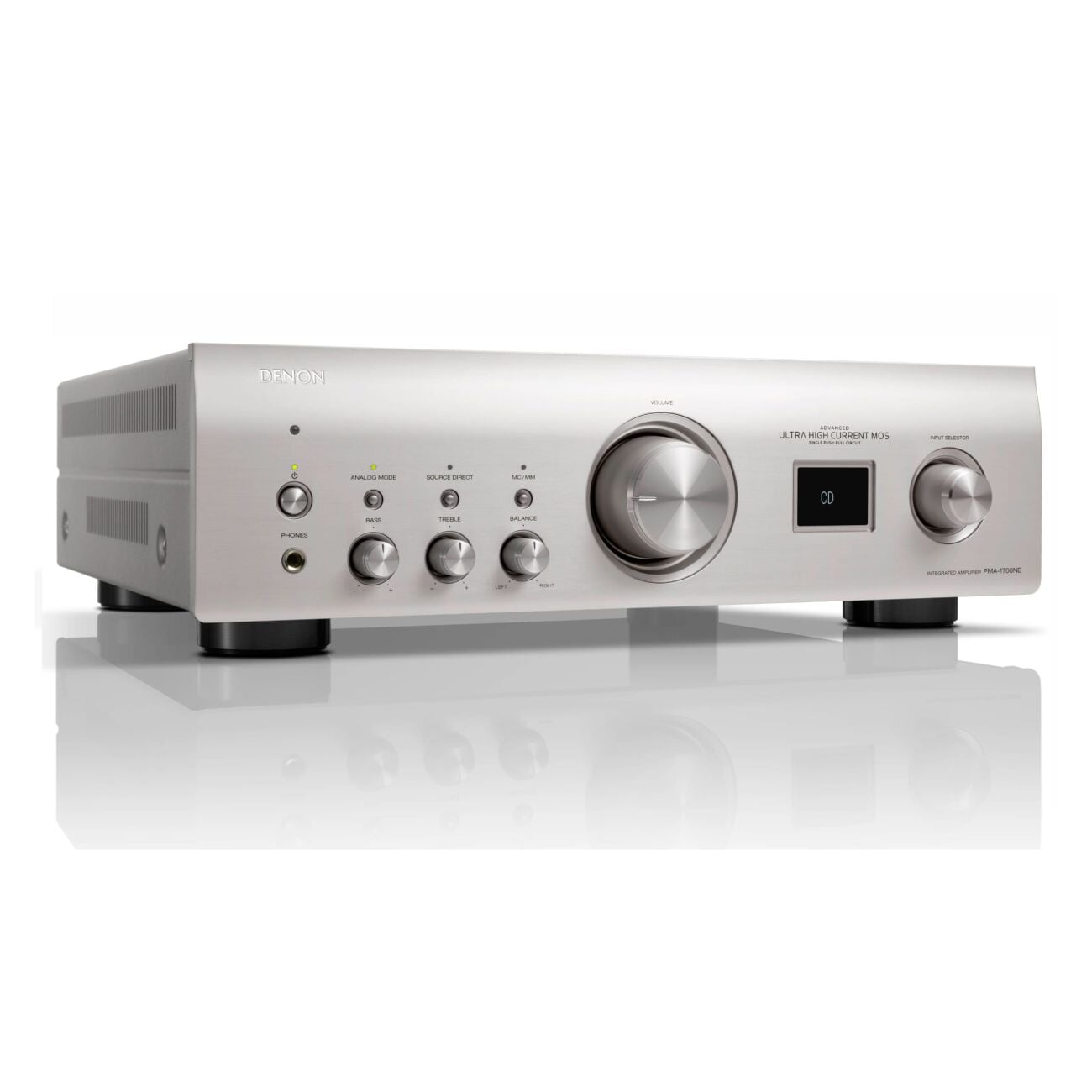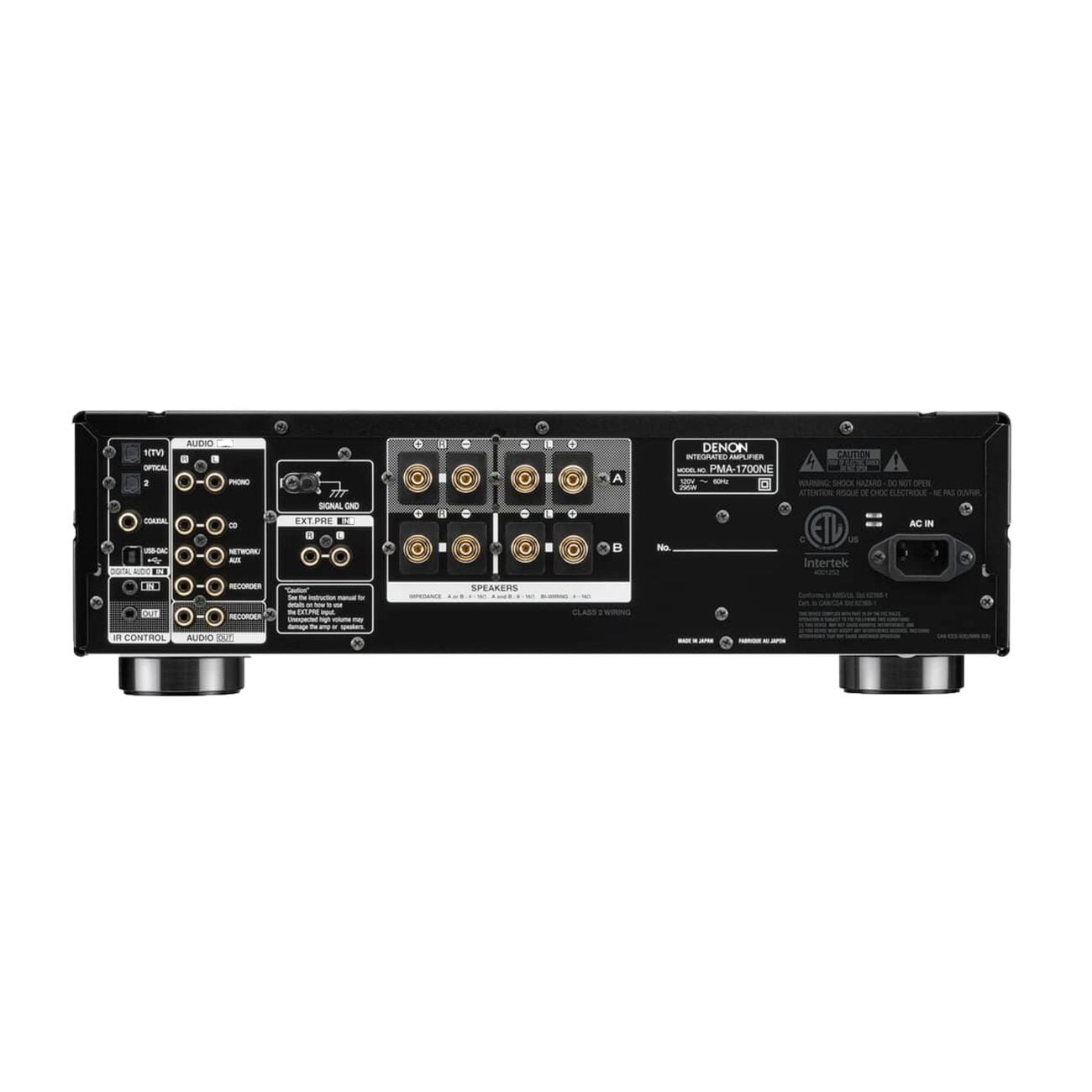 Notified by email when this product becomes available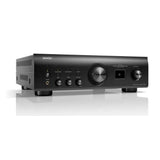 Denon PMA-1700NE Integrated Amplifier
Description

Specifications

Installation

Returns
Denon PMA-1700NE Integrated Amplifier
With ultra-high current single push-pull circuit power and Advanced AL32 Processing Plus, the Denon PMA-1700NE retains the detail of the original recording. Listen to your favourite music digital via the three digital inputs or a rear USB-B input - or go analogue with MM or MC phono equalizer and the dedicated Analog Mode.
Advanced Ultra High Current MOS Single Push-Pull Circuit: Wide bandwidth captures everything from deep bass to detailed highs. The UHC (Ultra High Current) design ensures drivability of a wide range of speaker types and impedances.
Hi-Res Audio Certified: Able to decode high-resolution audio ALAC, FLAC, and WAV lossless files up to 24-bit/192 kHz, as well as DSD 2.8MHz and 5.6MHz tracks (the audiophile format of SACD), PMA-1700NE lets you enjoy each note exactly as the artist intended.
Advanced AL32 Processing Plus: Advanced AL32 Processing Plus uses data interpolation algorithms, which supports digital audio sources up to high resolution 384-kHz/32-bit. The algorithms add in the points that should exist before and after large quantities of data, smoothing out the waveform and restoring information that was lost during the digital recording. The resulting playback is highly detailed, free of interferences, richly expressive in the lower range, and beautifully faithful to the original sound. Hear your favourites like never before.
Built-In Phono Equalizer: Denon is well known for high quality vinyl playback. The built-in phono equalizer allows direct connection to a turntable and supports input from both MM and MC cartridges. The simple, straightforward design significantly improves sound quality.
Digital Inputs: The amplifier features optical and coaxial digital inputs supporting PCM signals up to 192-kHz/24-bit to improve the sound quality of your TV audio, Blu-ray, media players, computer, and more.
USB-DAC: PMA-1700NE provides USB-DAC function that supports high resolution audio signals up to 11.2- MHz DSD and 384-kHz/32-bit PCM. These digital signals with suppressed jitter will get passed on to the high quality DAC for an optimal D/A conversion with highest precision.
110+ Years Of Firsts In Audio Technology: Founded in 1910, Denon has a deep heritage of "firsts" in audio technology—from Japan's first audio electronics manufacturer to producing the world's first commercial CDs. This focused investment in audio R&D ensures you get the latest technology and highest quality with every listening experience.
High-Power 140W Integrated Amplifier: Drive your loudspeakers with 140 watts of power-per-channel into 4 ohms. This integrated amplifier offers compatibility with the widest range of speaker types and impedances for operational stability.
High-Precision Electrical Controls: The PMA-1700NE embraces electrical volume, balance, and tone controls while preserving the analogue feeling of operation. The unique mechanism offers smooth, linear control. A Source Direct function passes by all tone control for purest audio.
External Pre-Amp Input Terminals: "EXT/PRE" input terminals are fixed gain inputs that can be used for connecting an external pre-amp using the PMA-1700NE as a power amp.
TV Auto Standby (Digital Input): The PMA-1700NE includes autosensing to automatically switch the unit on when it senses a digital audio signal from an external source like your TV.
Six-Block Chassis Configuration & Direct Mechanical Ground Construction: Constructed with 1mm-thick steel plates and damping feet made of ABS resin with rigid rib construction, the chassis protects the signal circuits from external vibration and eliminates adverse effects of mutual interference among the circuits.
Digital Isolator: Equipped with a high-speed digital isolator, the PMA-1700NE eliminates adverse effects on sound quality caused by high-frequency noise from a USB-connected computer or digital inputs.
Analog Mode: Analog Mode can be used to turn off power and completely stop operation of the digital input circuitry, avoiding any high frequency influence on the analogue section.
About Denon
As Japan's first audio electronics manufacturer and with a deep legacy of firsts, Denon is absolutely one of the longest running audio companies emanating from Japan. Founded in 1910, their aim has always been to enable the entertainment moments that matter through the relentless pursuit of quality, innovation and audio performance and Audio Trends teamed up with Denon way back in 1982. Even then, we had difficulties keeping up with demand because they just couldn't physically produce enough gear for the world market! How have they been so successful over decades and still are up with the best in mass-produced audio components when the market has become very crowded?
Innovative engineering and technology are at the core of what makes a Denon product so iconic. Through a disciplined approach to design and production, their Japanese based engineers ensure that only superb craftsmanship, precision engineering and impeccable performance go into every component. The creation of products that can deliver total quality enjoyment to others is a fundamental driving passion and the main reason why they exist. What's more, their constant quest to create the perfect entertainment component is the key to transforming creative ideas into leading innovation, and to anticipating consumer needs. In recent times, this has included the development of mobile technologies, so that customers can enjoy the best possible quality reproduction in any format.
For everyone at Denon, Passion, Artistry, and Technology are more than buzzwords – they are part of the quintessential philosophy behind everything they do. These three elements and decades of innovation and engineering excellence have shaped their entire culture. Every detail of a Denon product is crafted around these elements with a single goal in mind: to maximise the entertainment experience. It is worthy of note that Denon is distributed in Australia by Sound United who are the international owners of the brand so after-sales-service is readily available if required.
Denon PMA-1700NE Review
"The two-box DCD-1700NE and PMA-1700NE combo succeeds in its aim to please those remaining 'physical disc' enthusiasts, spreading hope to those of us who still appreciate the joy of CD and SACD media. Moreover, as a complete music system it offers an exciting, energetic but also suitably polished performance that will surely bring in as many listeners who are more tempted by 'virtual' music sources!" Hi-Fi News
Design: Integrated Stereo Amplifier with DAC
70 Watts x 2 channels into 8 ohms (20-20,000 Hz) at 0.07% THD
140 Watts x 2 channels into 4 ohms (20-20,000 Hz)
4-ohm capability allows use with a wide range of speakers
Built-In DAC supports high-resolution audio via USB or optical and coaxial inputs (32-bit/384 kHz)
DAC master clock eliminates digital jitter
Advanced AL32 Processing Plus upsamples digital audio sources
Source Direct mode bypasses tone control circuits for cleaner sound
Analogue amp mode disables digital circuitry for warm all-analogue sound
Advanced Ultra High Current single push-pull circuit power amplifier
Front-Panel display shows source and sample rate
Front-Panel tone controls (treble and bass)
Frequency Response: 5-100,000 Hz
Signal-To-Noise Ratio: 107 dB (line in), 89 dB (moving magnet), 74 dB (moving coil)
Remote Control included
Connections

2 Optical and 1 Coaxial digital audio inputs (all support PCM signals up to 24-bit/192kHz)
3 stereo RCA inputs for analogue sources
Dedicated Phono Input compatible with moving coil and moving magnet cartridges
Stereo RCA audio output for recording
Fixed-Gain stereo RCA preamp input lets you connect a separate preamp and use the PMA-1700NE as a power amp
Rear-Panel Type-B USB input supports high-resolution PCM files up to 32-bit/384kHz or 11.2 MHz DSD
Built-In Headphone Amplifier with full-size 6.35mm (¼") jack
Binding posts for two pairs of speakers
IR Control In & Out

Included Accessories: 1.7m Power Cable, RC-1249 Remote Control, 2 'AAA' Batteries, Quick Start Guide, Safety Instructions, Warranty Information
Dimensions (WxHxD): 434 x 135 x 410mm
Nett Weight: 17.6kg
Manufacturer's Warranty: 2 Years
Sometimes we want to listen to our brand new audio setup without having to worry about dragging B&W up two flights of stairs - that's where we come in! Not only are our team experts in high quality AV equipment, they're also professional bodybuilders* who can deliver and install your new toys quickly and efficiently.
Our in-house team can service those in Brisbane, the Gold Coast, and the Sunshine Coast. Give us a call to get an obligation-free quote today!
*the term 'professional bodybuilders' is used here loosely...
Our refund policy operates in a 30-day window - after this time we are unable to accept the product and cannot issue a refund. Don't worry, our products are hand picked from thousands of luxury brands to ensure you are only offered the best of the best so we doubt you'll need to consider this policy at all. If you are concerned about making the wrong decision when it comes to your purchase, please feel free to talk with our team of experts who can advise you on equipment based on your personal music taste, aesthetics, and the layout of your listening room. Still not convinced? Discuss the possibility of a loan (trial period) with our experts and hear the difference yourself.