Skip to product information
Media gallery

Media gallery

Media gallery

Media gallery
Denon DCD-900NE CD Player
Regular price

Sale price

$999

Unit price

per
Vendor: Denon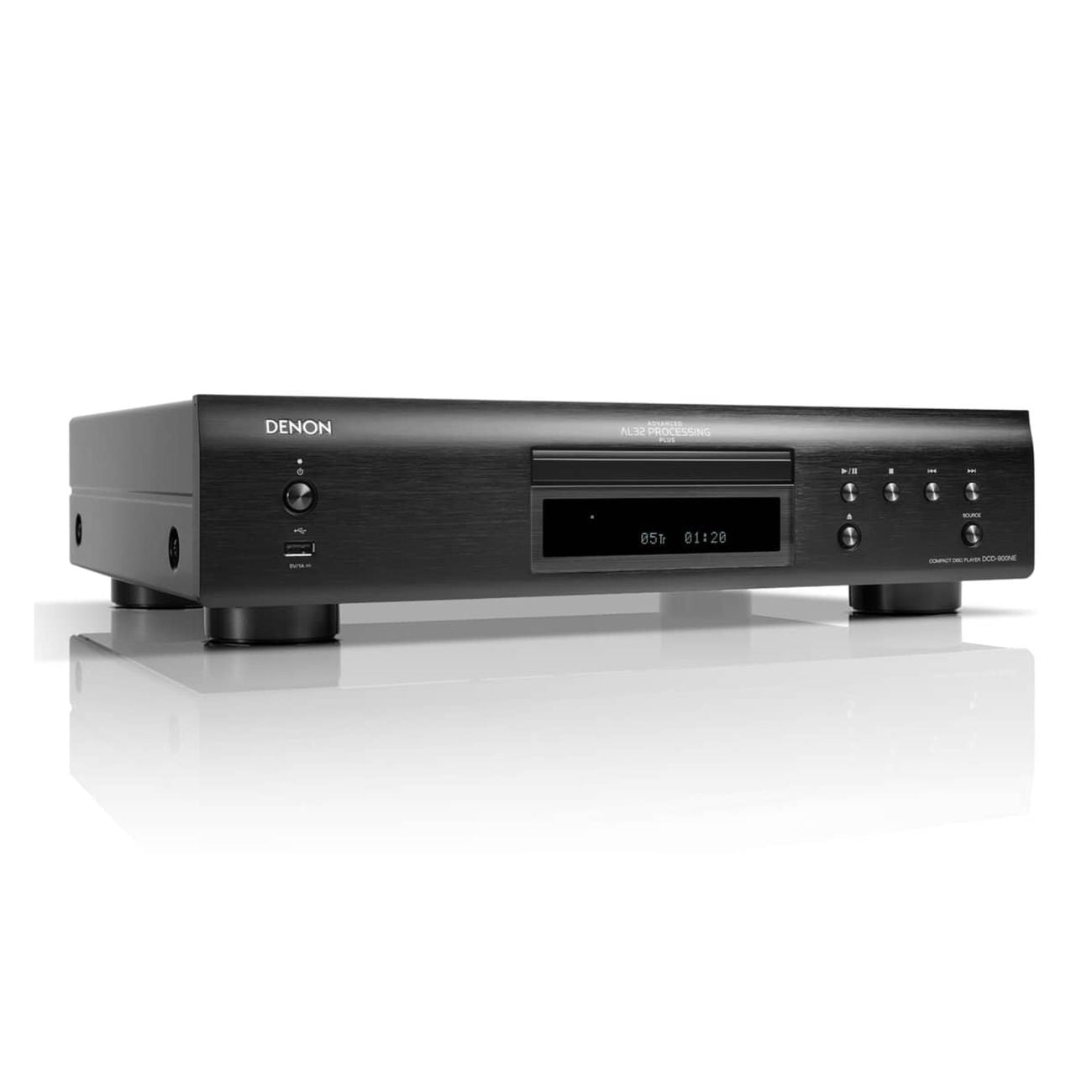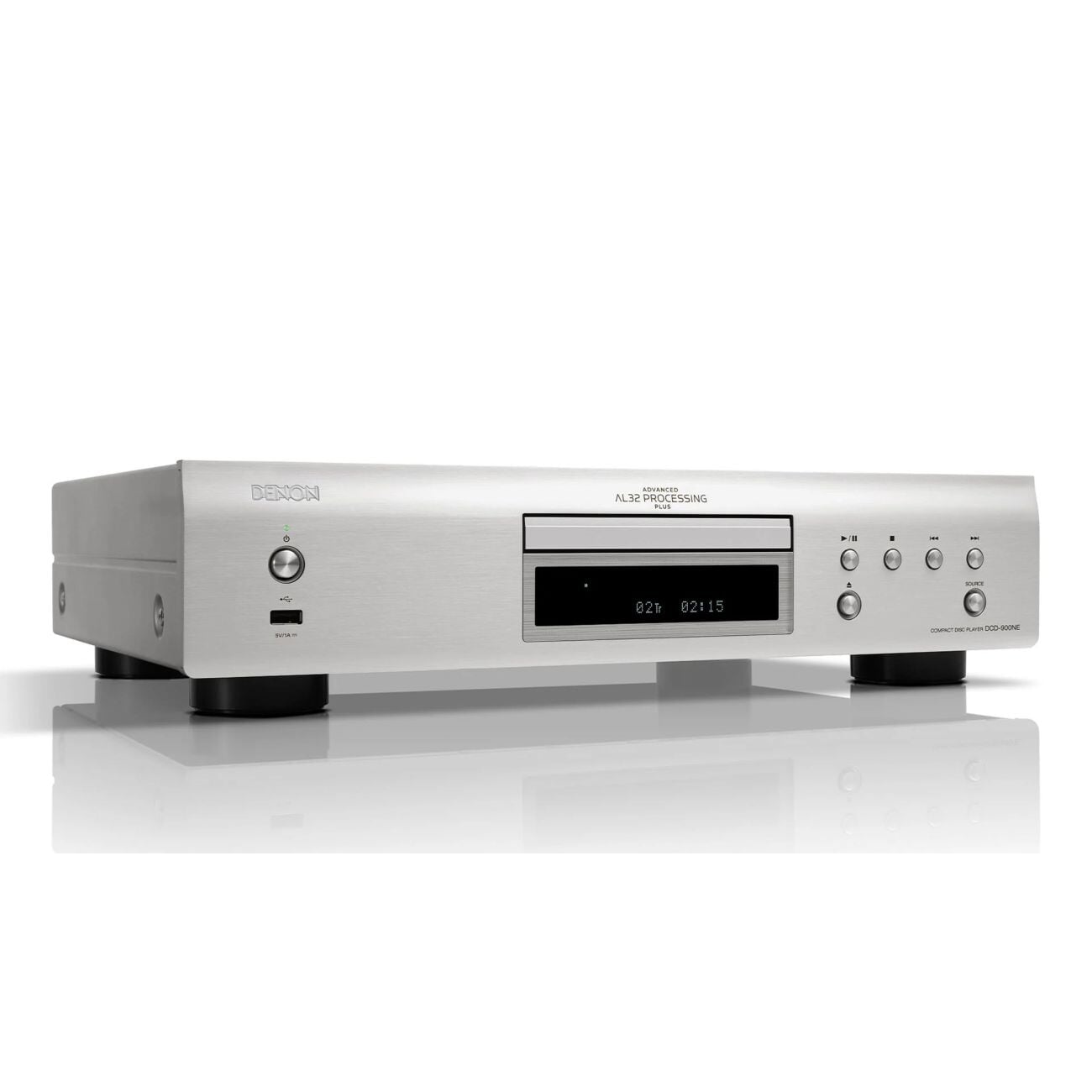 Notified by email when this product becomes available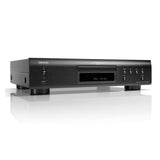 Denon DCD-900NE CD Player
Description

Installation

Returns
Featuring Advanced AL32 Processing Plus and an integrated USB port, the Denon DCD-900NE CD Player reveals the highest quality audio signals from standard CD and USB sources supporting high-res playback.

Disc Compatibility: The Denon DCD-900NE player supports playback of CD Audio discs, as well as CD-R and CD-RW data discs. It offers playback of MP3, AAC, and WMA audio files (up to 320kbps/48kHz) on CD-R and CD-RW discs.
Front-Panel USB Port: In addition to CD playback, the DCD-900NE features a front-panel USB-A port for playback of a variety of compressed and high-resolution audio files stored on a USB MSC (mass storage class device), such as a USB Stick. The unit supports playback of MP3, AAC, WMA compressed music files (up to 320kbps/48kHz); as well as high resolution ALAC (up to 24-bit/96kHz), AIFF (up to 24-bit/192kHz), FLAC (up to 24-bit/192kHz), WAV (up to 24-bit/192kHz), and DSD (up to 5.6MHz) audio files.
Note: The front-panel USB port does not support playback from Apple iOS and Android devices, USB hubs and card-readers, or computers.
ES9018K2M DAC with Master Clock: The DCD-900NE employs a 2-channel 32-bit/192kHz ES9018K2M DAC (digit-to-analogue converter) for high accuracy playback and high quality sound reproduction with wide dynamic range, extremely low noise, and no distortion. To accurately synchronize digital circuits, the DCD-900NE is built with a DAC Master Clock design that treats the DAC as the master when clock signals are supplied. Crafted with exceptional quality, the master clock is immediately adjacent to the DAC, which suppresses jitter and ensures optimal precision in D/A conversion.
Advanced AL32 Processing Plus: The DCD-900NE is equipped with Advanced AL32 Processing Plus, the latest in analogue waveform reproduction technology from Denon. Advanced AL32 Processing Plus utilizes data interpolation algorithms, which support high-resolution audio sources. The algorithms add in the points that should exist before and after large quantities of data, smoothing out the waveform and restoring information that was lost during the digital recording. The resulting playback is highly detailed, free of interferences, richly expressive in the lower range and beautifully faithful to the original sound. Listen to songs as the artist intended.
Advanced Circuitry with Short Signal Paths: The circuit patterns in the DCD-900NE are thoughtfully engineered to make signal paths as short as possible. With shorter circuits, the interference between circuits and left and right channels is reduced, and the adverse influences on audio signals are minimized. As a result, the circuit paths in the DCD-900NE reproduce sound that's clean, highly transparent and faithful to the original recording.
Vibration-Resistant Design: The DCD-900NE's vibration-resistant design reduces the adverse audio effects of heavy components so that sound quality meets Denon standards. Power transformers are fitted near the bottom of the DCD-900NE and immediately above the insulators to prevent unwanted vibration. By lowering the transformer, the vibration surrounding the chassis is reduced, resulting in pristine sound.
Pure Direct Mode: Listen with Pure Direct Mode on the DCD-900NE. Pure Direct Mode feeds sound directly from the CD player to your integrated amplifier or AV receiver, bypassing any DSP processing that might otherwise colour the signal. What you hear is clean, detailed, accurate sound. In Pure Direct mode, the display turns off and digital audio output stops. This reduces the source of noise that can adversely affect sound quality, enabling high quality playback.
Analog & Digital Outputs: The Denon DCD-900NE is outfitted with both analogue and digital audio outputs to connect to your AV receiver, stereo receiver, preamplifier or integrated amplifier. There is one analogue stereo RCA output, one Optical (Toslink) digital output, and one Coaxial (SPDIF) digital output.
Front-Panel Display: The front-panel display indicates the disc's total tracks and total time, as well as the track number and track time, plus icons for random mode, repeat 1 and repeat all modes, and a folder icon for data discs. The unit does not support song/artist/album info display. The dimmer function features 3 levels of display brightness, adjustable via the remote control.
Front-Panel & Remote Control: The supplied IR remote control features an ergonomically-designed layout that includes a cursor keypad, number keypad and dedicated function buttons such as random, repeat, info and program. There are also push-button controls on the front-panel of the CD player to operate Power, Eject, Play/Pause, Stop, and Previous/Next Track. The remote will also operate Source and Volume functions of a Denon integrated amplifier.
Program Playback: From the remote control you can program up to 25 tracks for playback.
Direct Search: You can enter a song track or music file directly using the remote's numeric keypad.
IR In/Out: The Denon DCD-900NE is outfitted with an IR input (3.5mm) and IR output (3.5mm) for installing an optional IR repeater system (sold separately).
Auto-Standby: If there is no input signal or operation for approximately 30 minutes, the Denon CD player will automatically go into Standby mode.
Over A Century Of Audio Firsts: Founded in 1910, Denon has a deep heritage of "firsts" in audio technology. This focused R&D investment ensures you get the latest technology and highest quality with every listening experience.
About Denon
As Japan's first audio electronics manufacturer and with a deep legacy of firsts, Denon is absolutely one of the longest running audio companies emanating from Japan. Founded in 1910, their aim has always been to enable the entertainment moments that matter through the relentless pursuit of quality, innovation and audio performance and Audio Trends teamed up with Denon way back in 1982. Even then, we had difficulties keeping up with demand because they just couldn't physically produce enough gear for the world market! How have they been so successful over decades and still are up with the best in mass-produced audio components when the market has become very crowded?
Innovative engineering and technology are at the core of what makes a Denon product so iconic. Through a disciplined approach to design and production, their Japanese based engineers ensure that only superb craftsmanship, precision engineering and impeccable performance go into every component. The creation of products that can deliver total quality enjoyment to others is a fundamental driving passion and the main reason why they exist. What's more, their constant quest to create the perfect entertainment component is the key to transforming creative ideas into leading innovation, and to anticipating consumer needs. In recent times, this has included the development of mobile technologies, so that customers can enjoy the best possible quality reproduction in any format.
For everyone at Denon, Passion, Artistry, and Technology are more than buzzwords – they are part of the quintessential philosophy behind everything they do. These three elements and decades of innovation and engineering excellence have shaped their entire culture. Every detail of a Denon product is crafted around these elements with a single goal in mind: to maximise the entertainment experience. It is worthy of note that Denon is distributed in Australia by Sound United who are the international owners of the brand so after-sales-service is readily available if required.
Main Features & Specifications
Design: High Quality CD Player
Plays CDs, CD-Rs & CD-RWs, plus MP3, WMA, and AAC CDs
High-Performance 32-bit/192kHz digital-to-analogue converter
Advanced circuitry design for clean, transparent sound reproduction
Advanced AL32 Processing Plus digital upsampling and filtering technology for smooth, detailed playback
DAC master clock for jitter-free audio
Pure Direct Mode bypasses audio processing circuits for a cleaner sound
Dimmable display screen
Programmable operation includes repeat and random play options
Vibration-Resistant design
Remote Control included
Performance
Signal-To-Noise Ratio: 115 dB
Frequency Response: 2-20,000 Hz (2-50,000 Hz for USB input)
Total Harmonic Distortion: 0.0025%
Dynamic Range: 101 dB
Connections
Type-A USB input for playing back high-res music files from a USB stick
Up To 24-bit/192kHz resolution (DSD up to 5.6 MHz)
Toslink Optical Digital output
Coaxial Digital output
Gold-Plated stereo analogue RCA outputs
5mm remote control input/output (for use with compatible receivers and amps)
General
Included Accessories: 1.8m AC Power Cable, RC-1246 Remote Control, 2 'AAA' Batteries, 1m Stereo RCA Interconnect, Quick Start Guide, Safety Instructions, Cautions on Using Batteries
Dimensions (WxHxD): 434 x 107 x 328mm
Weight: 4.9kg
Manufacturer's Warranty: 2 Years
Sometimes we want to listen to our brand new audio setup without having to worry about dragging B&W up two flights of stairs - that's where we come in! Not only are our team experts in high quality AV equipment, they're also professional bodybuilders* who can deliver and install your new toys quickly and efficiently.
Our in-house team can service those in Brisbane, the Gold Coast, and the Sunshine Coast. Give us a call to get an obligation-free quote today!
*the term 'professional bodybuilders' is used here loosely...
Our refund policy operates in a 30-day window - after this time we are unable to accept the product and cannot issue a refund. Don't worry, our products are hand picked from thousands of luxury brands to ensure you are only offered the best of the best so we doubt you'll need to consider this policy at all. If you are concerned about making the wrong decision when it comes to your purchase, please feel free to talk with our team of experts who can advise you on equipment based on your personal music taste, aesthetics, and the layout of your listening room. Still not convinced? Discuss the possibility of a loan (trial period) with our experts and hear the difference yourself.