Skip to product information
Media gallery

Media gallery
C-3850 Stereo Preamplifier
Vendor: Accuphase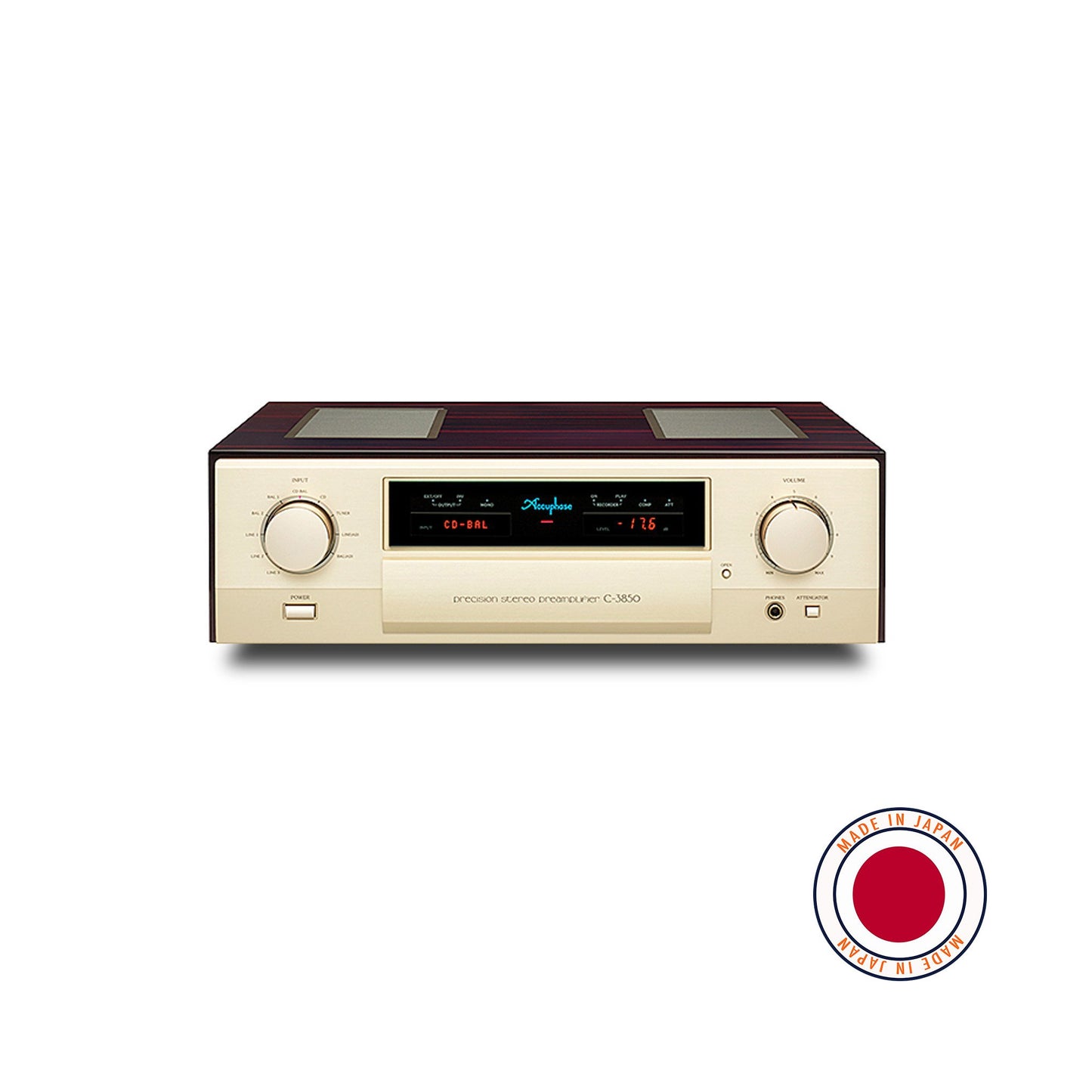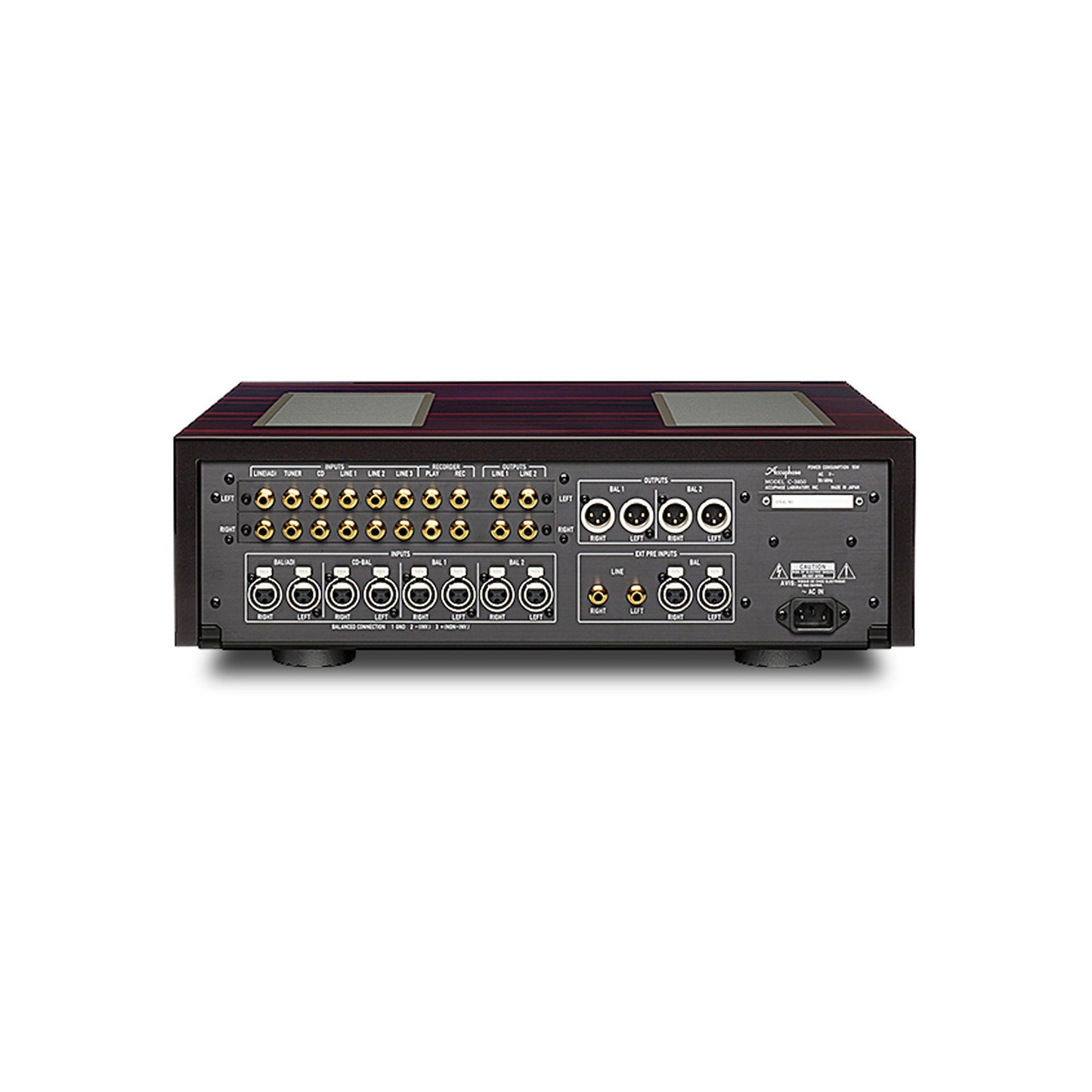 Notified by email when this product becomes available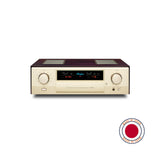 C-3850 Stereo Preamplifier
$999,999,999,999
Description

Specification

Installation

Returns
Accuphase
C-3850 Stereo Preamplifier
The new Precision Stereo Preamplifier C-3850 continues the challenge and raises the bar even further, bringing together the entire wealth of preamplifier know-how gained by Accuphase over the years. In construction as well as circuit design, it incorporates latest technology realized with components selected through a thorough review process including extended listening tests. The result is an audio instrument that admits no compromise in the pursuit of peerless performance for musical mastery.
The C-3850 features a further evolved version of this principle, called "Balanced AAVA", with two AAVA circuits driven in a parallel balanced configuration. AAVA does not "turn down" the volume in the ordinary sense. Rather, it switches a combination of V-I amplifiers as required in order to directly change the amplifier gain and thereby achieve the desired volume. This revolutionary approach eliminates impedance changes as well as adverse effects from noise and other factors.
The entire path for all signals from the input connectors to the outputs is fully balanced, and signal purity is further elevated by the use of ultimate-quality parts and materials, ensuring electrical characteristics and sonic excellence of the highest order. With its no-holds-barred use of resources, and its bold realization of latest circuit design, the C-3850 is an analog preamplifier that redefines the state of the art and points the way towards the future.
Revolutionary low-noise "Balanced AAVA Volume Control"
High-rigidity, high-accuracy volume knob sensor mechanism
Separate high-efficiency toroidal power transformers for left and right channels
Selectable preamp gain
Fully modular construction with separate left/right units for each amplifier stage
Logic-controlled relays for shortest signal paths
Independent phase selection for each input position
Printed circuit boards made from glass cloth fluorocarbon resin
Massive wood cabinet with natural grain finish

Frequency Response


BALANCED/LINE INPUT 3 - 200,000 Hz +0 -3.0 dB 20 - 20,000 Hz +0 -0.2 dB

 




Total Harmonic Distortion (for all inputs)

0.005%

Input Sensitivity, Input Impedance


Input

 
Input sensitivity


For rated output
 
For 0.5 V output

 
Input impedance

BALANCED


40 kilohms (20kilohms/20kilohms)

LINE

20 kilohms




Rated Output Voltage,




Output Impedance


BALANCED/LINE OUTPUT
 
2 V 50 ohms

 
S/N Ratio




Input

 
Input shorted (A weighting)

S/N ratio at rated output


EIA S/N

BALANCED

115 dB



110 dB




LINE


115 dB



110 dB


Maximum Output Level (0.005% THD, 20 ‒ 20,000 Hz)


BALANCED/LINE OUTPUT: 7.0 V
 
RECORDER REC (with AD input): 6.0 V 


Maximum Input Level



BALANCED INPUT: 6.0 V

LINE INPUT: 6.0V


Minimum Load Impedance


BALANCED/LINE OUTPUT:
 
600 ohms

RECORDER REC

10 kilohms

Crosstalk

-90 dB or better at 10 kHz (EIA)



Gain (18 dB position)





*Gain selector allows increase or decrease by 6 dB, except for REC output.




BALANCED INPUT → BALANCED OUTPUT: 18 dB



BALANCED INPUT → LINE OUTPUT: 18 dB


LINE INPUT → BALANCED OUTPUT: 18 dB


LINE INPUT → LINE OUTPUT: 18 dB



BALANCED/LINE INPUT → RECORDER REC: 0 dB



Loudness Compensation

1: +2 dB (100 Hz), 2: +4 dB (100 Hz), 3: +6.5 dB (100 Hz)

Headphone Jack




Suitable impedance: 8 ohms or above

Output Level: 2 V (40 ohms)

Gain (LOW, MID, HIGH): ±10 dB from standard MID level



Attenuator

–20 dB

Power Requirements

AC120 V/220 V/230 V 50/60 Hz (Voltage as indicated on rear panel)

Power Consumption

55 watts

Maximum Dimensions




Width 477 mm (18-3/4")

Height 156 mm (6-1/8")

Depth 412 mm (16-1/48")



Mass




25.0 kg (55.1 lbs) net 32.0 kg (70.6 lbs) in shipping carton
Sometimes we want to listen to our brand new audio setup without having to worry about dragging B&W up two flights of stairs - that's where we come in! Not only are our team experts in high quality AV equipment, they're also professional bodybuilders* who can deliver and install your new toys quickly and efficiently.
Our in-house team can service those in Brisbane, the Gold Coast, and the Sunshine Coast. Give us a call to get an obligation-free quote today!
*the term 'professional bodybuilders' is used here loosely...
Our refund policy operates in a 30-day window - after this time we are unable to accept the product and cannot issue a refund. Don't worry, our products are hand picked from thousands of luxury brands to ensure you are only offered the best of the best so we doubt you'll need to consider this policy at all. If you are concerned about making the wrong decision when it comes to your purchase, please feel free to talk with our team of experts who can advise you on equipment based on your personal music taste, aesthetics, and the layout of your listening room. Still not convinced? Discuss the possibility of a loan (trial period) with our experts and hear the difference yourself.