Skip to product information
Media gallery

Media gallery

Media gallery

Media gallery
Artera Solus Play
Regular price

Sale price

$3,900

Unit price

per
Vendor: QUAD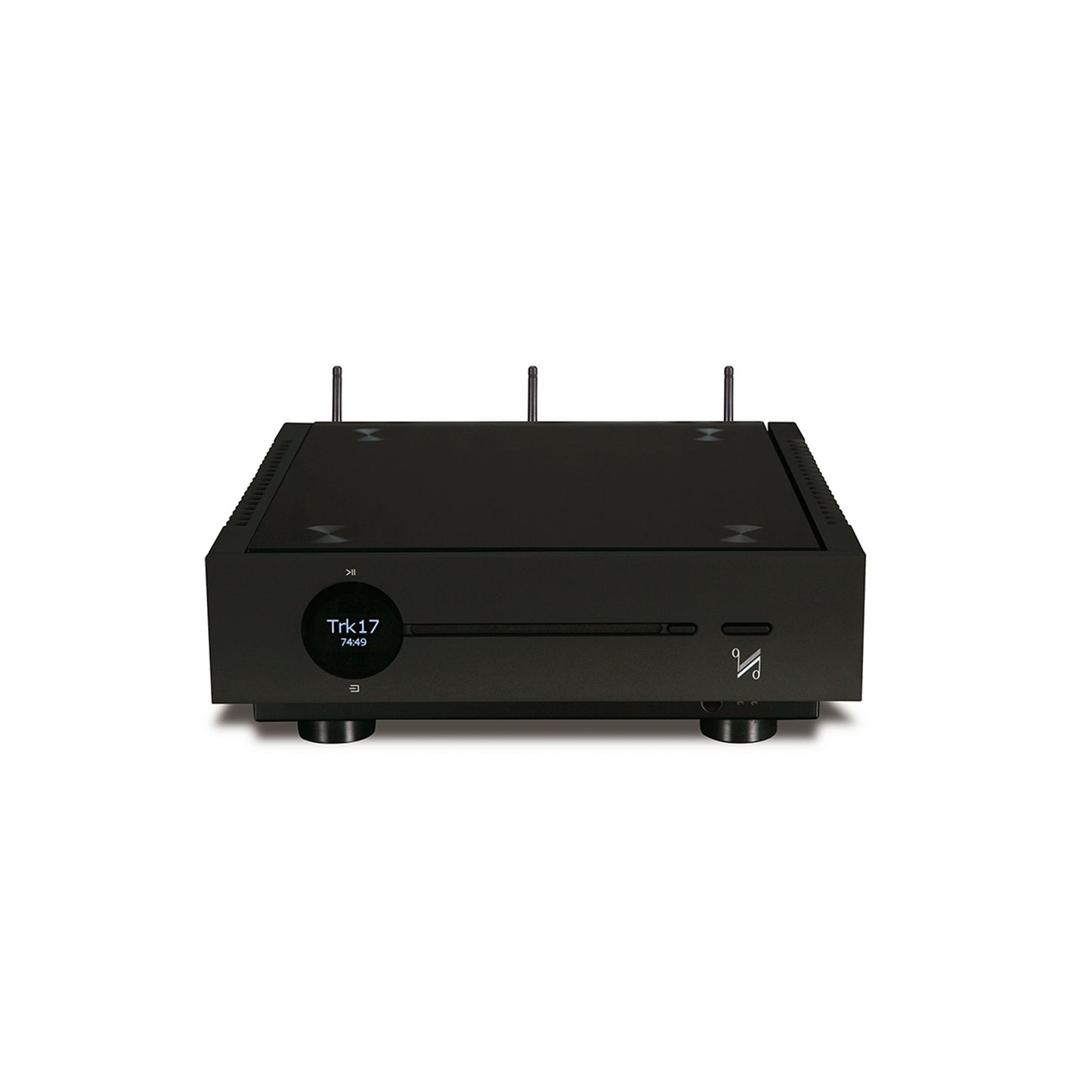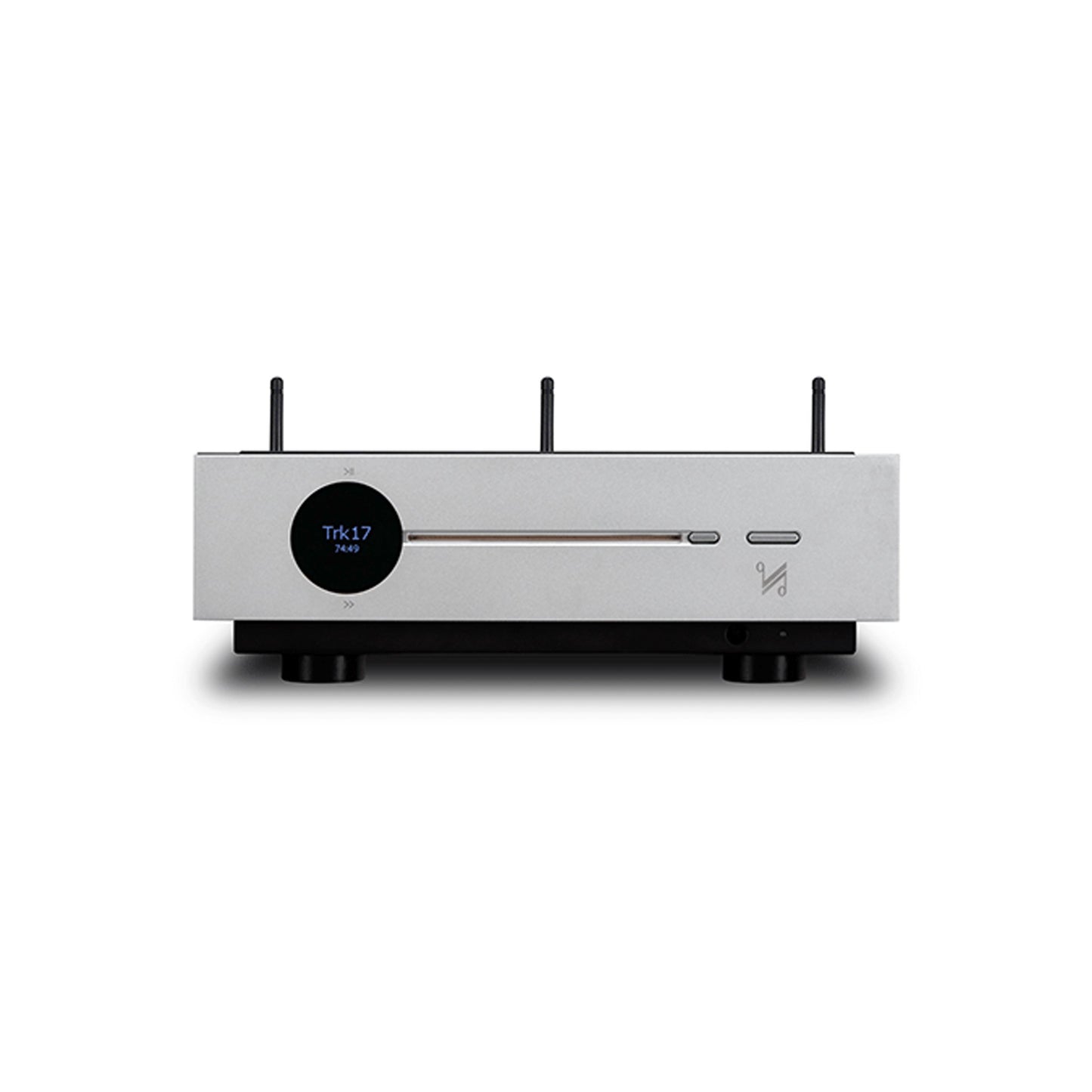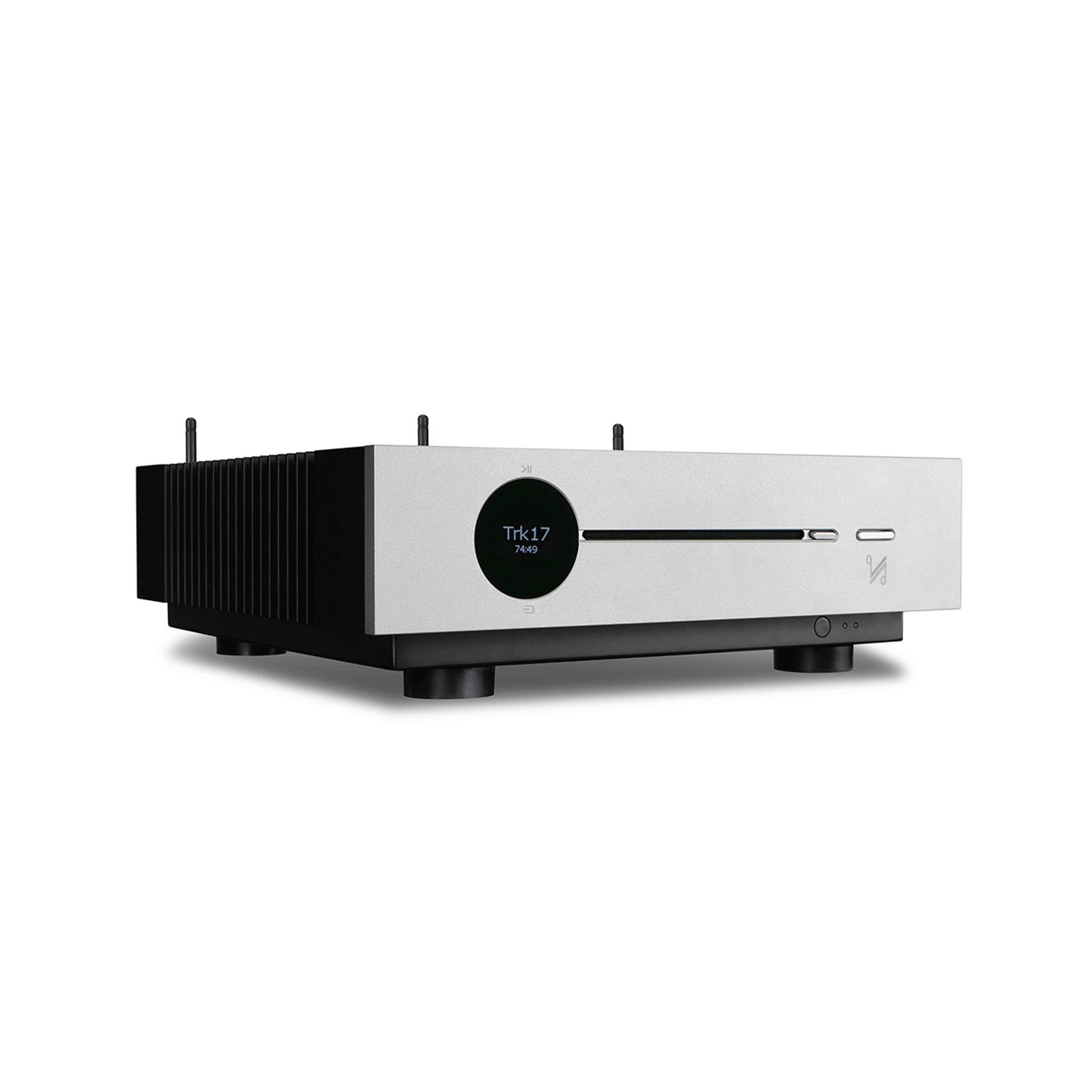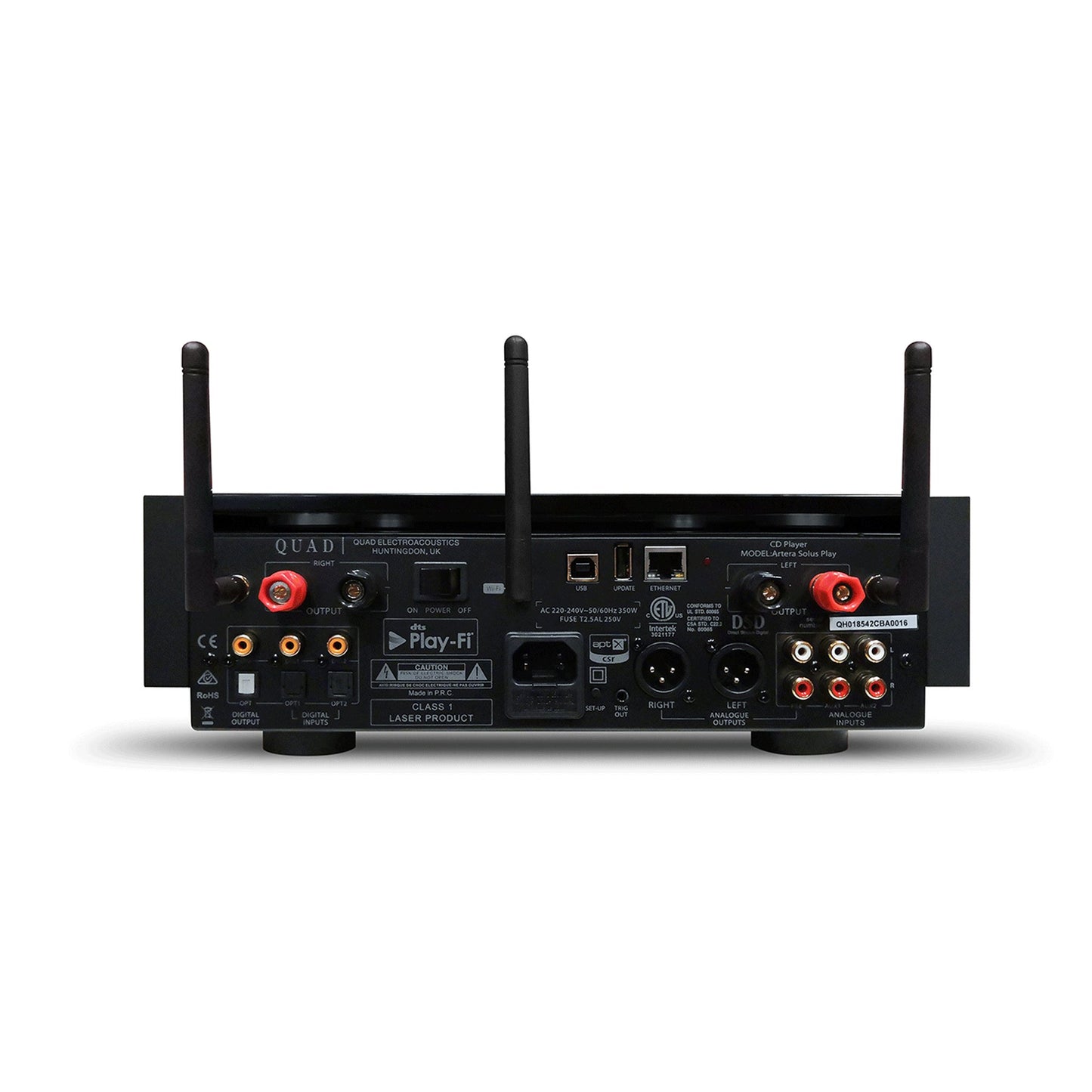 Notified by email when this product becomes available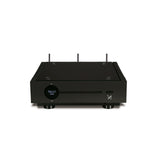 Artera Solus Play
Description

Specification

Review

Installation

Returns
Quad
Artera Solus Play
Wireless Streaming Integrated Amplifier / DAC / Preamplifier / CD Player
The QUAD Artera Solus Play is the latest addition to the best-selling QUAD Artera series. It also heralds the arrival of wireless audio streaming and multi-room technology to the established QUAD Artera portfolio. Based on the recently upgraded and richly specified Artera Solus, the QUAD Artera Solus Play incorporates the acclaimed DTS Play-Fi® platform for high resolution wireless audio streaming. With DTS Play-Fi® Technology, music can be streamed over your wireless network in high-resolution format and can be easily expanded to an ultimate multi-room system if required. You can stream from any source on your wireless network, including smart-phones, tablets or PCs as well as a NAS Drive.
SMART AESTHETICS
The Artera Solus Play's Wi-Fi networking is powered by DTS Play-Fi: an app-controlled platform enabling high-quality, whole-home wireless audio, capable of streaming hi-res music up to 24-bit/192kHz and supported by a greater range of established audio brands than any other wireless platform.
The free Play-Fi app (available for iOS, Android and Kindle Fire devices, Windows PCs and Apple and Android smartwatches) is an intuitive gateway to a wealth of music services, including Spotify, Tidal, Amazon Music, Deezer, Qobuz, HDtracks, TuneIn, iHeartRadio and SiriusXM. It is also your trusty music butler, able to serve up a streaming library stored on any DLNA-compatible NAS drive or media server on the same home network.
Favorite playlists and radio stations can be assigned as shortcut 'presets' within the app, while Works With Alexa support enables voice-controlled playback when the Artera Solus Play is paired with any Amazon Alexa-equipped device.
WIRELESS STREAMING TECHNOLOGY
Play-Fi supports a wide variety of file formats, including MP3, MP4A, AAC, FLAC, WAV and AIFF. In standard mode, which is optimised for multi-room bandwidth, audio is streamed at up to 16-bit/48kHz – akin to CD-quality. By engaging Play-Fi's Critical Listening Mode, hi-res audio up to 24-bit/192kHz may be streamed to the Artera Solus Play over Wi-Fi or Ethernet cable, without transcoding or down-sampling.
There are other ways to stream music to the Artera Solus Play wirelessly, other than via the Play-Fi app. Spotify users can connect directly from the Spotify app thanks to Spotify Connect, and you can stream from smartphones and tablets without connecting to the local Wi-Fi network thanks to aptX Bluetooth.
Despite its attractive simplicity, the Artera Solus Play sports cutting-edge sophistication beneath the skin. At its heart nestles the ES9018 Sabre32 Reference, the eminent 32-bit, eight-channel hybrid multi-bit Delta-Sigma DAC chip, expertly implemented by Quad's renowned electronics engineers. External sources benefit from this DAC's exceptional quality via a range of digital inputs, handling PCM data up to 32-bit/384kHz as well as DSD64/128/256. This ensures the Artera Solus Play is equipped to make the most of today's hi-res music formats, as well as future advances in ultra-high-definition digital sound.
For CD replay, a slot-loading mechanism buffers data from the disc before feeding it to the asynchronous DAC section. Four digital filter options enable users to tailor the sound from both CDs and external digital sources, to suit personal taste and the nature of the source material.
Amp it up
The Artera Solus Play's preamp and power amp stages incorporate balanced circuitry, short and direct signal paths and high-quality components to preserve sonic purity. Volume is adjusted in the analogue domain under microprocessor control, outputting directly to the dual-mono Class AB power amp stage which delivers 2x75W into eight ohms. To minimise distortion, the power supplies for the left and right channels are isolated from each other as well as from the rest of the system.
The discrete power amp circuits' output stage uses a CFB (Complementary Feedback) topology in combination with conventional emitter follower circuitry. The CFB stage offers superior linearity and ensures excellent thermal stability, as the idle current is kept independent of the temperature of the output transistors. Using an emitter follower in combination with the CFB stage is an efficient way of increasing the current ability of the amplifier without compromising the advantages of the CFB circuit.
Having the emitter follower deliver additional current only when needed allows for a simpler current-limiting arrangement, which can be voltage-independent. Current limiting is under microprocessor control and programmed to allow the amplifier to supply high currents (+/- 15A) into complex loads, surpassing amplifiers that are bigger and more powerful on paper. A 300VA toroidal transformer supplies the two mono amplifiers using separate secondary windings, followed by 2x15000uF reservoir capacity per channel (60000uF in total).
Much effort has gone into the physical layout of the Artera Solus Play's circuitry, with independent low-noise power supplies feeding all critical stages to keep interference to a minimum. The result is a performance on par with much more expensive multi-component hi-fi systems – detailed, natural, expansive and dynamic – in line with Quad's continuing quest to deliver "the closest approach to the original sound".
Get connected
Cable connectivity options are plentiful. Six digital inputs – two coaxial, two optical, USB
Type B and Ethernet – cater for external digital sources (there's also a USB Type A socket for software updates) while a pair of RCA inputs handle analogue sources. Analogue outputs are supplied in both single-ended RCA and balanced XLR varieties, with the four-channel volume control preserving the balanced signal path from the DAC to the XLR output. A pair of high-quality speaker binding posts, optical and coaxial digital outputs, a 12V trigger output and a front-mounted jack coupled to a dedicated headphone amp circuit complete a comprehensive connectivity array.
Technology
WIRELESS STREAMING TECHNOLOGY
DTS Play-Fi is premium whole-home wireless audio, now available from the largest ecosystem of brands in the world. Stream your favourite content with astounding audio quality, from every device that you've got.
All DTS Play-Fi products are seamlessly interoperable, so you can find the perfect speaker for every room, and know that they will all make beautiful music together.
Whole home audio, made easy:
DTS Play-Fi sends audio from mobile devices to speakers throughout the home using proprietary streaming, synchronization, and authentication technology.
Freedom of choice, at last
Every single DTS Play-Fi product works perfectly with all the rest, regardless of brand, so you get a huge range of options to customize your home, and one simple, elegant listening experience.
DTS Play-Fi offers an unparalleled selection of audio products for your home, from compact battery-powered speakers to powerful soundbars, built by the most respected audio brands in the business. No more compromising your style or taste to get a high-quality wireless audio solution.
QUAD Artera Solus Play
borrows more than just looks from its sibling, the Artera Solus – utilizing much of the same high-specification design, including the ESS ES9018 from the Sabre32 Reference DAC as well as the aptX Bluetooth connectivity, it has all the pure musicality of QUAD coursing through its very versatile circuitry.
There is also a smattering of both digital and analogue connections, including a headphone socket. So, however you want to enjoy your music, analogue or digital, the QUAD Artera Solus Play will have you connected and ready to play… just add speakers.
Works with every device you've got
Of course, your music is always close by. And we know you have all kinds of devices in your life. That's why DTS Play-Fi is built especially for
smartphones, tablets, and PCs.
We have easy-to-use software for Android, iOS, Kindle Fires, and Windows. We support streaming via Spotify Connect, too. Any way you want to play, it just works.
General Description
CD Player, DAC, Pre-Amp
with Integrated amplifier
Key Technology & Features
DSD (up to DSD256 Compatible) / Bluetooth (aptX)
DTS Play-Fi Technology
Audio File Formats
ALAC, WAV, FLAC, AIFF, WMA, MP3, AAC, AACHE,
AAC+, DSD64, DSD128, DSD256
D/A Converter
ESS ES9018 32bit DAC
USB Input
USB B (PC / MAC)
Digital Audio Inputs
2 x Optical TOSlink, 2 x RCA (DIG1, DIG2)
Digital Audio Outputs
1 x Optical TOSlink, 1 x RCA (DIG)
Analogue Inputs
2 x RCA (AUX1, AUX2)
Analogue Outputs
2 x RCA, 2 x Balanced XLR, 6.3mm Headphone
Jack
Speaker Outputs
1 Pair Speaker Terminals
Sample Rate (USB B)
44.1kHz, 48kHz, 88.2kHz, 96kHz, 176.4kHz,
192kHz, 384kHz
Sample Rate
44.1 - 192kHz (Digital Inputs / Outputs)
Standby Power Consumption
<0.5W
Pre-Amplifier Section
Output Level (1kHz) Variable Output
RCA 0-2.3 Vrms / XLR 0-4.6 Vrms
Frequency Response
20Hz-20kHz, 1kHz (± 0.2dB)
Total Harmonic Distortion
< 0.002% (@1KHz, BW=20Hz-20kHz)
Signal to Noise Ration(S/N)
> 110dB (A-weighted, ref. 1V)
Channel Separation
>100dB (1kHz)
Power Amplifier Section
Rated Power Output
2 x 75W (8Ω)
Frequency Response
± 0.5dB (20Hz-20kHz, 1kHz)
Total Harmonic Distortion
< 0.003% (@1KHz, 50W/8Ω, BW=20Hz-20kHz)
Signal to Noise Ration(S/N)
> 108dB (A-weighted, ref. 75W)
Channel Separation
>82dB (A Weighted, ref.1W)
Dynamic Range A-wtd
>98dB
Power Requirement (depending on region)
220V-240V~50-60Hz
100V-120V~50-60Hz
Dimensions & Weight
Dimensions (Unpacked)
320 x 320 x 105mm
Dimensions (Packed)
465 x 465 x 220mm
Net Weight
11.5 kg
Gross Weight
13.8 kg
" Quad's Artera Solus fell easily into the third category. It was exciting to use, and it delivered music with a uniquely satisfying je ne sais quoi that I can best describe as sounding strong and musical. Recommended for the music-first audiophile who still enjoys CDs, and who wants lively, natural sound from a simple system."
- Read the full review by Stereophile here.
"While the market is not exactly short of 'just-add-speakers' solutions, the Artera Solus is a tremendous one-box system and an absolute steal for the money."
- Read the full review by HiFi News here.
Sometimes we want to listen to our brand new audio setup without having to worry about dragging B&W up two flights of stairs - that's where we come in! Not only are our team experts in high quality AV equipment, they're also professional bodybuilders* who can deliver and install your new toys quickly and efficiently.
Our in-house team can service those in Brisbane, the Gold Coast, and the Sunshine Coast. Give us a call to get an obligation-free quote today!
*the term 'professional bodybuilders' is used here loosely...
Our refund policy operates in a 30-day window - after this time we are unable to accept the product and cannot issue a refund. Don't worry, our products are hand picked from thousands of luxury brands to ensure you are only offered the best of the best so we doubt you'll need to consider this policy at all. If you are concerned about making the wrong decision when it comes to your purchase, please feel free to talk with our team of experts who can advise you on equipment based on your personal music taste, aesthetics, and the layout of your listening room. Still not convinced? Discuss the possibility of a loan (trial period) with our experts and hear the difference yourself.